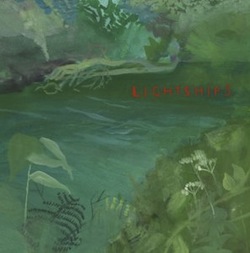 Given that Teenage Fanclub has been releasing music for more than 20 years, it's amazing that the first major steps outside of the group were only taken by members in the last year. First came Norman Blake's work with Euros Childs of Gorky's Zygotic Mynci as Jonny and now comes Fannies' bass player Gerard Love with his first project under the name Lightships. Enlisting original Fanclub drummer Brendan O'Hare as well as members of Belle and Sebastian, the Pastels and Teenage Fanclub's touring incarnation, Electric Cables is a gorgeous record that matches some of the best of Teenage Fanclub's later period albums.
Love is already responsible for some of Teenage Fanclub's best moments – "Sparky's Dream," "Don't Look Back," "Ain't That Enough," and the fantastic "Shock and Awe" from 2010's Shadows – but it's the Fanclub records from 1997's Songs From Northern Britain onward that have the most in common with this album. Encompassing some of the electronic flourishes that dotted 2005's Man Made and the soft, lilting orchestrated pop of Songs From Northern Britain and Shadows, the album pulls from a deeper well of influences than could really be easily calculated.
Lightships is an appropriate name for the sound of the group Love has assembled. One of the more surprising musical choices is the prevalence of Tom Crossley's flute throughout the album. This is where the music most echoes moments of Van Morrison's early 70s work. The hypnotic "Muddy Rivers" meanders like its title bodies of water and creates a warm blanket of harmonies, flute and guitar effects and the brief "Every Blossom" takes a finely picked guitar melody and creates a song that never deviates from its orchestrated focus, yet doesn't overstay its welcome either. The opening "Two Lines" is like a song built around a clock chime and creates the most inviting opening album track imaginable.
But it's moments like the note perfect "Silver & Gold" that best weave the airy feel of the album to the power-pop that Love and his cohorts in Teenage Fanclub are most known for creating. Taking its time warming up, it launches into a classic chorus of fuzz and keyboard punctuations that send the song soaring. As one of the album's finest moments, it's also the best distillation of how much Love's knack for pop songwriting has added to Teenage Fanclub over the years and why the Lightships album positions itself as every bit the equal of Fanclub's past two excellent records. words/ j neas
MP3: Lightships :: Sweetness in her Spark
MP3: Lightships :: Silver & Gold