(Album artwork: Does it indeed affect our listening experience, and if so, how? Scratch the Surface takes a look at particularly interesting and/or exceptional cover art choices.)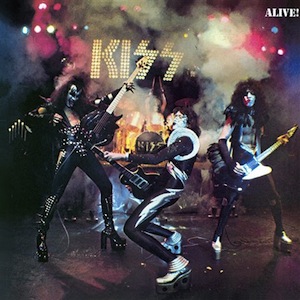 His band having just wound down a fiery "Rock Bottom," Paul Stanley surveys the crowd. "I got a little question for you!" he shouts. "I wanna know how many people here tonight like to take a taste of alcohol!" The crowd, an arena's worth of people from Detroit, or Cleveland, or Jersey, or Iowa, roar their approval. "I know you know it's getting so hot outside, you always need something to cool you off," Stanley adds once the crowd has died down. "There's got to be some people out there who like to drink tequila!" A smaller–though no less vocal–portion of the crowd cheers. "I was talking to somebody backstage earlier that said that you people like to drink vodka and orange juice!" he shouts, to more screaming. "Well, I'll tell you something: when you're down in the dumps, and you need something to bring you up, there's only one thing that's going to do it the way you want it. What's that?" he exhorts. The crowd yells something in unison, garbled by the building's acoustics. "I can't hear you!" he prods. The crowd yells again, louder. "Cold gin!" Stanley shouts, and KISS break into the eponymous 1974 hit.
Abhorrent therapeutic advice notwithstanding, the intro to "Cold Gin" that comes near the end of KISS' seminal 1975 record  Alive! is pitch-perfect, the distilled essence of what we talk about when we talk about rock 'n' roll. And in 1975, when people talked about rock 'n' roll, they talked about KISS. Alive! was technically culled together from shows in Rust Belt rock cities Detroit and Cleveland, along with performances in Wildwood, New Jersey, and Davenport, Iowa, but the album's true performances happened in bedrooms across the country: in front of mirrors, with broomsticks for guitars, and fastidiously rationed Halloween makeup. Alive! is a fans' record, a point which is made clear in the letters from the band that are reprinted in the album's gatefold. Gene Simmons' note (which begins "Dear Victims") comes on heavy with gross S&M innuendo, while coy Peter Criss signs his as "Your Silver-Nosed Tom Cat." Two girls with feathered hair stand between neatly arranged chairs on an arena floor on the album's back cover, holding a homemade KISS sign while other fans look on. My copy, purchased at a grimy used record store in Grand Rapids, Michigan, is imprinted where the original owner painstakingly traced the band's logo.
Alive!'s front cover captures the source of all of that devotion. There's Simmons, tongue flailing with bass held high, the black leather that covers his legs just barely pulled out of the stage's shadows by the light glinting off his silver shinguards. Frehley's nearly crouching at center and holds his guitar the way a villain holds a large weapon, its body facing in at the hips and impossible to actually play. Stanley looks directly into the camera with puckered lips. Criss, more or less lost behind a glowing drumkit, is holding his sticks in the air in a gesture that seems meant only to remind us that he's there. A forgotten candelabra burns somewhere behind Simmons. There are no amplifiers. Pink smoke drifts across the stage. That classic logo, shot out in marquee lights, hangs over the band. It is, in a word, awesome.
The cover is a pose–everything about KISS is a pose–but it's an effective pose. One fansite claims that the band took the shot in the controlled environment of an empty theater, in order "to get the perfect photo," and they did. There is maybe no album better judged by its cover than Alive!; however you feel about this one photograph is almost guaranteed to determine how you feel about the music contained within. KISS gave their fans a perfect album cover, one guaranteed to delight the devoted while repelling the skeptical.
KISS' moment has passed, of course, and Alive! is so riddled with arena-rock cliche that it's questionable whether it can be enjoyed with anything close to total sincerity. But when you put it on, and put it on loud, and the fire sirens start whining over Simmons' clunky bass and Criss' bashed cymbals in "Firehouse," or when the entire band falls in behind Frehley's soloing guitar at the close of "Rock and Roll All Nite," the question of how and why you're enjoying what you're hearing starts to fade. What you're left with is rock 'n' roll. words/ m garner