The poopship has been destroyed. Ween are dead: long live Aaron Freeman and Mickey Melchiondo.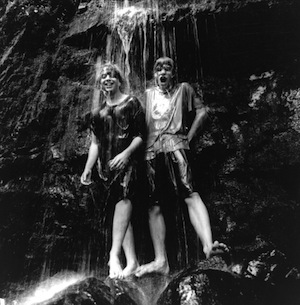 Though they collaborated frequently, employing the brilliant drummer Claude Coleman and, more famously, a crackerjack team of Nashville studio stars they dubbed The Shitcreek Boys, Ween was always the project, outpouring, and identity of its founding duo. Freeman and Melchiondo (who went by the noms de rock Gene and Dean Ween, respectively) wrote deeply weird pop music that didn't defy categorization so much as render all discussion about genre obsolete.
While they'll always be best-remembered for their weirdo experiments–the Scotchgard-fueled mayhem of The Pod; the guest appearance in the It's Pat! movie; the jingle they wrote for Pizza Hut's Insider pizza that was ultimately rejected ("Where'd the Cheese Go," which the band called "one of the best tunes we wrote all last year"); their one moment of crossover success (1992's "Push Th' Little Daisies"); their on-stage eagerness to deconstruct their own songs into a rotten, brown mess–the jokes never eclipsed the fact that Gener and Deaner were and are extraordinarily gifted pop songwriters, polyglots able to mimic britpop, hardcore, sea chanty, space-rock, and Mexican balladry without losing hold of the melodic ribbon that runs through their best work. Even The Pod's phased-out, DAT-backed "Pork Roll Egg and Cheese" sounds nearly as much like a lost Lennon demo as it does a giddy song about a breakfast sandwich.
While the true followers of the Boognish (if you don't know by now, it's probably too late) mostly point to 1997's excellent The Mollusk as Ween's magnum opus, the group are truly at their best on White Pepper. Released in May of 2000 (and woefully neglected when we put together our Decade list a couple of years back), the album shifts gracefully between power-pop ("Even If You Don't"), Motî¶rhead and Jimmy Buffett pastiche ("Stroker Ace," "Bananas and Blow"), and free-floating dreamscape ("Ice Castles"). But the album also catches Ween at their most affecting: twelve years later, songs like the aching "Exactly Where I'm At," country-rocker "Stay Forever," and especially "Flutes of the Chi" still sound the depths.
It took Freeman and Melchiondo three years to follow up White Pepper with Quebec, and four more passed before they released what is now their swan song, La Cucaracha. That title suddenly feels ironic and planned, and maybe it was; for a minute there, it looked like a band as obnoxious and outlandish as Ween might actually go the distance. But then someone threw the lights on. words/ m garner