(Volume 14 of Clifton's Corner. Every other week on the blog Clifton Weaver, aka DJ Soft Touch, shares some of his favorite spins, old and new, in the worlds of soul, r&b, funk, psych and beyond.)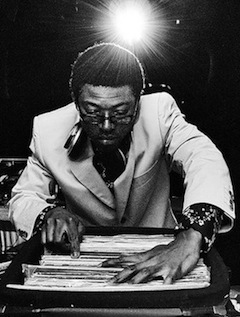 The past month has been devastating for the music world. We've lost musical giants such as MCA of the Beastie Boys, Donald 'Duck' Dunn from Booker T & the MGs,disco legend Donna Summer, the Bee Gees' Robin Gibb, and Charles 'Skip' Pitts (session musician and longtime Isaac Hayes sideman). Each one's contribution was unique and immeasurable but for a 60s/70s soul & pop obsessive like myself, the passing of Skip Pitts, Duck Dunn and Robin Gibb hit particularly hard. Their music not only informed my past and present taste (and most likely, my future tastes too) but also helped me define myself against the crass top 40 tastes of my peers. So in their honor, I dedicate this latest edition of Clifton's Corner.
I can't think of a better start than Booker T and the MGs "Green Onions". Many of the tributes I saw floating around the web featured this song. Ironically, Dunn neither co-wrote nor appears as a player on the studio recording. That distinction belongs to Lewis Steinberg. However, it is THE quintessential MGs song and in concert, 'Duck' Dunn more than made it his own. This version from the 5/4 Ballroom in L.A. trades in the hip cool of the studio recording for the all out aggression displayed by many of UK rock groups they would inspire.
MP3: Booker T & the MGs :: Green Onions (live)
One of the many groups inspired and influenced by the Booker T & the MGs' sound were the Small Faces. Mimicking the group's basic lineup with the addition of vocals, the Small Faces set out to be England's answer to the Memphis group. Their debt to the MGs is no more apparent than in their cover of "Chinese Checkers" b-side "Plum Nellie".
MP3: The Small Faces :: Plum Nellie
Another British group surely influenced by the organ led sounds of the MGs was the Spencer Davis Group. Featuring a teenaged Steve Winwood on guitar and organ, the Spencer Davis Group, in my opinion, released some of the finest British R&B recorded. Obviously, those sounds made their way back to the US and musicians took notice. Booker T. & the MGs repay the compliment with their cover of the Spencer Davis Group's "Gimme Some Lovin."
MP3:  Booker T & the MGs :: Gimme Some Lovin'
In summing up Al Jackson Jr's playing style for the October '77 issue of Black Music, 'Duck' Dunn said, "He didn't do anything, you see. He just played." Fittingly, the same could be said of him. There are/were many players with better technique and flashier styles of playing but what he and the rest of the MGs created is impossible to replicate.
Less known but no less important is guitarist Charles 'Skip' Pitts. For those familiar with 'Skip' Pitts, he is most famous for crafting the distinctive wah wah riff heard on Isaac Hayes' "Theme From Shaft". However, his musical legacy is far more extensive. Beginning with Gene Chandler's "Rainbow '65: (recorded when Pitts was on 17!), he featured prominently on several hit singles, among them Rufus Thomas' "The Breakdown" and The Isley Brothers' "It's Your Thing" (the riff that Pitts created is instantly recognizable and impossibly funky), and served as bandleader/guitarist for a number of soul/r&b acts as well. His most famous association was with Isaac Hayes with whom he toured and recorded from 1971 until Hayes' passing in 2008.
MP3: Rufus Thomas :: The Breakdown (pt. 1)
MP3: The Isley Brothers :: It's Your Thing
In recent years, Skip Pitts was a member of Memphis supergroup, The Bo-Keys. Assembled by producer Scott Bomar, The Bo-Keys included Memphis music legends such as Hi Records drummer Howard Grimes (Al Green, Ann Peebles), trumpeter Ben Cauley (the only survivor of the plane crash that killed Otis Redding), and keyboardist Archie Turner (Hi Records). On record and in performance, The Bo-Keys carry on the Memphis soul tradition. I feel honored to have seen them perform at Funky Sole. I cannot stress enough the importance of supporting these legends while they are with us.
MP3: The Bo Keys :: Work That Sucker (ft. Charles 'Skip' Pitts)
Probably the most well known of the three, Robin Gibb's career with Bee Gees is, in my opinion, also the most misunderstood (at least here in the U.S.) Following his passing, I noticed that most of the tributes either glossed over the Bee Gees' '60s output or ignored it all together which is really a shame.
The first three Bee Gees LPs contain some of the finest pop music ever committed to wax. Songs like "Let There Be Love", "In My Own Time", "To Love Somebody" weren't just warm ups to their disco period, they are masterpieces in their own right. In their 60s heyday, the Bee Gees were frequently compared to the Beatles and sold records in comparable numbers. A particular favorite of mine is "To Love Somebody". Written with Otis Redding in mind, he, sadly, never had a chance to record but Memphis soul singer James Carr did. In my mind, it is one of the few times a cover trumps the original.
Maybe I feel so strongly about this because up until my 20s, I was completely oblivious to this era of the career. If you had told me, when I was 18 or 19, that I would consider myself a Bee Gees fan, I would have laughed. It wasn't until I heard "In My Own Time" in a club and had to run to ask the DJ what song was playing that my opinion changed. Later on, as I dropped a lot of my musical prejudices, I began to see the value of their so-called disco period (I still can't stand "Staying Alive" though). But, when news broke of Robin Gibb's passing, these are the songs that came to mind and mean the most to me.
MP3: Bee Gees :: In My Own Time
MP3: James Carr :: To Love Somebody
MP3: Bee Gees :: The Earnest Of Being George
Related: Previous Clifton's Corner installments archived, here.