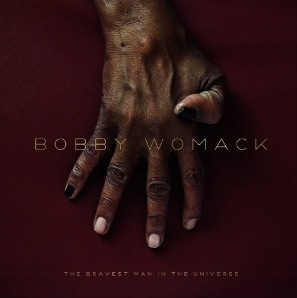 When Damon Albarn solicited soul legend Bobby Womack to perform on Gorillaz's 2010 album Plastic Beach, it became the start of something more than just those couple of tracks and the result is Womack's first album of original material in 18 years, The Bravest Man in the Universe. Co-produced by Albarn and XL Recordings' Richard Russell, it's hard not to immediately compare this album in some ways to Gil Scott-Heron's swansong, I'm New Here, which was Heron's first new material in 16 years and which was also released on XL and produced by Russell.
The pure fact is that The Greatest Man in the Universe is a stellar record and every bit the quiet and solid triumph that I'm New Here was for Scott-Heron. For those who have followed Albarn's non-Blur career, there are a lot of familiar notes here, especially in relating to his Gorillaz project. The opening title track could have found a home on Plastic Beach tinged as it is with Albarn's signature sparse piano treatments. And it sets a pretty precise tone for the album that follows – mournful, spare and challenging – a lot like the lyrics themselves. There are the odd upbeat numbers here and there that do stick out as odd in the momentum of the album ("Love is Gonna Lift You Up" is the worst offender, sounding at times like a lost 80s soundtrack nugget) but this is a record about challenges and setbacks and overcoming a lot.
Which brings us to Womack himself. It's hard to tell how much involvement he might have had in the writing of the music, but lyrically he is sharp. And compared with his best past work, his voice is at a peak. Much in the same way that other distinctive singers have gained the gravitas of age, Womack's aging voice is powerful and heavier. Every word he sings has the added heft of his years and struggles and this precise reflection at the beginning of "Dayglo Reflection" puts this in mind while listening. I admit to raising an eyebrow to the idea of Womack dueting with Lana Del Rey on this track, but her voice is put to amazing use against Womack's vibrating soul and the song's melancholic ache. As perfect as Albarn and Russell's production is here in terms of setting the musical mood of the record, Womack's voice, as it should be, is the biggest thing going for the album.
My initial listen to this record was appreciative, but reserved, but repeated listening to The Bravest Man in the Universe reveals that it is the type of record that late-period artists dream of getting a shot at. It's the type of album from Womack that one longs to have been able to hear from the likes of Sam Cooke or Marvin Gaye had they survived into their later years – the past and still great soul singer juxtaposed with a more modern sound to give a new set of listeners a chance to realize just how amazing they are. words/ j neas