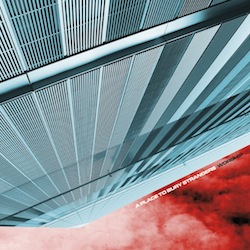 Within the first ten seconds of "Alone" we're greeted with dive-bombing guitar noise, grenades, mortar shells, and what could be the sound of exploding furniture. These well-placed, beautiful mishaps could easily be focus-group working titles of a few prototype distortion pedals that A Place to Bury Strangers has already tested in front of several lucky Golden Ticket winners during the recording process of their new full-length, and first for Dead Oceans, Worship. And if you're familiar with any of the band's previous work then you're already thinking along those lines. So, we can agree that the band hasn't returned to make a difficult, cerebral or pastoral record for critics to fawn over or discuss some carefully thought-out career trajectory — imagine how awful that would turn out. APTBS are too unhinged for that. They create their own sonic world, and we do our very best to define it.
Ackerman builds pedals for other musicians who can only dream of making people feel like fans of the band do after swallowing an entire APTBS album in one shredded gulp, or meandering back to your car after watching them terrorize bathroom attendants who thought that they didn't need to bring earplugs — because they assumed that the layers of concrete separating them and the band's amplifiers would keep them safe. Those guys should know better. A Place to Bury Strangers are masters of feedback and experimental noise. They've also spent years under the influence of the great boundary-pushing misfits that came before them, but in the case of Worship, it's time to start addressing them as the champions of the genre.
Even if the trio's act is all about pushing experimental noise further and further inside the bowels of a pop song doesn't there seem to be more going on here? It's certainly their most Punk album, and at times the wall-of-sound takes a breather and allows the vocals and massive drums to dominate the conversation. That industrial and familiar mechanical sound is no longer present (see "Dissolved", "And I'm Up", "Slide") but that rawness, that recklessness is still ingrained in almost every song. The title track, and single-worthy, "Worship" is one of the most approachable and potent songs they've ever done, but it's still overwhelming and loud. "Alone", "Mind Control" and "Revenge" are also at the heart of the record and serve as worthy examples that APTBS still create music that sounds like it's falling to pieces and/or screaming at you, only this time there are fewer moving parts.
When people ask me what my favorite noise-pop records of all time are I can usually give them a quick list of recognizable acts that you might find in any other review of this album, but when a new release from APTBS is coming out it always feels so necessary to hear it — like I'm going to miss out on an extraordinary piece of work or event that changes what was into what is. They are one of the few rock bands that actually sound like they're defining music in the twenty-first century, not simply floating around in their parents' record collection. words/ s mcdonald