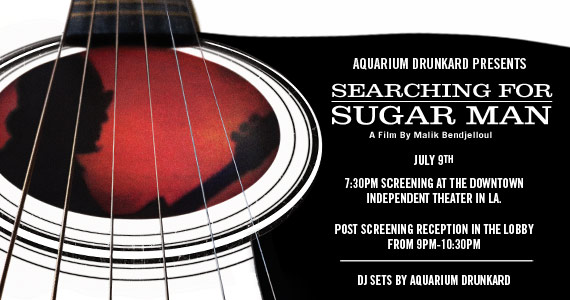 Next Monday, July 9th, Aquarium Drunkard presents Searching For Sugar Man, the Malik  Bendjelloul documentary on the life, and mystery, surrounding 70s psych-folk musician, Rodriguez. We saw it last month at the LA Film Fest and it boasts a narrative that goes way beyond typical rock-doc. No small feat.
We're making the night a party giving away 40 pairs of tickets with an afterparty following the screening starting at 9pm (free booze! food!) and Mondo Boys DJ sets. Come hang out. It's at the Downtown Independent theater (next to the Smell) at 251 South Main Street. To land a pair, leave your name (and a working email in the comment field) below with your favorite Rodriguez tune. Winners notified Sunday.
Screening: 7:30pm / Afterparty: 9-10:30 – 251 South Main Street, Los Angeles
The original motion picture soundtrack album will be available starting July 24th through Legacy Recordings.