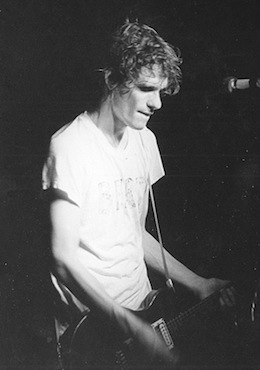 The 4th of July has a lot of connotations, but in my own world, I always remember that it's the day the Replacements broke up. On July 4th, 1991, the Replacements played a show in Grant Park in Chicago. At this point, the version of the band that shambled into the park were half of what they used to be. Founding member Bob Stinson had been given the boot in 1986 and drummer Chris Mars, after being scarcely used on the Replacements' 1990 album All Shook Down, had taken off as well. So the Replacements were half-full of, well, replacements. Slim Dunlap had taken over as lead guitarist on tour for 1987's Pleased to Meet Me and the late Steve Foley had taken over as tour drummer following Mars' departure. So it would seem that what turned out to be their final show wouldn't be much of a thing to document.
That's the thing. I'll be honest. I became a Replacements fan in high school and was always sort of luke warm about All Shook Down. There's a reason, of course. Even though I didn't totally know at the time, the album has a grand total of one song that features all four members of the band. It has become, in a lot of ways, to be referred to as Paul Westerberg's first solo record. That's not totally off the mark, but the record has grown on me a lot over the years. The biggest reason is because of the bootleg sent to me on cassette in the mid 90s.
When I started my first internet email account in the mid 90s – at Hotmail, naturally – I wanted the email address "matsfan – at – hotmail dot com." When I tried to get it, it was taken. I cursed myself silently, but then realized that if it was taken, then most likely, it was taken by a fan of the Replacements. So after establishing another email address taken from another favorite band of mine (redacted), I sent an email to 'matsfan' to see if, in fact, they were a fan of the 'Mats.
Turns out they were. A man in his early 30s at the time who seemed truly excited that someone so young was into the Replacements. He asked for my address and said he'd send me a few bootlegs and mix tapes of the band to help me in my nascent fandom. He didn't lie. A few weeks later came tapes of the famous '86 bootleg of the Hoboken, New Jersey show from the Tim tour – a blisteringly awesome show that is still worth hunting down if you're a fan – a mix tape of rarities and a show from Massachuttsetts of their infamous turn in '89 opening for Tom Petty, and a bootleg of the '91 final show in Chicago. While all of these tapes were fantastic (and if 'matsfan at hotmail' is out there and remembers sending a teenage kid in North Carolina these tapes, please email me so I can say thank you), it was the final show that ending up having the biggest impact on me.
Why? Simple. The band was on fire. Yes, one-half of the band's founding members were missing. Yes, the show was comprised mostly of songs from All Shook Down and very few of the classics. But it didn't matter. The songs from All Shook Down lept to life in a way that I would have never expected. "Bent out of Shape," "Happy Town," "One Wink at a Time," "Someone Take the Wheel" and others all took on a propulsive, raucous energy that had been lacking in the studio takes. That studio album has grown on me over time as I've aged and mellowed, but I have no doubt that I might not have given it those important second listens if it hadn't been for this bootleg. The defeated, sarcastic and harsh banter of Westerberg and Tommy Stinson during the set only adds to the loose, 'couldn't care less' tone of the energetic set.
By the time their usual live cover of the Only Ones' "Another Girl, Another Planet" kicks in, the set is about to break apart. From there on, All Shook Down gives way to Hank Williams Sr. ("Hey Good Lookin'"), Don't Tell a Soul, Pleased to Meet Me and Hootenanny. This last album is where the bootleg gets its name – "It Ain't Over 'Til The Fat Roadies Play." The last song of the set was the band's ramshackle opening and title track from 1983's Hootenanny. Much as the band had done in Blackberry Way studio in Minneapolis, Minnesota – when separated from the sight of the producer, the band had switched instruments and played the title track with what can generously be described as inept competence – the band members, one by one, departed the stage and let their respective roadies replace them on stage. And that, as they say, was that.
For fans of the band, the last show is a tremendously sharp and outstanding way to go out. Yes, it's missing some certifiable classics – no "Bastards of Young" or "Left of the Dial," let alone "Alex Chilton" or "Unsatisfied" – but it's still a remarkably together band going through its paces one last time. That alone is worth a listen. words/ j neas
Download: The Replacements :: Live @ Grant Park, Chicago July 4, 1991
Track List:
1. "I Will Dare"
2. "Bent Out of Shape"
3. "Achin' to Be"
4. "Merry Go Round"
5. "Happy Town"
6. "Swinging Party"
7. "One Wink at a Time"
8. "Waitress in the Sky"
9. "When It Began"
10. "Someone Take the Wheel"
11. "Talent Show"
12. "Nobody"
13. "Another Girl, Another Planet"
14. "Hey Good Lookin'"
15. "I'll Be You"
16. "I Don't Know"
17. "Within Your Reach"
18. "Can't Hardly Wait"
19. "Hootenanny"
Related: The Replacements :: Shit, Shower & Shave (1989)


Only the good shit. Aquarium Drunkard is powered by its patrons. Keep the servers humming and help us continue doing it by pledging your support via our Patreon page.