(Volume 15 of Clifton's Corner. Every other week on the blog Clifton Weaver, aka DJ Soft Touch, shares some of his favorite spins, old and new, in the worlds of soul, r&b, funk, psych and beyond.)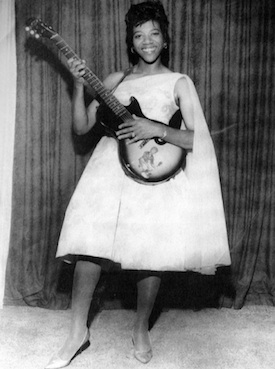 Growing up listening to "oldies radio" in the late 80s/early 90s, Barbara Lynn's "You'll Lose A Good Thing" was ubiquitous. Its near omnipresence can be attributed to a couple of factors. Lynn's very first single, "You'll Lose A Good Thing" hit number 8 on Billboard's Top 100 chart and number 1 on their R&B chart; an impressive outing for the debut single of a new artist. Beyond just the numbers, the actual song craft is equally impressive. Bluesy, melodic, and with an instantly memorable chorus, "You'll Lose A Good Thing" is a definitive song of the, then burgeoning, soul style. Now, consider this, Barbara Lynn was just 17 years old when she wrote the song (20 at the time of its release). Like the best rock n' roll and pop, it was created by the young for the young.
As impressive as the start of Barbara Lynn's impressive musical career is, it tends to obscure the even more impressive backstory of the woman herself. Last month, I had the pleasure of interviewing Barbara Lynn and heard, first hand, some of the amazing facts leading up to her recording debut. Anyone who follows any of my social networking accounts and most of my friends have been subjected to one of my many rants about overlooked and overrated figures in pop music history.
Not to take anything away from Janis Joplin, Suzi Quatro, or the Runaways, but when you consider figures such as Memphis Minnie, Sister Rosetta Tharpe, and Barbara Lynn, they're hardly the groundbreaking pioneers that they're portrayed as. Consider this, in the 50s in the south, Barbara Lynn was a young, African American girl singing and playing guitar in an all female rock and roll/r&b band! Among the blues and r&b covers, they also did Elvis and Brenda Lee songs. Think about that for a minute. In the south with all of its racial tensions, in the 50s with all of its strict gender roles, along comes an African American girl leading an all female band singing songs by a white artist, who made his name singing Black music. Such was Barbara Lynn's love of Elvis that she even styled her hair like his. At a time when artists had songs written for them and had hired guns playing on their records and backing them in concert, Barbara Lynn wrote and played on her own songs.
After "Lose A Good Thing" and the subsequent successful singles, Barbara Lynn not only found herself among the cream of the crop of soul and r&b acts but also an international star and influence on musical contemporaries; she played shows at the Apollo Theater, made appearances on American Bandstand and had "Oh Baby We've Got A Good Thing Goin'" covered by the Rolling Stones.
Not long after I interviewed her, I was able to see Barbara Lynn perform at the Echoplex in Echo Park and at the Observatory in Santa Ana. Age hasn't diminished her talent one bit. Closing my eyes, it was easy to imagine that it was 1966 and I was in the studio at a taping of Hoss Allen's !!!The Beat.
If you're not familiar with Barbara Lynn, here's a handful of my favorite songs, ranging from blues and r&b, to 70s crossover/northern soul, to help acquaint you with this living American, treasure.
MP3: Barbara Lynn :: You'll Lose A Good Thing
MP3: Barbara Lynn :: Take Your Love And Run
MP3: Barbara Lynn :: (Until Then) I'll Suffer
MP3: Barbara Lynn :: (Daddy Hotstuff) You're Too Hot To Hold
MP3: Barbara Lynn :: Moving On A Groove
MP3: Barbara Lynn :: Unloved, Unwanted Me