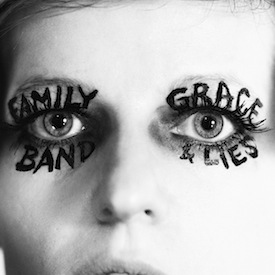 Don't let the name fool you–or do. Despite the whimsy their moniker might imply, Brooklyn's Family Band create haunting, elegant pop music, a kind of country gothic that doesn't so much pick up the literary tradition of William Faulkner and Flannery O'Connor as it lives in their aftermath. There's no pickin' and a' grinnin' here, but neither is there the complete confusion and sonic terror depicted and suggested by those writers; it's hard to imagine a Misfit or Benjy Compson wandering through the environments created by wife-husband duo Kim Krans and Jonny Ollsin. For one, Krans' voice is too elegant, and her melodies too elegantly composed. Ollsin, a former metal guitarist, plays against type, linking together single, boldly struck notes like constellations over a blank sky. When he does allow himself to paint with a jagged brush, as he does in "Ride," he's counterbalanced by plucked acoustics and Krans' soaring melodies.
What Grace & Lies does take from those writers–besides a title that could've been ripped from the cover of an O'Connor anthology–is its sense of tragedy. But where their forebears predicted the horrors to come, or those already in progress, Family Band seem to testify to what's already passed. The embroidered beat of opener "Night Song" glances in Beach House's direction, but Krans and Ollsin quickly downshift into a stately, heartbroken mode. Songs come and go without heralding themselves and only rarely giving over to the horror at which they almost constantly hint. Krans sings as a witness to a tragedy she seems to look at without ever naming. It's folk music, but it's folk in the same way that Andrew Dominik's The Assassination of Jesse James by the Coward Robert Ford is a Western: it's rural, and simple, but it's also impressionistic, and protected from its genre by gauzy production and that unspoken, unresolvable brokenness that comes to rest on these songs like a century of dust. words/ m garner
Stream Family Band's Grace & Lies, in its entirety, after he jump…

Grace & Lies will be released in the U.S. on July 24th; you can preorder a copy at www.noquarter.net.