(Volume 16 of Clifton's Corner. Every other week on the blog Clifton Weaver, aka DJ Soft Touch, shares some of his favorite spins, old and new, in the worlds of soul, r&b, funk, psych and beyond.)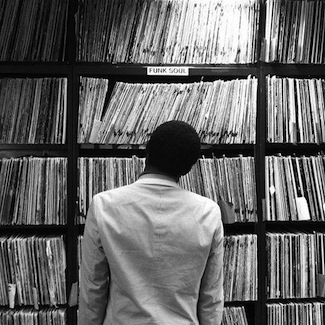 No matter how often it happens, nothing compares to getting new records in the mail. The anticipation leading up to their delivery, opening the packages, it's just like being a little kid on Christmas day. Normally, I try to have an overall theme for my posts, but for this one I'd like to share some new additions to my collection as well as some old favorites that I haven't covered yet.
First up is "If You Took A Survey" from Bobby Patterson on the Paula label. I was introduced to the music of Bobby Patterson via the Beg, Scream, & Shout boxed set that was released by Rhino some years ago. That set featured the storming "TCB or TYA" (slang for 'take care of business or turn yourself around'). Though the tempo is slower, "If You Took A Survey" is just as exciting and compelling. The flipside of "Right On Jody", its lyrics are in the same vein as Johnny Taylor's "Who's Makin' Love?" (while a man is stepping out on his woman, she's stepping out on him) but it's Patterson's raw, impassioned delivery and the chugging, almost hard rock arrangement that really distinguishes this song. The first time I played it at Funky Sole, I thought it'd be a dud on the dance floor, despite my enthusiasm for it. Thankfully, the crowd liked it as much as I do. It's not only a personal favorite but also a staple in my DJ box.
MP3: Bobby Patterson :: If You Took A Survey
For me, DJ'ing and record collecting have begun to feed off of each other. I got into DJ'ing because of my passion for collecting records. Now, DJ'ing is beginning to fuel my passion for records. It seems like the more I DJ and the more DJs I meet, I'm constantly hearing and learning about new records. Lee Williams & The Cymbals' "Shing A Ling U.S.A." is one of those records. As well as DJ'ing at Funky Sole in Los Angeles on Saturdays, I also DJ at a more 60s/northern soul oriented night called Downtown Soul Santa Ana in Orange County. For the one-year anniversary of Downtown Soul we were fortunate to have Brother James Burdyshaw (Cat Butt/Sinister Six/Sub Pop records) as our guest. As well as being a part of seminal Seattle bands, James Burdyshaw has an amazing wealth of knowledge, when it comes to 60s soul records.   When he played "Shing A Ling U.S.A.", I had to find out what it was right away. The song is a pretty typical 60s 'dance' song with the lyrics describing a dance and where it's popular. The arrangement is something else though. It falls somewhere between funk and northern soul. The chord changes and melody fit well into a northern soul set but the drums are pure funk! Needless to say, I tracked down a copy and it ends up in both my funk sets and my more northern soul/60s oriented sets.
MP3: Lee Williams & The Cymbals' :: Shing A Ling U.S.A.
For years when I thought of Vangelis, I thought of film soundtracks, such as Chariots Of Fire and Blade Runner, and ambient/new age music. The last thing I ever imagined coming from the same artist would be heavy (as heavy as anything by Deep Purple or similar groups) prog/psych rock, but that's exactly what Aphrodite's Child delivers on "Magic Mirror"?   Formed in Greece in the mid-60s by Vangelis and Demis Roussos, who would also go on to achieve success with soft rock and later disco ("L.O.V.E. Got A Hold On Me"), Aphrodite's Child mined the psychedelic/progressive pop and rock vein that was gaining popularity.   Probably best known for the cult album '666', they soon broke up afterwards with Roussos and Vangelis pursuing solo careers. Listen to "Magic Mirror" and marvel that the same composer behind the famous Chariots of Fire theme had any involvement.
MP3: Aphrodite's Child :: Magic Mirror
For as long as I've been playing guitar and following bands, everyone aspires to be some mix of The Beatles, The Kinks, The Byrds, T-Rex, etc. but few, if any, ever come close. Most bands lack the melodicism, the musicianship, or they come off like second-rate tribute bands; not so with Sidewalk Society. On Venus, Saturn, & The Crescent Moon, Sidewalk Society accomplishes what most bands dream of; writing in the musical language of their influences without sounding like mere copyists. Stand out tracks are the power pop of 'Silent Echo', 'Nice Boys' (which features Bolan-esque guitar work and strings),   and Kinks pop meets northern soul stomp of "I Let Her Get Away". I couldn't decide which of the three to feature, so here they all are, for your listening pleasure.
MP3: Sidewalk Society :: Silent Echo'۬
MP3: Sidewalk Society :: Nice Boys'۬
MP3: Sidewalk Society :: I Let Her Get Away
Showing the breadth of contemporary 'retro' sounds, the Afro Latin Vintage Orchestra looks to the jazz and funk of Ethiopia and Nigeria for influence and combines them with Latin rhythms and instrumentation. Formed in 2007 and based in France, Afro-Latin Vintage Orchestra's latest release, Last Odyssey, is an excellent display of these influences and more (Jamaican & hip hop influences are also on display). To my ears, much of Last Odyssey is reminiscent of Black Jazz artists, The Awakening (see Clifton's Corner vol. 3).   Here are two that I really dig.
MP3: Afro-Latin Vintage Orchestra :: Onze De France
'۬MP3: Afro-Latin Vintage Orchestra :: Harissa
Finally, I couldn't end this edition of Clifton's Corner without paying tribute to two musical titans who recently passed away. Of course, I'm referring to Jon Lord (the Artwoods, Deep Purple, etc.) and Bob Babbitt (Detroit/Motown session bassist).   Probably best known for his work with Deep Purple, it was Jon Lord's work with The Artwoods that really resonated with me (probably due to my 60s/mod obsession).   Formed by Lord, Art Wood (older brother of Ronnie Wood from The Birds, The Creation, and currently The Rolling Stones) and drummer Red Dunnage (soon to be replaced by Keef Hartley), the Artwoods cut their teeth on the blues and rhythm & blues sounds that were popular at the time. Influenced by the soul-jazz of Jimmy Smith, Big John Patton and Jimmy McGriff, Jon Lord's Hammond organ was a prominent part of the band's sound. The Artwoods' sound was truly soulful and unique among the British blues/r&b groups. Check out their arrangement of Leadbelly's "Sweet Mary" and my favorite, their cover of Solomon Burke's "Keep Lookin".
MP3: The Artwoods :: Sweet Mary
'۬MP3: The Artwoods :: Keep Lookin'
Although his career was spent behind the scenes, bassist Bob Babbitt's contributions to music were tremendous. Best known for his work with Motown's house band, The Funk Brothers", he also contributed bass lines to recordings for artists as diverse as Jim Croce, Del Shannon, and Jimi Hendrix. The titles of the songs on which he appeared looks like one of those "Greatest Of All Time" lists that magazines are fond of publishing. Stevie Wonder's "Signed, Sealed, Delivered I'm Yours", Gladys Knight & The Pips' "Midnight Train To Georgia", Freda Payne's "Band Of Gold", and Dennis Coffey's "Scorpio" are just a few of the titles that feature Babbitt's influential work. Not a household name but Bob Babbitt's playing influenced countless musicians who are.
MP3: Freda Payne :: Band Of Gold
 Previously: Find the Clifton's Corner archives, HERE…