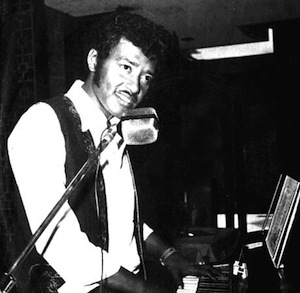 Here's a favorite piece of choice vintage footage: legendary Ethiopian singer Alemayehu Eshete decked out in his trademark butterfly collars, sporting a sly grin and sultry shoulder shimmy, gesticulating along with the lyrics. Ticking octaves are picked out on blippy guitars, and the majestic melody comes via a pair of saxophones—a classic Ethiopian arrangement. The tight song structure doesn't slow down in meditative repetition, so the tune is especially catchy and immediate. Eshete plays the cool showman without being flamboyant, engaging in a plaintive call and response with his sober, focused band during the song's climax. Bopping along to the groove, his cocksure delivery livens up the painted landscape of the lo-fi TV soundstage. This scene could be James Brown's "original disco man" in an alternate reality.
Uploaded by YouTube user "ethiopiantv," this clip is undated and titled "Kotuma Fikreye." Despite the disco-inflected beat, the song sounds typical of "golden age" Ethiopian pop music. However, this clip is most likely after the "golden age" came to an end in 1974, along with the reign of longtime Emperor Halie Selassie I and the lively music scene of "swinging" Addis Ababa. As the totalitarian, Communist Derg regime gripped Ethiopia and Eritrea, the recording industry that sprung up during the boom of jazz, soul, and R&B influenced Ethiopian music in the '60s and early '70s was suppressed. Many Ethiopian musicians went into exile, however quite a bit of music got air time on state run stations like Ethiopian TV (ETV). So where there was no 45RPM vinyl of a song, it might have surfaced during a performance at a television studio.
The reverse effect, "golden age" Ethiopian sounds have been bubbling up in Western pop music these past few years in everything from tUnE-yArDs to the recent Dan Auerbach-produced Dr. John album, and the more studied, reverent approach of Debo Band. This recent interest and influence in the West can largely be attributed to French record producer Francis Falceto's Ethiopiques series on Buda Musique. The first volume of Ethiopiques came out in 1998 (there are now nearly 30 volumes), and the series has made all sorts of Ethiopian music–not just the hip ethio-jazz and "golden age" stuff–accessible to international audiences. The cornerstone of Ethiopiques' source material was a collection of master tapes from Addis-based Ahma Records unearthed in Greece during the '90s… but then there was all the music that never got properly recorded.
You're not going to find this awesome Alemayehu Eshete cut in his installments in the Ethiopiques series, because there's likely no proper record to reissue or repackage. Eshete's a big star–famous enough to stand alongside other greats like Mahmoud Ahmed, Tilahun Gessesse, Mulatu Astatke, Getachew Merkurya. This clip, along with many others bootlegged and uploaded to YouTube, are all that's left of a lot of these TV performances. Thus, these YouTube bootlegs have become a unique medium for music from this period. YouTube users and sites like DireTube (a YouTube-like site for Ethiopian ex-pats and emigrants) are key resources for discovering footage of music that's commercially unavailable via more traditional formats. This Eshete clip is a great place to start, with much more is a related-video or google search away. Thanks to Danny Mekonnen of Debo Band for an insightful conversation that spawned this post. words/a spoto