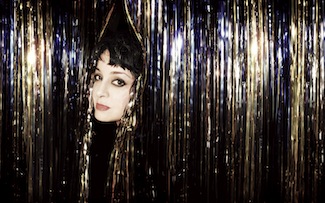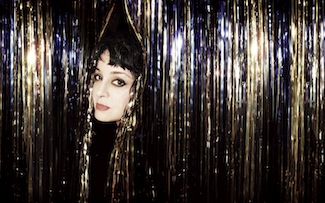 People like to call Kelly Hogan a "chanteuse," but isn't that really just a fancy French word for "she can sing her ass off?" The Georgia native cut her teeth belting it out in Atlanta with rootsy-jazzy-indie-indefinable The Jody Grind before moving on to the Rock*A*Teens, and then to Chicago, where she tried to quit music, but couldn't.   Nowadays, she lives in rural Wisconsin and sings with Neko Case (among many, many others). She recently released her fourth solo album (the first in 11 years) I Like To Keep Myself in Pain, which features songs penned by Andrew Bird, Robyn Hitchcock and Vic Chesnutt (among many, many others).
Last month, AD caught up with Kelly via telephone from her home in Evansville, where she was cooking dinner for her "dude," who was about to go to work in the cheese factory.

__________________________________________________________________________________
AD:   You were in L.A. recently, right? How was that?
Kelly Hogan: Yes, I was! I played with Glen Hansard at the Wiltern and it was really fun. Sometimes a band that's really quiet won't let you have a drummer — they don't want you to be too loud — so I just kind of did it with my buddy Scott Ligon, who played with me on the record, and my other right-hand-man Casey McDonough, who plays in my touring band, and we just kind of whipped it out in front of all those people, but it was really fun! We had a great time.
I was about to walk into the theater and I was kind of running so I wouldn't be late and this really hot Hispanic dude on the corner with a ponytail says, "Hey, You look just like…" And I was gonna say, "Rosie O'Donnell, right? Elsa Lanchester??" And he's like, "No, you look just like Kelly Hogan! I came early to see her show. I hear she's great." I thought I was being punk'd.
AD: So I take it this isn't how you see your fanbase, typically?
KH: Well, I never saw it as a hot Hispanic dude with a ponytail, that's true. It's more, like, guys with beards that like to eat Doritos. I want to say I want to court those people that buy hardback books…Oh, see, I gotta start over because that's what me and Sally Timms used to say: We wanted those NPR-listening, hardback-book-owning, wear-the-patch-on-the-elbow type people, but, actually, I don't even care. If my music gives you a boner, then bring it on. It's a pretty vast spectrum, actually. I get older people…and I don't know if it's because I've been on some kids compilations or had the band Wee Hairy Beasties with Jon Langford and Sally Timms, but I was as this venue the other day watching a band and this guy came over and said, "Can I introduce you to my 11-year-old daughter?" That makes me very happy.
AD: I think the last time we saw you in Atlanta you were playing an afternoon show where kids were welcome.
KH: It's fun. I learned with Wee Hairy Beasties — I don't usually look at the audience too much anyway because it will kind of freak you out — but that's when I really learned not to look down because somewhere, someone is picking their nose. Like, up to the second knuckle. Kids are the toughest audience.
AD: You have a really interesting performance style. It almost looks like you're in a trance-like state when you're singing.
KH: Yeah, if I'm doing that, I'm in a different place. There are those moments when you kind of jump outside of your body and you kind of see yourself singing. It's not cool, because you can't sing and know that you're singing at the same time. My friend Lynda Barry talks about when you're on the dance floor and you're in the groove and then all of the sudden you fall out of the groove, but you keep dancing and you just kind of fake it until you get back in the groove…I've had people tell me I look like a Tyrannosaurus rex because of the way I hold my arms — my poor helpless arms. I try not to know what I look like when I'm on stage so I don't think about it when I'm singing. I try to look at the audience the way that you look at a Magic Eye. That way I can look at everybody at once without possibly, you know, seeing my ex-husband. I just don't want anything to take me out of the moment. But the audience is there, and it is the moment. We are the moment.
And now, all of the sudden, I'm the biggest hippie on the planet.
AD: You moved from Atlanta to west Georgia at the beginning of high school. Where did you fit in?
KH: They didn't really know what to make of me there. I was so weird, such a freak, that when I started in ninth grade I was known as "the slut"  or something like that. And then all of the sudden I was "frigid" or "a lesbian" because I wasn't dating anybody at school. I ended up being a senior class officer, but I was just a freak. I ended up doing all of the drama stuff, being in all of the choirs. I did everything. I just didn't want to go home. I was curious.
AD: Were you singing outside of school at that point?
KH: I secretly started singing outside of bars around Thanksgiving of my senior year, in Atlanta. My first gig was in a place called Café  Debris. I sang torch songs with some jazz dudes. I had gone to this Governor's Honors Programs for language arts and one of our speakers was this poet and playwright, Philip Depoy, and I had gone to see his band play. So I started singing with what I though of as all the "old jazz dudes" but looking back they were probably, like, 29. I would think, "Wow, he has nose hair — he's so old." Now I'm 47 and the joke is on me.
AD: And that turned into your band The Jody Grind?
KH: Well, I was working at Peachtree Dekalb Airport (PDK), kind of accidentally, in airplane sales and I'm, like, I'm meeting all of these pilots and millionaires and aircraft mechanics, but you know what I'm not meeting? Musicians. So I quit and went to get a job at Turtles (record store). I didn't live anywhere, I was couch-surfing, I didn't have any money, but I met Bill Taft at a show at this punk rock club.   Bill was, like, "What are you listening to?" and I said, "Well, I'm really into Hoagie Carmichael." And he though that was really interesting and he came into Turtles two days later and said, "You wanna start a band?" So my evil poverty plan worked. [The band] was called Evening with The Garbageman at the time and our first show was at the White Dot.
AD: Do you remember the first show you played as The Jody Grind?
KH: That I don't remember. It just sort of evolved. I guess it was when we started touring. The name was getting, like "Evening with The Garageband" so we changed it to The Jody Grind. We played Athens a lot, and then we would play down in Tallahassee and Jacksonville. We started touring like crazy and accidentally made a first record and then on-purpose made our second and there you go.
AD: Let's talk about this latest record. You've collaborated with so many people…
KH: I'm a whore, man. I'm a whore. I get around. I've just been around it so long! I'm just very lucky and very honored.
AD: Are you naturally drawn to other musicians as people, or is it more a function of business?
KH: I love the feeling of being in a band. I love collaborating. I sort of take dares that way. When I first moved to Chicago and Steve Albini would call me for, just, anything, I would show up. Sometimes it would be singing, sometimes it would be screaming…anything. It's like seeing the world — I want to see what it's like to do all kinds of music.
AD: What's your current obsession?
KH: I've been obsessed with the Carole King demos that came out recently, with her pitching stuff to people. I've been into her songs since the first grade. And I'm really into arrangements — the arrangements in these nascent songs are better sometimes, and even way more complicated. Her original arrangement of "Pleasant Valley Sunday"  is really killer.
AD:   That's just a fantastic song, all the way around.
KH: Yes, and I'm also waving the flag around, like, "Don't forget Gerry Goffin — he's the one who wrote all those words." And people always talk about Burt Bacharach, but don't forget Hal David! Sometimes the lyricists get shoved aside. That's one of the reasons I covered Margaret Ann Rich. I'm a huge Charlie Rich fan, and people are familiar with him, but his wife wrote some killer songs. She's the one who got him signed to Sun Records. I've been wanting to do a record of just her songs for a long time.
AD: So for this record, you sent out feelers to a lot of your favorite songwriters asking them to write a song for you. How many responses did you get?
KH: I don't know, exactly. A bajillion, it seemed like. I was, like, rolling over and peeing on myself. I can't believe people were sending me these songs. It was a long process, starting around 2009. I think the Andy Bird/Jack Pendarvis song came about a month before we went into the studio. Some people sent things right away, but then I would periodically send out reminders. I used to be a bartender in Chicago, so it would be, like, "Last call for song-a-hol."
AD: Did you ever feel like this was a Rorschach test of sorts? Like, what is a Kelly Hogan song supposed to sound like?
KH: Oh, definitely. Making this record was fraught with terror. I was scared to write letters, I was scared to get the songs — what they would say about me. But I didn't think about that too much. I just know when I got the Vic Chesnutt song, it was like he was telling my life story without knowing it.   When I got the Robyn Hitchcock song, too — which is the title song of the record — I guess he had started writing that song for me even before I asked him to write that song. That definitely speaks to me, and that's why I titled the record that. words/ j kress