Roadside Graves cover "Downbound Train" on the upcoming  Springsteen tribute compilation, Long Distance Salvation. Below, I asked the Graves' John Gleason to shed some light on the track selection, the band's reimagination of it and his relationship with the Springsteen's music. Gleason, in his own words, below. – AD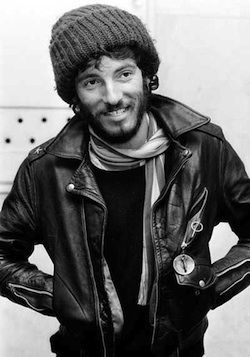 We were originally asked to cover "Open all Night" for this benefit tribute to Nebraska and I dreaded the idea simply because Son Volt had already done a fine reworking of it, but luckily   a week later we were told our song was switched to "Downbound Train"; a track on Born in the USA, but originally part of the Nebraska demos. As an album, Nebraska is slightly abused in certain musical circles, so it was refreshing to work with "Downbound Train".
I immediately knew I had to tinker with the lyrics a bit, the last verse has always bothered me because I couldn't see the character working at a car wash and then swinging a "sledge hammer on a railroad gang". I prefer leaving the character after the third verse, dreamlike running to his empty house. This is one hell of a song and being from NJ it's almost sinful to mess with Bruce, but I feel like we did it well and found some room to make the song our own without ruining or playing it too similar to the original.
I find it difficult to understand someone who doesn't like Springsteen, I met my wife in Atlantic City and was quite unsure of how the evening would play out until she bought me a beer and asked me what my favorite Springsteen record was. I lied and said Nebraska (it's really Tunnel of Love). Bruce has songs that he doesn't put on records that are better than anything I'll ever write, example: "Shut Out the Lights" (also included on this tribute). His songs are epic, we added the "You said you'd wait for me" ending because we love epic, wanted to continue the desperation and sadness of the narrator, and, well, we were trying to zone in on some 80's catchiness, "woah oh". We entrusted Johnny (our "keyboarder" and early Genesis fanatic) with recording the track, so each time a new wild, swirling synth part appears I have to smile, it's so Johnny.
If anyone ever is visionary enough, brave enough, can look past the production enough to release a tribute to the Tunnel of Love record please get in touch, we're waiting eagerly. When I was a kid I thought Bruce sang, "You were crying Clarence, you were so alone". I hope Bruce hears this someday. — John Gleason, Roadside Graves
MP3: Roadside Graves :: Downbound Train (Bruce Springsteen)