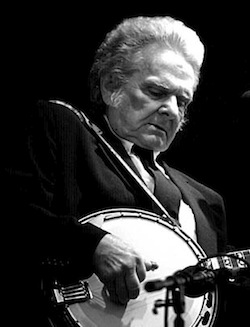 The Doctor meets the Captain: Ralph Stanley's 85 year-old voice is unmistakable; sung a capella, it's undeniable. "Sure 'Nuff 'N Yes I Do" is the catcall blues opener to Captain Beefheart's debut LP, Safe As Milk.  Stanley's interpretation skews far from his typically reverent, trad-bluegrass. His  wizened delivery of "Hey hey young girls/ Where you at?" throws a twisted shadow on "high and lonesome." He leans on certain syllables and lingers on others, never sounding hurried. Beefheart's gruff, bombastic hustler is re-imagined as something subtle and devilish–like Hades dragging Persephone down to hell in a silent dust-storm rather than a chariot of fire.
This recording is from the new Prohibition-era bootlegging-flick,  Lawless. Nick Cave and Warren Ellis helmed the soundtrack, which centers around covers of three songs (all AD 5-star favorites): Beefheart's "Sure 'Nuff 'N Yes I Do", the Velvets "White Light/White Heat" and "Fire and Brimstone" from Link Wray's oft-overlooked S/T masterpiece. Stanley and Mark Lanegan both sing versions. The former Screaming Trees vocalist is backed by the Cave/Ellis house band, "The Bootleggers," which plays a tastefully punk-rock idea of acoustic frontier music, tinged with the slightest hint of The Bad Seeds' noisy drones. Emmylou Harris and Willie Nelson also lend their voices to the soundtrack, which came out today. words/a spoto
Ralph Stanley :: Sure 'Nuff 'N Yes I Do
For heads, by heads. Aquarium Drunkard is powered by its patrons. Keep the servers humming and help us continue doing it by pledging your support via our Patreon page.