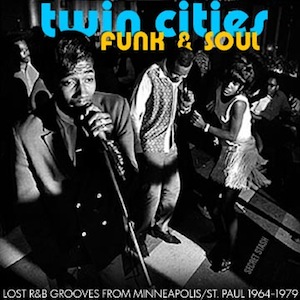 "The Minneapolis Sound". The very words conjure musical memories of Prince and his musical disciples from the late '70s — mid '80s. The Time, Vanity 6, Jam & Lewis, even LA resident Cherrelle; all were heavily influenced by Prince's groundbreaking mix of funk, rock, and synth-pop. It's a testament to Prince's musical genius that he is synonymous with a whole genre of funk music. But art, no matter how great or groundbreaking, is not created in a vacuum and "The Minneapolis Sound" has its roots in the Twin Cities' regional funk/soul scene of the 60s and 70s. In their new compilation, Twin Cities Funk & Soul: Lost R&B Grooves From Minneapolis/St. Paul 1964-1979, Secret Stash Records explores those roots.
While the Minneapolis/St. Paul area might not be the first region to come mind, when thinking of funk and soul hotbeds of the 60s/70s, the 21 tracks on this collection shed light on the vital and thriving music scene. Gritty R&B, psychedelic funk, sweet soul, and proto-disco sounds are all here; the Twin Cities sound was as diverse as anything coming out of Detroit or other more recognized soul centers. Highly collectable gems by artists Maurice McKinnies, Wanda Davis, and Jackie Harris finally receive wider exposure and names such as The Valdons, Wee Willie Walker, and The Prophets of Peace also get some long overdue attention.
From the opening track (The Valdon's "All Day Long") to the last ("Get Up" by The Lewis Connection), every song is amazing, making it quite difficult to only highlight a few. Yet, here's my attempt to provide an overview of this set of hidden gems from the Midwest.
MP3: Wanda Davis :: Save Me
MP3: Dave Brady and The Stars :: Baby, Baby I Need You
MP3: The Lewis Connection :: Get Up
Twin Cities Funk & Soul: Lost R&B Grooves From Minneapolis/St. Paul 1964-1979 will be released as a 2xLP/CD on September 25th. words/ c weaver