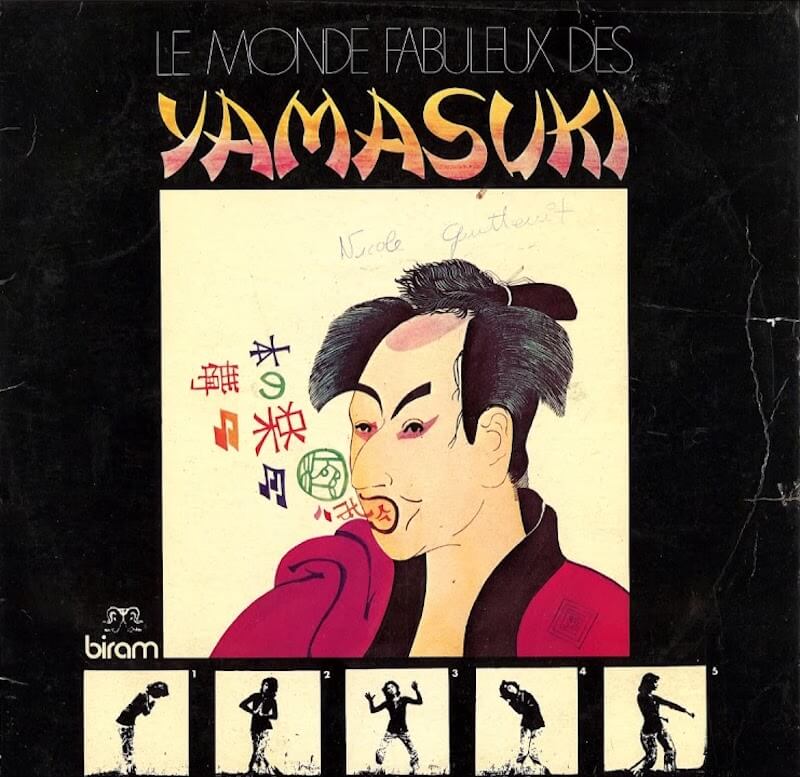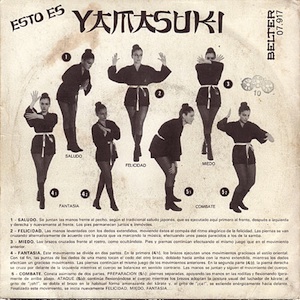 Yamasuki began as a dance craze in 5 steps — full-body instructions are on the album cover. Its mastermind was Daniel Vangarde, a French auteur of the concept album who skipped and pirouetted across genres and cultures with Gainsbourgian whimsy. Written mostly with his Belgian producer-partner Jean Kluger, Le Monde Fabuleux Des Yamasuki features a mesmerizing, detailed aesthetic concept: a children's chorus singing fast-paced melodies, mostly in Japanese, tracked over heavy bass and coolly fatbacked drumming. The songs are short and tight, and the album flies by like a shamelessly fun, intricately planned costume party.
Throughout the '70s and '80s, Vangarde was releasing all kinds of music under a variety of monikers (including his birth name, Bangalter). He wrote and produced for other artists, and collaborated often with Jean Kluger. By the '80s he was making funky, born-abroad disco beats, but early in his career he tapped a unique sound with the Yamasuki album, one that has garnered a beat-savvy cult following over the years. In 2005, the label Finders Keepers reissued the album with this description: "a fuzzed-out educational multi-cultural psych-rock-opera from 1971. Proto-psychedelic hip-hop with overweight drum beats and basslines." That's a lot of hyphens. Part of the record's novelty is its extreme cultural hodgepodge, but its success lies in the sleek aesthetic manifestation of an essentialized, vaguely Japanese sound. On this note, the breakdowns featuring the shrieking, ass-grilling judo master and the faux-shodō calligraphy font on the cover add a fantastic, cartoonish gleam to the project–the "fabuleux."
Legend has Vangarde and Kluger getting completely immersed in their fantasy, learning Japanese, hiring an authentic judo master to shout at their singers. But instead of sounding overwhelmed and busy, the musical gestures and melodic modes Vangarde and Kluger swiped for their Orientalist palette combined into crisp, hooky grooves. As good music should, Yamasuki conquers its bastardized influences and kitsch. Thanks to the brevity of the songs, the entire album is engaging and consistent, but there are a few standout tracks. "Yamamoto Kakapote" riffs on a too-cute hypnotic chant, festooned with wah-wah guitar and curt, plucked strings. Listening to the song is like a slow motion Hello Kitty TV seizure. Fast-forward can be found with "Kono Samourai." The hit single of sorts was "Aieaoa"–it's a pleading, soulful chorus over a stone cold rhythm section and bass line that could be an archetype for the modern day Dap-Tone/Truth & Soul set. "Aieaoa" has resurfaced from obscurity on a few earlier occasions: it was retooled with Swahili lyrics in 1975 for Black Blood, and then made for an early Bananarama hit in 1981.  Nevertheless, it's hard to top the novel appeal of the original Yamasuki sound. The rest of the material on Le Monde Fabuleux Des Yamasuki hits just as hard as "Aieaoa," and that the made up French-Japanese revue always sing together in unison is both unmistakable and mysterious–the individual never breaks out to dispel the enchanting group identity. | a spoto
For heads, by heads. Aquarium Drunkard is powered by our patrons. Help us continue doing it by pledging your support via our Patreon page.