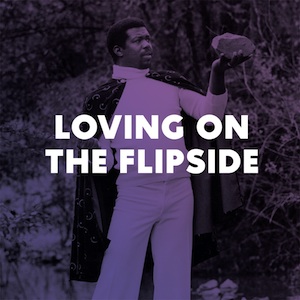 There's a type of tunnel vision that goes along with being a collector. Regardless of what his or her particular obsession might be, any collector will hone in on a detail or a characteristic and proceed to amass as many objects exhibiting said details as possible. Whether it's stamps, comic books, or vintage clothing, the devil is always in the details. And when it comes to records, especially 45s, that tunnel vision often causes one to miss out on some amazing music; it happens to me all the time. Loving On The Flip Side, Now-Again Records' new compilation of "Sweet Funk and Beat-Heavy Ballads," as the set is subtitled, addresses the myopia rampant among collectors.
The 21 tracks on this compilation are culled from 45s in the Now-Again and Truth & Soul libraries. 45s originally purchased for their raw funk grooves have been flipped over and reexamined, and a spotlight has been shone on the oft-overlooked b-sides. In contrast to the funk made to entice listeners to the dance floor, the songs on the flipsides are musical treatises on love, lust, longing, and heartbreak.
Don't get me wrong, there's plenty of funk on this compilation (notably "Treat Me Right Or Leave Me Alone" by Eddie Finley & The Cincinnati Show Band and "Whatcha Gonna Do?" by Rhythm Machine), but these songs lead more to introspection than to dance-floor frenzy. Along with "sweet funk," the heart-wrenching balladry (check out "I Don't Think I'll Ever Love Another" by Darling Dears, Symphonic Four's "Who Do You Think You're Fooling (Part II)", and Lee Bonds' "I'll Find A True Love") really sets a ruminative mood.
Expertly curated and lovingly packaged, Loving On The Flip Side features detailed notes on each entry (written by Now-Again head Eothen Alapatt and other savvy soul music aficionados) and is full of candid, studio, and promo shots of these little-known artists. Besides the brilliant music, Loving On The Flip Side also serves as a marvelous reminder to always check out the other side of a 45.   words/ c weaver
MP3: Eddie Finley & The Cincinnati Show Band :: Treat Me Right Or Leave Me Alone
MP3: Symphonic Four :: Who Do You Think You're Fooling (part 2)
Previously/Related: Black Velvet :: Is It Me You Really Love? (also included on  Loving On The Flip Side)