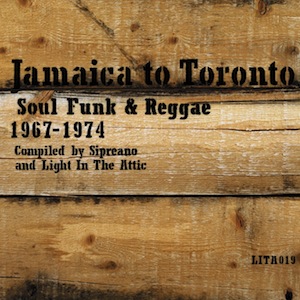 As we inch closer to Light in the Attic Record's 10 year anniversary showcase, featuring Rodriguez and Shin Joong Hyun later this month in L.A., it's worth noting that the label's last decade has been littered with classics. Case in point, the excellent 2006 compilation, Jamaica to Toronto: Soul Funk & Reggae 1967-1974, a set that finds LITA at its best — telling human stories through its song selections, tying real characters to a place and an era.
Compiled by DJ/Canadian music historian Kevin 'Sipreano' Howes, the 16-track collection documents the exodus of Jamaican musicians, the kind of guys who previously recorded for labels like Trojan, Studio One, and more, from the island to Canada in the late '60s and early '70s. Like the label's work with Rodriguez (which tells as much a tale about Detroit and South Africa as it does the singer/songwriter), proto-punk band The Monks (American GIs stationed in Germany in the mid-'60s), and South Korean guitarist Shin Joong Hyun, it's a tale of musical pollination, one where reggae, jazz, soul, funk, and psychedelic rock all find equal footing.
The resulting sounds made as artists like Jackie Mittoo, Wayne McGhie, Noel Ellis (son of legendary rocksteady king Alton Ellis), and more settled into their new digs is as surprising as their journey is unique: Mittoo's feedback squealing "Grand Funk" is raucous, The Sheiks' "Eternal Love" approaches doo-wop from a sideways, island-inspired bent, and Jo-Jo and The Fugitives' break beat-heavy "Chips — Chicken- Banana Split" is an instant shaker, the height of propulsive, fiery funk.
Most revelatory is the Cougars take on Motown classic "I Wish It Would Rain" (made famous by The Temptations). Echoing the way Jamaican artists melded the American sounds of R&B they heard coming over their radios with island sounds in the '50s, the Cougars turn the song on its head, reverse engineering it with an insistent, up-stroked electric guitar acting like a metronome as the organs and drums build up and break under the harmonized, mournful chorus. Hot stuff, indeed.
LITA's reissued proper LPs by many of these artists (Mittoo's Wishbone is a must-have, as is Ellis' self-titled album, featuring the influential cut "Rocking Universally"), but there's something special about the way Jamaica to Toronto illustrates how the label excels, telling a story with varied voices, succeeding at making statements that linger long after the sounds fade. words/ j woodbury
MP3: Cougars :: Right On
MP3: Noel Ellis :: Memories