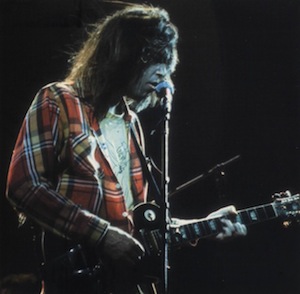 "I'd like to do this song for Rodan the Flying Monster," announces Neil Young towards the end of the opening acoustic set on this excellent audience tape. The song that follows is a mellow rendition of the chart-topping "Heart of Gold". But Neil obviously had Japanese monsters in mind this evening: he returns for the second set with Crazy Horse and proceeds to lay waste to the concert hall like Godzilla.
Aside from a few low profile NoCal gigs in 1975, this Japanese jaunt was the debut of the new Crazy Horse with guitarist Frank Sampedro in tow, and the beginning of one of Young's greatest years onstage. The '76 shows are prized by collectors because they capture Shakey at his most ragged and most glorious, as he reaches astonishing new heights as both a guitarist and a songwriter. The dude just couldn't do anything wrong at this point in his career, with so many classic songs pouring out that he'd forget to release some of them for decades. In the electric set, Neil's solos are unbelievable, mind-splitting things, moving effortlessly from high, piercing lines of almost painful purity to malevolent, gutbucket nastiness. All the while, Crazy Horse does that patented caveman stomp behind him, pushing the music to peak after peak. Of course, the electric set is just half the brilliance; don't miss the acoustic portion, with Neil in a loose, friendly mood, playing the hits, alongside new compositions like "Too Far Gone" and the beautiful, still-unreleased piano ballad "No One Seems To Know". words/ t wilcox
Download: Neil Young & Crazy Horse :: Fukuoka, Japan — March 8, 1976 (zipped folder, 130 mb)
Acoustic Set: 1. Tell Me Why 2. Mellow My Mind 3. After Gold Rush 4. Too Far Gone 5. Only Love Can Break Your Heart 6. A Man Needs A Maid 7. No One Seems To Know 8. Heart of Gold
Electric Set: 1. Country Home 2. Don't Cry No Tears 3. Down By The River 4. Lotta Love 5. Like A Hurricane 6. The Losing End 7. Drive Back 8. Southern Man 9. Cortez The Killer 10. Cinnamon Girl
Elsewhere: In anticipation of Neil Young's autobiography, Waging Heavy Peace, David Carr interviews Shakey for the New York Times: "I'm not here to sell things. That's what other people do, I'm creating them. If it doesn't work out, I'm sorry; I'm just doing what I do. You hired me to do what I do, not what you do. As long as people don't tell me what to do, there will be no problem." Read it here, Neil Young Comes Clean.
Only the good shit. Aquarium Drunkard is powered by our patrons. Keep the servers humming and help us continue doing it by pledging your support via our Patreon page.