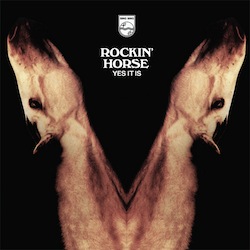 The two core members of Rockin' Horse, Jimmy Campbell and Billy Kinsley, are masters of English beat music. Students of American R&B, The Everly Brothers, and the Shirelles, the pair could marry a hard rocking groove to a pop hook with ease and could blend their voices into beautiful close harmony. The band itself was a figment of the studio, a one-off ensemble gathered at Majestic Studios in Clapham, South London, to make the great '60s rock album four years too late. Yes It Is was immediately dismissed as irrelevant in a post-Beatles pop world when it was released in November of 1971. Since then, the record has existed mostly in obscurity, living as a prohibitively expensive vinyl and an equally uncommon Rev-Ola CD reissue. Thankfully, NYC-based Sing Sing Records re-released Yes It Is on vinyl earlier this year, marking the first time Rockin' Horse has been accessible outside of YouTube-surfing and Dropbox downloading.
The liner notes from the Sing Sing release say that the concept for Yes It Is was for Campbell and Kinsley to "record a bunch of songs inspired by the same primal sounds of pure, live Mersey Beat that had spawned their initial love of music." A simple, earnest endeavor, the album is the product of working musicians who came up playing every night in the clubs. Both performed regularly at The Cavern Club in Liverpool and emerged from the same milieu as the pair's most obvious sound-alike and admitted influence, the Fab Four. Campbell had played in The Kirbys and the 23rd Turnoff while Kinsley made a career with The Merseybeats. The two met recording for Campbell's Half Baked project, and Rockin' Horse was the platform the pair used to develop their studio chemistry into a new band. As such, the live-in-the-studio sound shares a spirit with Let It Be-era Beatles just as much as The Band circa Big Pink.
The guitars hit hard on Yes It Is, but it's the band's lyrical style that sets them apart. Rockin' Horse is confessional, observational, dramatic. Campbell and Kinsley play up a theatricality in the music to carry lines like "Don't you ever think I cry?/ It won't be long before I lose control." "Julian The Hooligan" opens with a minute-long, melodramatic piano solo and gives way to a four-on-the-floor rocker; "Delicate Situation" skips between Broadway musical sing-song and blues howl with the pound of a drum fill. The title track immediately sticks with a fierce, ascending guitar riff and an insistent, pleading chorus. Another highlight, "Oh Carol, (I'm So Sad)," ends in a call-and-response frenzy that sounds like The Shirelles gone hard rock crazy.
The lynchpin of Yes It Is is the tune "Golden Opportunity." It's not one of the best songs musically, but it's plainspoken and almost painfully self-aware. Campbell laments, "You don't have to believe me but I'm very sensitive/ I turned down so many parts that later became hits/ All because I thought it my duty to do so." Despite sounding so accessible and familiar, there's an indie mentality represented in these lyrics that highlight Campbell and Kinsley as forward-thinking, independent artists. In a recent email to AD, Billy Kinsley commented that "the general idea for the album was to write songs in the style of the music that turned us both on and didn't go along with what the record companies wanted." One way to look at it is that by 1971, Campbell and Kinsley were riffing on a genre and form that was tapped out and obsolete after The Beatles' implosion. They were survivalists of a wasteland genre that had fallen out of vogue.
With barely any interest or promotion from Phillips, Yes It Is came and went with little fuss. The only time the band played live was to back up Chuck Berry on his 1972 UK tour. Across the pond, the influential zine of scenester Greg Shaw, Bomp, picked up on Rockin' Horse and re-released the band's single "Biggest Gossip In Town" on his Voxx label in 1979. Most of the Rockin' Horse songs were written by Jimmy Campbell, but "Biggest Gossip" was a Kinsley tune. When Shaw recast "Biggest Gossip" as one of the greatest progenitors of "power pop," he distanced the group from its comparison-heavy reputation (Sing Sing Records calls itself a purveyor of "legitimate first wave punk & power pop reissues). Ever since, Yes It Is has enjoyed an underground, cult reputation, but its fans are mostly American. Dan Auerbach covered "Oh Carol" during his tours for Keep It Hid, and The Buffalo Killers performed "Don't You Ever Think I Cry" on a 2007 tribute album to Greg Shaw, but the originals are not to be missed. words/a spoto
MP3: Rockin' Horse :: Don't You Ever Think I Cry
MP3: Rockin' Horse :: Yes It Is
Only the good shit. Aquarium Drunkard is powered by our patrons. Keep the servers humming and help us continue doing it by pledging your support via our Patreon page.