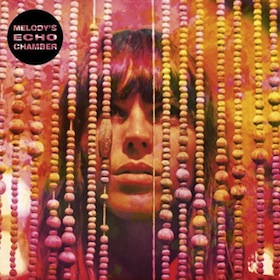 The fundamental texture of Melody Prochet's voice rings clean and delicate–an anti-diva, expressive in her elegant range and unwavering accuracy. The echo applied to her voice is pillowy, a cumulus cloud damply evaporating up into a bright sun. Set in a flurry of zip zappy synth sounds, Melody's Echo Chamber sounds dreamy, but it's more atmospheric than psychedelic: The feeling is like being lost in an overwhelmingly vivid daydream, not like you're tripping balls.
Melody's Echo Chamber is the French singer-songwriter's debut on the excellent Fat Possum label. She made the record with Tame Impala frontman Kevin Parker in that band's far-flung hometown of Perth. Self-conscious about recording vocals, Prochet did those by herself at her grandparents' beach house in the South of France. That's quite a different stretch of coast from the one in California, and while there may be an appeal here for the "chillwavers," Prochet's music and overall vibe doesn't have anything to do with the beach (thank God). Her songs are well crafted and work on the pop-song level, but she also incorporates a wide range of influences that get lost in themselves. In the minor media quake that introduced Melody's Echo Chamber to America, she often cited a smart cocktail of experimentalists ranging from Can, Robert Wyatt, and Red Krayola to Broadcast, Spiritualized, and Pram to Debussy, Messiaen, and Satie. The style she came up with yielded an impressive, rich debut.
The hook from lead single "Crystallized" sums up Prochet's sound: "just before I crystallize." It's compelling, modern pop-songwriting with a swelling fullness that is both focused and meticulous but never completely resolves its noisy suspense. The guitar line on album opener "I Follow You" suggests pain and uncertainty, but the chorus stirs up a fleeting, warm-and-fuzzy feeling when the deep bass drops in and Prochet sings the words "I follow you." "Some Time Alone, Alone" hits hard with a stark, hard-rocking guitar strum and a melody that twinkles but doesn't sound precious. Classic Juno synth timbres haunt "You Won't Be Missing That Part Of Me," in which Prochet beautifully sings about the ugly situation of wronging someone and having to admit it. Her sentiment is earnest and reflective and, like her music, it's calm and collected, never overcome by the wilds of emotion. It's both personal and distant, and the balance is charming and alluring.
Prochet's songs and voice partners up nicely to Parker's production. In fact, the most alarming thing about this otherwise coolly beautiful record is its immersive hi-fidelity. Arpeggiated chords make up the backbone for most of the tunes. During the moments when Prochet's songs are floating and meditative, suspended by these arpeggios, imaginative production ideas complicate the dreamscape. Bold panning, wide, sweeping EQ filters, and wiggly, cascading echoes add to the music's depth (a depth reminiscent of Tame Impala's sound, naturally). It sounds futuristic and feels novel, like 3D glasses and surround sound. The richness of the sonic palate kind-of tricks the ear into an extended sense of hearing.
"Bisou Magique," one of the tracks Prochet sings in French, maximizes this woozy, swirling mystique. During the coda, Parker (who also plays bass and drums) hits this tightly syncopated beat on the bass that makes the jam flare up, a subtle detail but a gem. Highlight "Quand Vas Tu Rentrer?" doesn't have the poppiest of hooks, but it's perhaps Prochet's most unique and evocative song. It's built on a crooked 5/4 vamp and eery, hollow harmonies, and her vocal melodies climb up, then effortlessly linger. The songwriting on the b-side loosens up a bit, featuring more spats of controlled feedback and noisy samples, but the album's overall effect is a good one: a blissy, tremulous body high. words/a spoto
MP3: Melody's Echo Chamber :: Some Time Alone, Alone
MP3: Melody's Echo Chamber :: Quand Vas Tu Rentrer