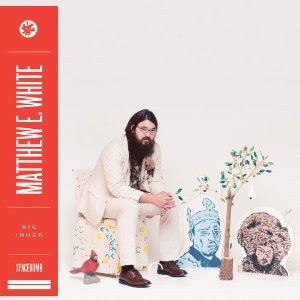 If, as our rock 'n'  roll legends suggest, it's true that the adult Brian Wilson intended for Smile to be a teenage symphony to God, then it must also be true that Matthew E. White, he all of twenty-nine and very much of our day, has done the same with Big Inner. But where Wilson sought the sublime in cooed harmonies and American history, White, who was born in the Philippines and raised in Richmond, finds his spiritual raw material in swampy, nasty funk music and the words of Scripture.
With its complex horn charts, rattling percussion, and humid vocals, it's tempting to say that Big Inner, White's solo debut and the first record to be released on his own Spacebomb imprint, has sanctified Dr. John's gris-gris, hanging it from the clouds with soaring strings and songs about heavenly matters; check the bone-banging coda tacked on to "Hot Toddies" if you're skeptical. There are shades of Randy Newman's lyrical piano rolls on single "Big Love" and mentions of the house bands of Stax and Motown seem almost inevitable. But what White's done with Big Inner is larger and more complex than all of that, and for all of its references to pop and soul's past, as the record struts past, the giddy amusement that accompanies hearing someone so perfectly recreate that aesthetic melts away, leaving behind a kind-of astonishment at how well-wrought these songs actually are.
White is a patient composer. He allows his songs to grow organically, the gentle strums and guitar lines that open "One of These Days" gradually finding their place in a deeply orchestrated soundstage. There are horns and echoes of horns and rumors of horns set into and against an elegant string pattern. White's not the most versatile of vocalists, but he knows how to take advantage of his strengths; when he croons about there being so much beauty and it fading so soon near the song's end, it comes across like a bedroom whisper. Then, as if to demonstrate his point, he lets his string section tie one last flourish of a knot before ending the song altogether.
At its best, Big Inner bombilates its way heavenward, easing itself back on cool heels and a kind of settled drama. The album's final five minutes consist of White leading his band through the back end of "Brazos," repeating the couplet "Jesus Christ he is our Lord/Jesus Christ he is your friend," handing it off to background singers, then picking it back up for himself, while the music behind him doesn't so much build to any kind of dramatic tension as it does fan the sound outwards, transforming solitude into community.
MP3: Matthew E. White :: One Of These Days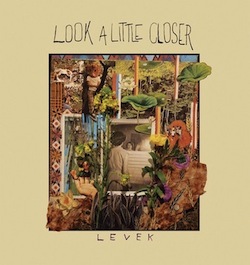 It's here, at these lofty heights, that White espies and winks at Florida native David Levesque, himself on his way back down and back into the bedroom. Like White, Levesque excels at idealizing and recontextualizing the past, but where White draws the individual out to the masses, Levesque, who records under the homophonic name of Levek, uses his pan-piped melodies and washed-out wah to position himself as a new kind of bedroom folkie, one as eager to bob his head as he is to ruminate.
While the songs that make up Look a Little Closer, Levek's full-length debut, deal largely with mental illness and community, the record feels like a closed work, more a well-composed landscape than an open field. Handclaps and samples soar through the fingerpicked folk of "St. Francis," while "Can't Buy This Love" builds itself out of a groove that has to be taunting RZA. It's that quiet, late-night funk–the kind you make when to dance would seem to dishonor your sadness in some sacred way–that Levek does best, and it forms an excellent, if unexpected, complement to the spindly, Simonesque folk songs that make up   the album's skeleton.
It requires a certain kind of suspension of disbelief for an artist to shift from the glitchy trap-splat that opens "Solemn Feeling Forever Healing" to that song's grandiloquent piano lines and breathy vocals, and even more so for all of this to come after a plaintive acoustic guitar ballad ("Girl in the Fog") that finds Levesque singing in earnest harmony about "memories forged on the seaside," as if St. Augustine were Sussex. It's to Levesque's–and Levek's–credit that these transitions all seem natural and of a piece with one another. Even the modge-podge diction is not only forgivable but preferable, so perfectly do Levesque's compositions recreate the chill of British malaise as reflected through American folk-pop; if Paul Simon can write about Scarborough Fair, why can't David Levesque write about Canterbury bells?
Even so, it's hard not to hate Levesque for waiting until the very end of the album to coax out a song as strong as the stunning "French Lessons."  Two-stepping and lurching with a vintage, analog creepiness that make it sound like Danger Mouse recomposing the soundtrack to A Clockwork Orange, the track practically renders Look a Little Closer's first nine songs irrelevant by virtue of distilling their various suggestions down to a single four-minute thought. "I feel like slipping away/On this beautiful day," Levesque sings over bright calliope runs that somehow feel vulgar and damp, far from the beautiful day both the words and the keyboard's tone suggest. The song clicks to its end, fading back into the wilderness from whence it came, effortlessly powerful in a way that the rest of the album often achieves but rarely sustains. You'd never think to be dissatisfied with Look a Little Closer before "French Lessons" begins, but it's practically inevitable once it ends; as strong a debut as this record is, its finale points towards much greater things. It's almost enough to make you want to get up, draw the curtains to the side, and take a look at the clouds to give the grey sky another look. words/ m garner
Related: Matthew E. White :: The Lagniappe Sessions (Covering Randy Newman & Joe South)