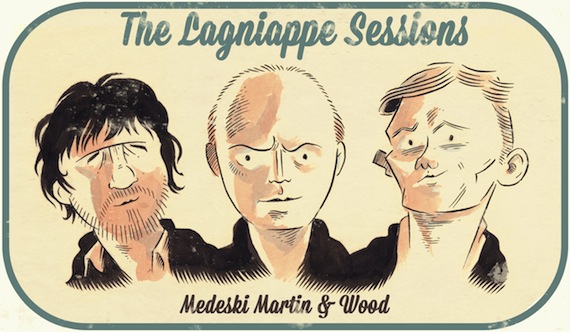 Lagniappe (la ·gniappe) noun 'lan-ˌyap,' — 1. An extra or unexpected gift or benefit. 2. Something given or obtained as a gratuity or bonus.
Perennial masters of avant jazz, soul and groove, Medeski, Martin & Wood returned to the fold last month with the release of Free Magic — the trio's first LP since 2008's The Radiolarian Series. An unplugged set (their first since the live album, Tonic), Free Magic pulls exclusively from a 2007 acoustic tour, both rooting itself in their 1991 debut — Notes From The Underground — while exhibiting the group's exponential growth over the past twenty years.
MMW cut three covers in NYC last month for our Lagniappe Sessions. In his own words, Billy Martin riffs on the cover choice selections below. An essential listen.
__________________________________________________________________________________
MP3: Medeski, Martin & Wood :: Suspicious Minds (Elvis Presley)
I have a love/hate perspective on Elvis. This one is obviously gospel-influenced but in a cool way that is not a total rip off of African-American spirit. But who am I to say? African spirit music has schooled me in a major way.
MP3: Medeski, Martin & Wood :: What'd I Say (Ray Charles)
We've been playing "What'd I Say" forever and it never gets boring. There's some deep energy in that composition and the way we dance to it, or in other words play it, reminds us of how Ray Charles was the baddest mother fucker around!
MP3: Medeski, Martin & Wood :: The Pocket Knife (PJ Harvey)
I've good a secret crush on PJ Harvey. So does my wife. I wanted to cover this whole Uh Huh Her record with MMW. We did perform three of them for a while and it felt so good! I hope PJ reads this and asks us to be her band sometime.
original illustration  for aquarium drunkard by Ben Towle.