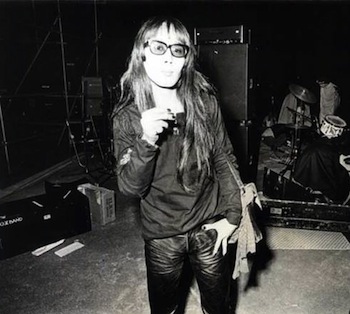 Swathed in an impenetrable fog of mystery and extremism, the Japanese group Les Rallizes Dénudés exist more as a myth than as a real band. But what is a real band anyways? Accounts of Rallizes live shows tell of overwhelming sensory experiences fueled by excesses of volume and light — musical performance so intense that the body can't escape. That sounds real enough, but everything else about the band pulls a blank: no proper studio albums, interviews, press photos — press anything. LRD's agenda, both artistic and philosophically, hinged on radio silence. And so the band's biography has been written mostly by its reputation as a painfully abrasive live act with insurgent left wing politics. Grown from a shadowy, DIY presence in the Japanese university system, the project formed around singer/guitarist Takashi Mizutani in 1967. Influenced by Japanese avant-garde theater and performance art, Les Rallizes Dénudés appeared at protests and occupations, leaving in their wake leftist propaganda and ringing eardrums. In 1970, Bassist Moriaki Wakabayashi hijacked a Japan Airlines 727 with eight other members of the Communist Red Army Faction, taking asylum in North Korea. Actions like that dazzled and helped to galvanize that band's extreme image.
It's most appropriate to break down the Rallizes' oeuvre as "documents" or "reports" rather than albums because most of their recordings are live bootlegs of varying qualities, many taken from shows at Japanese universities. Until a few years ago when British rocker-turned-intellectual Julian Cope published his intriguing Japrocksampler, LRD was an impossible obscurity to the English-speaking world/Internet. Their scarce, unconventional discography was a point of obsession for cultish rock nerds, but Cope featured them prominently in his history of Japan's avant-garde psych rock (four Rallizes' "documents" make it into Cope's Top 50). In the past few years, the band's music has been made more readily available through a handful of reissued bootlegs and dissemination via blogs and YouTube.
Still, it's difficult to discuss Les Rallizes Dénudés with any authority. The original geist surrounding their original, underground performances seems so far away from the artifact-bootlegs left for listeners that the group seems downright unknowable, fractured by time and the recorded medium. The complexity of the band's political stance and the absence of any real, official front for their music means the first place a Westerner who doesn't speak Japanese will turn is the music itself.
It rocks hard, long, and heavy. There's a secondhand quality inherent to bootleg-style recording that keeps the listener at a distance. Fidelity is constantly in danger of collapsing under the piercing volumes, and many LRD tracks just cut off. The band's music is typically characterized by long jams on simple riffs, explored via distortion and echo rather than melody. The songs' foundations are mostly down-tempo, minimal approximations of Western pop and psych rock that get assaulted by Mizutani's atom-bomb guitar. The juxtaposition of simple, familiar rock beats and unchained noise is both pleasurable and challenging. The way in which the Rallizes experiment with rock basics, droning feedback, and repetition recalls The Velvet Underground, of course. But instead of "Waiting For the Man," Les Rallizes Dénudés sneaks up behind him and cuts his throat before he can speak.
"Night of the Assassins" is an excellent point of entry, from Heavier Than A Death In The Family (#3 on Cope's Top 50). As Cope points out, the song is built on the groove to Little Peggy March's "I Will Follow Him." The Rallizes turn the little girl's bubblegum naî¯veté into something sinister and dangerous. Their reimagining is a ragged, 12-minute long trip, beleaguered by incessant feedback and echo from the guitar. Squealing, squashed frequencies obscure the vocals in thin, clippy distortion. It's a desolate wasteland of a song, where the one shred of certainty is that the chord progression will turn around. It's an immersive jam, exceptionally listenable while bursting with dark ferocity, but it's only the beginning to Les Rallizes Dénudés' deep, arcane catalog. words/a spoto
For heads, by heads. Aquarium Drunkard is powered by our patrons. Keep the servers humming and help us continue doing it by pledging your support via our Patreon page.