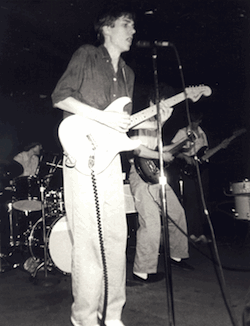 Let's take a trip to the Bowery, shall we?  By the time  the Feelies emerged in late 1976, CBGB was already well established as the epicenter of the era's cutting-edge rock music scene: the reputations of Patti Smith, Television, Talking Heads, and the Ramones were built on its stage in a few short, but action-packed, years. While the Feelies are a part of this lineage (they certainly absorbed lessons from Verlaine and Co.), they've always remained apart from any real scene, stubbornly conjuring up their own Crazy Rhythms.
This audience tape — one of the earliest known Feelies documents — captures the band's original lineup before Pere Ubu drummer Anton Fier joined the band. Despite this difference, and despite the fact that their debut LP was still two years away, the Feelies trademark sound is almost completely in place, here, filtering the Modern Lovers through Eno, finding the middle ground between Velvet Underground's scratchy subway minimalism and a distinctly suburban sensibility. These guys were polite New Jersey boys, after all — one can only imagine what the band's famously fastidious guitarist Bill Million thought of CBGB's legendary squalor.
Opening with a ferocious reading of the Stooges' "Real Cool Time" and then blazing through the bulk of Crazy Rhythms, the two sets included are rawer and more garage-y than the pristine grooves that the band would create in the studio a few years later. But there's already that total clarity of vision; this is a band that knows exactly what it wants to achieve, and does so with an almost single minded sense of purpose. This recording also has the added bonus of a few (excellent) tracks which would never make it to the studio, as well as a few more tastefully chosen covers: "My Little Red Book" (Bacharach/David by way of Arthur Lee) and a brisk blast through Eno's "Third Uncle." They might look like unassuming dudes, but the Feelies pretty much set fire to the CBGB stage this evening. words/ t wilcox
Set 1: 1. Real Cool Time 2. The Boy With The Perpetual Nervousness 3.  Fa Cé-La 4. Clean Girls 5. Forces At Work 6. Big Plans 7. Little Red Book 8. Moscow Nights 9. Crazy Rhythms
Set 2: 1. The Boy With The Perpetual Nervousness 2. Original Love 3. Third Uncle 4. The Thin Line 5. Loveless Love 6. Forces At Work 7. Moscow Nights 8. Slipping (Into Something)
Only the good shit. Aquarium Drunkard is powered by its patrons. Keep the servers humming and help us continue doing it by pledging your support via our Patreon page.