(Sevens, a recurring feature on Aquarium Drunkard, pays tribute to the art of the individual song.)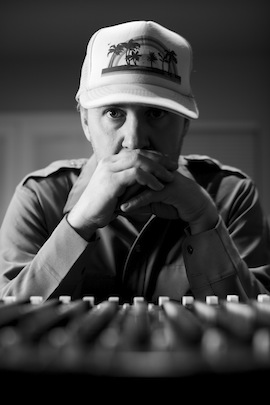 It's science: We live in the Age of the Sad Song. Bright melodies, major chords, and "Zip-a-Dee-Doo-Dah-isms" are greeted with suspicion by our tired and cynical ears. We can't help it — who's wearing optimism well these days?
That's part of what makes "Get Up and Go," from Jason Lytle's new record, Dept. of Disappearance such a rare tune. Just a few clicks over two minutes long, the song's a brisk pop mantra repeating the phrase, "Get up and go/you can do it/everything is gonna be alright," over bubbling new wave synthetic strings and multitracked acoustic strums.
Lytle isn't always so sunny; one could argue that melancholy is the man's go-to mood. His catalog with Grandaddy — the indie pop outfit he fronted from 1992-2006 (and reunited with for a series of shows this year) — and as a solo artist is mostly shaded blue, populated by characters in various states of destitution. Malfunctioning androids, drunks passed out in Datsuns, those trapped in old photos, posing with pets that have died and been buried — these are the denizens that populate Lytle's songs.
It's not generally cheery stuff, but that's what makes Lytle's proclamations of positivity feel so honestly uplifting. "Get Up and Go" feels like a sequel to "Yours Truly, the Commuter," the title track of Lytle's 2009 solo debut. "Last thing I heard I was left for dead/like I give two shits about what they said," he sang then, through cracked and busted lips. "I may be limping/but I'm coming home." Lytle has a trick, of course. That voice of his, creakier than his lyrics suggest, is a high lonesome thing, making each word sound hard earned and fought for.

When Lytle sings the refrain of "Get Up and Go," the affirmative "you can do it," it doesn't sound trite. The song is surrounded by darker fare, fatalistic gems like "Matterhorn" and "Your Final Setting Sun," classic bummer jams like "Hangtown," the twitching "Gimme Click Gimme Grid," and the classical detour "Chopin Drives Truck to the Dump" (coupling the movement with hilariously shambolic rock 'n' roll drums). It's placement, near the middle of the record, is no accident.
"Get Up and Go" is the shortest full song on the record, and the most lyrically sparse. It could well be a joke, a kind of sarcastic aside, but if doesn't feel that way. In an interview with Jud Cost for Magnet, Lytle recounts undertaking a 52-mile endurance race over the Big Horn Mountains of Wyoming, which neighbors his home in Bozeman, Montana, where he moved from California following Grandaddy's dissolution. "Get Up and Go" feels like a running song, with its steady snare, that chorus of faint harmonies, and that big, reverb-soaked guitar line, borrowed from Lee Hazlewood or Phil Spector. Like "Yours Truly, the Commuter," it's the sound of forward motion.
It might not be the best song on Dept. of Disappearance (though it certainly could be), but it's the most necessary song on the record, the album's wink and nod, a hearty and unselfconscious slap on the shoulder. words/ j woodbury