(Volume 17 of Clifton's Corner. Every other week on the blog Clifton Weaver, aka DJ Soft Touch, shares some of his favorite spins, old and new, in the worlds of soul, r&b, funk, psych and beyond.)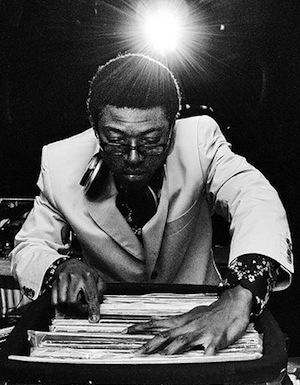 A lot of the music I cover in my Clifton's Corner posts could rightfully be described as left field or eccentric. Either due to the production techniques or the actual compositions, something about the music didn't or doesn't connect with mainstream listeners. However, as out there as some of it seems, most of it was made with an ear towards appealing to the mainstream. No matter the style or stance of an artist, having a chart hit is a great validation.
On the other hand, there are those artists that well and truly could care less. Whether attempting to expand the musical palette through 'experimental' music or composing incidental/background music not meant for chart consumption, this artistic freedom led to creations that are unique and compelling. From the off kilter pop produced by Joe Meek to the rare grooves of Thom Janusz, these uncompromised works ultimately found their way to a broader audience via artists who were influenced by them and those who traced the influence to its source.
Appropriately enough, this set begins with the Joe Meek & The Blue Men song, "I Hear A New World".   Though they might sound quaint and a little cheesy now, at the time, Joe Meek's productions were groundbreaking and revolutionary. Building on the innovations of forerunners like Les Paul, Meek used the studio as an instrument (particularly his use of echo, reverb, distortion, compression/limiting), forged a sound that was uniquely his own, and created the sonic template that was followed for much of the 60s.
MP3: Joe Meek & The Blue Men :: I Hear A New World
MP3: The Blue Rondos :: Baby I Go For You
Formed in London at the end of the 60s, White Noise was comprised of American classical bassist, David Vorhaus and BBC Radiophonic Workshop engineers Delia Derbyshire (famed for her work on the Dr. Who series) and Brian Hodgson. Much like Joe Meek, White Noise made use of state-of-the-art studio effects and looping techniques, pioneered in the radiophonic workshop, to create a wholly original sonic landscape. One listen to "Love Without Sound", from their An Electric Storm LP, and there is no doubt as to the main influence on contemporary acts such as Broadcast.

MP3: White Noise :: Love Without Sound
MP3: White Noise :: Your Hidden Dreams
Here, you can check out footage of Delia Derbyshire explaining the techniques she used in recording for the BBC Radiophonic Workshop.
Here, in the U.S.A. in the late 60s, the Silver Apples were also pushing forward with a new sound. Starting in a traditional rock band, Simeon and Danny Taylor began to incorporate primitive synthesizers with a minimalist approach to their music. Their experiments added to the sonic lexicon and predicted much of what would follow. Silver Apples' influence is heard in the krautrock that immediately followed them and in 90s indie rock.
MP3: The Silver Apples :: A Pox On You
MP3: The Silver Apples :: You And I
Finally, it wouldn't be a Clifton's Corner without some funk/soul sounds. Not much is known about Ronn Forella's Moves LP. What is known is that Ronn Forella is not behind the music on the LP. The man responsible for the sounds on 'Moves' is Thom Janusz. A composer, performer, and sculptor, Thom Janusz worked with the late jazz-dance instructor Ronn Forella on TV shows and a Broadway production, in addition to this instructional record. Crafted for dance classes rather than pop charts, Thom Janusz's compositions for '…Moves' are some of the most creative, interesting, and funky jazz dance tracks committed to wax. Rare for decades, '…Moves' has been recently reissued and is excellent demonstration of the creative possibilities when one is freed from commercial constraints.
MP3:  Ronn Forella :: Crystals
MP3: Thom Janusz :: Hippo Mancy
 Previously: Find the Clifton's Corner archives, HERE…
_________________________________________________________________________________