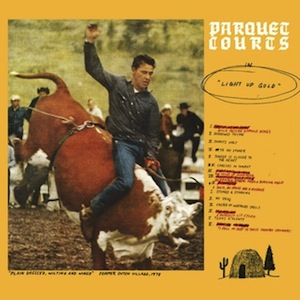 Yep. Last I checked, we're still post-punk. And that means that Light Up Gold, the first widely available release from Texas-born New Yorkers Parquet Courts, is still relevant. The group, who put out a limited-run cassette a year ago, is fronted by Andrew Savage, late of Fergus & Geronimo, but where that group hopped goofily from here to there, Parquet Courts' high-grade post-punk is stripped down and focused, moving patiently but with purpose through the rundown stores and grubby apartment buildings off the main drags of 21st-century Manhattan and Brooklyn.
It's a lean portrait. Parquet Courts are masters of Wire-like brevity–nearly half of Light Up Gold's fifteen tracks clock in under the two-minute mark. Rather than feeling slight, though, the songs here are a lesson in economy. Simply put, it's incredible how much ground, both artistic and emotional, these guys can cover in such a short amount of time. "Careers in Combat" kicks off with a rolling little riff lightly reminiscent of Double Nickels-era Minutemen. Savage and co-singer and -lyricist Austin Brown roll off a list of unavailable gigs: "There are no more roles on TV shows/There are no road-cone dispensing jobs/There are no spots left for park rangers/Cos there are no bears left to save you from." The riff's been repeating under the pair's chant, but it doubles up on itself, adding another fist to the gut-punch one-line chorus: "There are still careers in combat, my son." The whole thing takes just over a minute to knock you backwards. And then, just to prove to you that they can, they barrel through the five-minute-plus krautrocker "Stoned and Starving" four songs later.
"Stoned and Starving" also showcases Savage and Brown's feel for the aural resonance of their lyrics. The press notes for Light Up Gold place Parquet Courts firmly in the bombed-out, art-tired NYC tradition of the Velvets and Sonic Youth and (what's presumably) speed-era Dylan, and taken on its own, a lyric like "I was debating Swedish Fish/Roasted peanuts, or licorice/I was so stoned and starving" doesn't seem like much more than a napkin-scratched note in need of revision. But listen to the  consonance there, the way the repeated "s" sound rolls around atop the song's spare rhythm, and dig how malnourished the song feels between its lashed-out guitar fits. There's a musicality to the words there that recalls Dylan at his most nonsensical, and an inner-city hunger copped straight from the Velvets' "Heroin."
But if Parquet Courts are taking cues from the New York titans, they've also got hands firmly in the collegiate pockets of Stephen Malkmus and David Berman. References–whether lyrical or musical–to slackers and slacking abound, and it's hard to believe that the crossed-out hand lettering and non-sequitur rodeo photo on that album cover didn't come from some 7" buried deep in Matador's catalog. Randy Newman once said that part of becoming a songwriter is knowing which words sound right in your voice and which don't. Part of what made Berman's Silver Jews output so brilliant was his refusal to acknowledge those rules, and while Light Up Gold is, like nearly all of the Silver Jews' catalog, overpopulated with objects that have no business appearing in pop songs, Savage and Brown massage them in, rearranging the logic of their songs until their subjects have a place to sit. It's a trait they share with D. Boon and Mike Watt, whose songs were elastic enough to hold references to psychological methods of advertising and French Indo-China. Likewise, in addition to the bodega-run list that populates "Stoned and Starving," there are mentions here of high threadcounts, donuts and bagels, and, in what must be a reference to Berman and Malkmus' celebrated-but-rubbish post-collegiate careers, art-museum guards. Like Berman, they frustrate their own logic, too–opener "Master of My Craft" is punctuated with the shouted reminder that "Socrates died in the fucking gutter!" and "Yr No Stoner"'s offhanded reference to "Storm-chasin' hippies at a discount mall" feels like it was pulled from an old Silver Jews notebook–and let the words pound their way out of the resultant scrum.
All of which would make it easy to accuse Parquet Courts of trying to live in another era. They are, after all, a New York band, and, like it or not, are saddled with all that that term means in 2012. They can't bring the spirit of late 70s NYC post-punk back to life any more than Television can suddenly show up on stage at CBGBs, nor can they reanimate the ironic distance provided by the early 90s alternative scene. But rather than some kind of historical reenactment, Light Up Gold feels like the culmination of those two moments in the history of alt-rock. Or maybe it's the opening of a new one, or just the continuation of a thread that was never actually severed. What's certain is that there's an earnestness to this record, a reverence for its own history that, far from neutering it, makes Light Up Gold feel fresh and resonant. Sure, we've got our slew of Brooklyn buzzbands, some of which are great, and some of which are forgettable, and they do seem to be the ones authoring the story of what it means to be in that city at this point in time. But if the alleys are the footnotes of the avenue, Light Up Gold is another New York story, a different one, perhaps less obvious and more obscure than the others, but all the more vital for it. words/ m garner