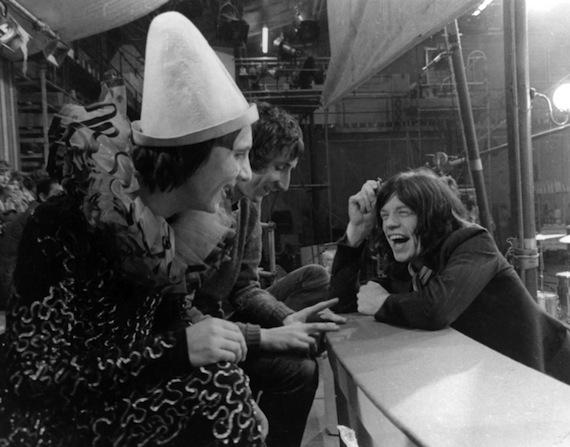 In an effort to get away from the cycle of recording and touring, the Rolling Stones put together the Rock and Roll Circus in the winter of 1968, inviting along Taj Mahal, Jethro Tull (featuring Black Sabbath's Tony Iommi), Marianne Faithful, and a one-off supergroup called the Dirty Mac that was comprised of John Lennon, Keith Richards, Eric Clapton, and Jimi Hendrix Experience drummer Mitch Mitchell. To call it an historic night would be an understatement: It was the first time Lennon performed in public without the Beatles, and the last time Brian Jones performed with the Stones, who opened their mini-set with a sultry "Sympathy for the Devil." The crowd, who appear to be dressed as medieval peasantry, were entertained during the long set changes by acrobats and circus performers, and the entire night was recorded for a film to be aired on the BBC. The taping began at two in the afternoon on December 10, but numerous delays kept the set running until five the following morning, when the Stones capped their set with "Salt of the Earth." The band ended up canning the film, and it became something of a cult object, a slightly lesser cousin to the original Smile and Neil Young's Homegrown. It was finally released in 1996.
Though no official story ever seems to have been given, rock legend has it that the above video is what kept Jagger from handing the tapes over to the BBC. While the Stones had been off the road and were out of practice, the Who were white hot, turning in a showstopping version of "A Quick One While He's Away." The song was their first attempt at rock opera, a seven-and-a-half minute medley whose "Dang!/Dang!/Dang!" bridge went on to score Max Fischer and Herman Blume's acts of romantic terrorism in Rushmore. Here the group tear through the song's six parts, Keith Moon decorating his bashing with stick-twirls and Pete Townshend whipping furious windmills as the song pushes its way downhill. Keith Richards, decked out in top-hat and eyepatch, gleefully invites us to "Dig the Who," and it doesn't take long to see that his bandmates needn't have worried so much about their inability to top their openers: Very little has ever been better than this. words/ m garner
Only the good shit. Aquarium Drunkard is powered by our patrons. Keep the servers humming and help us continue doing it by pledging your support via our Patreon page.