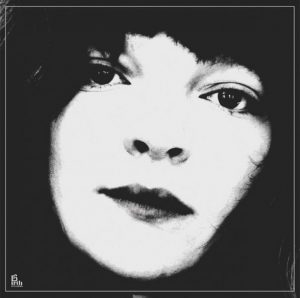 The only thing visible on the cover of Jessica Pratt's debut album is her face bursting out of an antique blackness in bright contrast. The image is zoomed in so closely it suggests that the world only exists within inches of Pratt's expressionless face, features dissipating into the negative space. One could expect an intense, introspective affair, but there's a searching quality in many of these songs, and what she uncovers in the darkness is intimate and up close.
Pratt sings softly, emotional yet sober, and plays unadorned voice and guitar music that is deceptively simple. Released on Birth Records, a new label operated by White Fence mastermind Tim Presley, Jessica Pratt is a collection of the singer-songwriter's recordings from the past five years. However, the album doesn't sound like a hodgepodge of demos, rather the hushed folkie analog to Presley's rapid-fire, hard rocking (and Segall's and Dwyer's and a whole gaggle of San Franciscans'). It's lo-fi and scattered but also raw, immediate, and present.
Presley gushed to Pitchfork about how Pratt sounds like "Stevie Nicks singing over David Crosby demos," and the opening track, "Night Faces," has the cozy, accessibility of the most celebrated Laurel Canyon singer-songwriters. A beautiful beginning, but the rest of the album is quite bit weirder than the single. On the next several tracks, progressions lead into unexpected chords, and vocal melodies split into eerie close harmonies to create rich textures–despite the minimal instrumentation–that are at once beautiful and unsettling. Pratt's slow, meandering finger-picking lulls, and she lingers on the first line in "Hollywood" ("when youuuu…") as if tucking in to spin a great yarn, a fabled epic. On "Brushel Hyde," she sings "time was longer than when we were/ in that oh-oh-oh-oh-other place," blurring out the senses, and suggests a mystical quality to her (and her companion's) guiding force, "because you know which way the spirit goes." Like the work of some clever bard or troubadour, her words and music carefully usher the listener along, building expectation for the next vignette, the next song… for resolution.
Throughout her songs, Pratt utilizes plenty of familiar folk tropes–"home," "river," "streets," "wheels"–and never really uses any words or imagery that immediately places her music in a particular time. For sure, it is reminiscent of the psych-leaning folk children of the late '60s, and to me, her bareness and grit have something in common with Karen Dalton. But in truth, Pratt's record could have been made any time during the last 50 years, which is an achievement. The music's glassy timelessness makes space to appreciate the beauty of Pratt's quiet, cooing voice. There aren't any remotely fast numbers on Jessica Pratt–in fact it's a record marked by slowness. On nearly all of the songs, she stretches phrases over many bars with soft, shimmering long-notes. Her slow-rolling guitar work creates an enchanting mood, but if ever the spell is broken, the sleepy pace sticks out and perhaps the subtleties of her songs get lost. Yet it pays to pay attention and listen through the whole record closely, for the last track, "Dreams" is a culmination of the albums quirkiest parts, a nebulous lullaby bubbled through uncertain, 8-track fidelity. words/a spoto