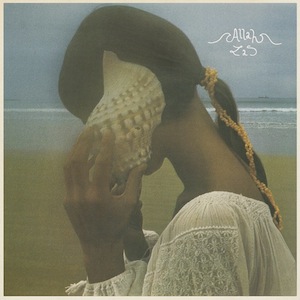 The first thing you hear on the Allah-Las' self-titled debut LP sounds like a distant wave, or maybe a spring reverb amplifier head being jostled about in the studio.
Whatever it is, it hardly feels accidental. The Allah-Las are more than just California boys, they're West Coast avatars. The record's 12 songs are sun-bleached two- or three-minute gems dressed up in barre chord garage rock, gently cresting Latin surf, and soft-focus jangle pop. Early singles like "Tell Me (What's On Your Mind)" and "Don't You Forget It" (an urgent plead and a testy kiss-off, respectively) showed off the band's gutsy, frat rock side. But the full album blossoms with more varied sounds, exploring the band's collective vinyl collection the same way their semi-weekly Reverberation podcasts do, in casual, unhurried strokes.
Producer Nick Waterhouse joins Matthew Correia, Miles Michaud, Pedrum Siadatian, and Spencer Dunham in the studio. Waterhouse's own killer R&B records show off an analog dedication that the Allah-Las clearly share. When speaking to Siadatian about the record for my day job he said, "I think [analog recording] is better for what we're doing… Digital recording totally fits other styles of music, and even better fits other styles of music, but playing rock 'n' roll the way we want it to sound, I feel like analog better suits it, [and] makes it sound better."
The songs, like the shuffling instrumental "Ela Nevega", swaggering "No Voodoo", and menacing murder ballad "Long Journey", are indeed enhanced by the crackle of warm tube amps, but what sets the Allah-Las apart from so many of their fuzzy-headed peers is an attention to genuine songwriting to accompany the throwback production.
"I'm not saying things could have worked out fine/it's just what could have been keeps coming into mind," goes "Vis-î -Vis", the album's most tender selection. Over a delicate 12-string guitar roll, one that owes as much to the fabled Paisley Underground sound as it does dusty '60s folk-rock 45s, the band reveals a wounded side. It doesn't take long for them to rebound, though. With "Seven Point Five, "the next cut, they're back in freeway cruise mode, the faint sound of bongos bubbling underneath a firm promise: "I ain't quite the guy they thought I was."
The band's retro affectations are immensely pleasurable. You won't find many records that sound quite this good all year (though Waterhouse's own Time's All Gone rivals it), but it's the attention to true songcraft that sticks, tapping into a mystic California dream that will persist long after the amps stop echoing and clanging. Words/ j woodbury