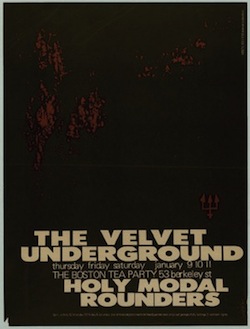 More often than not, most of what you read concerning the Velvet Underground will inevitably note how woefully underappreciated the group were during its brief lifespan. But the VU were superstars — and not just in the Warholian sense — in certain parts of the U.S., including Boston. This quintessential New York City band made Boston its home away from home for much of the late 60s, playing dozens of sold-out shows at the Boston Tea Party to a devoted cult of followers. And what kind of people attended these shows? Let's hand the mic to Jonathan Richman, Velvets superfan, who was often in the audience: "[T]he crowd was FUN!" Wall-to-wall hippies, bikers, Harvard students, Northeastern students, fashion models, professors, drug dealers, art teachers, groupies, MIT students, photographers, local thugs, local disc jockeys, skinny-bohemian-artist girls, visiting dignitaries from the New York art scene, and the royalty of the Boston music set — the local singers and guitar-players in their mod suits strolling around with their beautiful girlfriends." Rock And Roll, indeed.
The bootleg of this January show is probably the best fidelity of the various audience tapes made in 1969 at the Boston Tea Party. Not to say it's fantastic — it's still a 43-year-old audience tape — but crank it up and it's highly listenable. And it's a phenomenal performance, with the Velvets shifting effortlessly from the lowdown noise boogie of "Run Run Run" and "White Light/White Heat" to hymn-like renditions of "I'm Set Free" and "Candy Says". While an instrumental version of "Move Right In" appeared on the Another View odds-n-sods compilation, the one that appears here is the definitive reading, with Moe Tucker raving up a storm. Naturally, the megalithic "Sister Ray" closes out the set, offering a twisted, 21-minute trip through parts unknown. I'll give the last word to Richman: "[S]ometimes you just plain couldn't figure out where on the stage those strange sounds and harmonics were coming from, because of the eerie calm with which they played and improvised in front of you, and because every time they'd come to town they'd introduce at least one new song that would, for better or worse, sound like nothing else that had gone before in rock music." words/ t wilcox
Download: The Velvet Underground :: The Boston Tea Party – January, 1969
1. Heroin 2. Move Right In 3. I'm Set Free 4. Run Run Run 5. I'm Waiting For The Man 6. What Goes On 7. I Can't Stand It 8. Candy Says 9. Beginning To See The Light 10. White Light/White Heat 11. Pale Blue Eyes 12. Sister Ray

Aquarium Drunkard is powered by our patrons. Help us continue doing it by pledging your support via our Patreon page.