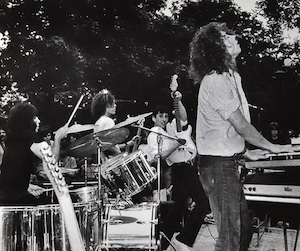 Aside from the essential Precise Modern Lovers, live documents of Jonathan Richman's first musical forays are few and far between. But this recording surfaced just a few years back, capturing Jonathan Richman, Jerry Harrison, David Robinson and Ernie Brooks playing two full sets at the Stonehenge Club in Ipswich, MA, sometime in 1970 or '71. The band would've been a ways away from making the demos that made up their posthumous debut, but the Lovers are more or less fully formed, with Richman's odes to New England, complicated college girls and the highway when it's late at night all firmly in place.
The main differences between the arrangements here and the ones on The Modern Lovers  are the extended (and extremely awesome) guitar/organ duels that Harrison and Richman engage in on a few tunes. They sound like their ears may still have been ringing from seeing the Velvets blast the house down at the Boston Tea Party a few years earlier. The Modern Lovers are a killer band here, all thumping drums, farfisa organs fed dangerously through a fuzz box and strangled guitar lines. Also of interest are the otherwise unknown songs (at least to me), "Cambridge Clown" and "I Grew Up In The Suburbs." Both are pretty classic early Richman numbers, and it's fab to hear them here. My favorite performance here, however, is the bittersweet "Song of Remembrance for Old Girlfriends," a sad, swaying elegy that only JoJo could've penned. The guy was deeply into the New York City subway sound of the Velvets, but he was still a strikingly original songwriter from the very beginning. And even though he'd give up the raucous electricity and fuzz that defined the original Modern Lovers' sound and made their debut a proto-punk classic, Richman remains one of rock's finest performers to this day. | t wilcox
Download: The Modern Lovers :: Stonehenge Club – Ipswich, MA, 1970/1971
Set 1: 1. Introduction 2. Modern World 3. Ride On Down The Highway 4. Girlfriend 5. She Cracked 6. Womanhood 7. Old World   Set 2: 1. Fly Into The Mystery 2. Dignified and Old 3. Pablo Picasso 4. Cambridge Clown 5. Astral Plane 6. Song of Remembrance For Old Girlfriends 7. Such Loneliness 8. I Grew Up In The Suburbs 9. A Plea For Tenderness 10. Roadrunner

Only the good shit. Aquarium Drunkard is powered by its patrons. Keep the servers humming and help us continue doing it by pledging your support via our Patreon page.