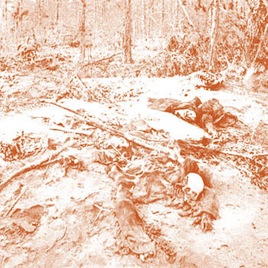 Nashville's Across Tundras have been quietly producing albums of postmodern meta-metal for nearly a decade, amassing an impressively large body of work despite a frustrating paucity of critical attention. Revolving around guitarist/vocalist T.G. Olson, Across Tundras dutifully invokes Crazy Horse's mammoth stoner bucolia and doom metal's drone-as-incantation practices, but refreshingly injects healthy doses of peace-punk ethics and prelapsarian idealism to its distinctive Badlands boogie. Olson's voice is a confident snarl, frequently recalling the vaguely ecclesiastical drawls of Michael Gira or David Yow, while the rhythm section alternates between bludgeoning and hypnotizing, belying many hours spent studying Blues From the Red Sun.
All of the band's numerous releases are worthwhile (the best of these, Sage, was released by Neurot), but the recent self-released Blood Meridian For Electric Drone Guitar box set is what we're concerning ourselves with today. Containing five hours of psychedelic guitar reveries showcasing various moods and modes, each set to a different chapter of the Cormac McCarthy novel that gives the box set its name, Blood Meridian For Electric Drone Guitar unfolds languidly with an argosy of tones, textures and styles. Disembodied voices, field recordings of crackling fires, dead-sounding bass drums, and analog synthesizers almost subliminally augment the vivid, tenebrous aura created by Olson's guitar, which is alternately bowed, raked at, shaken, and bent in and out of shape. Sounding more like something Digitalis might release than the work of a band trumpeted by Neurosis, Blood Meridian For Electric Drone Guitar rewards complete immersion. Obvious touchstones are the Dead Man and Paris, Texas soundtracks, some of the more guitar-oriented Kranky releases (Dadamah, Stars of the Lid), latter-day Earth, and perhaps some of Scott Tuma's work, but Olson is really in a class by himself here, moving from single-note riffs of rising intensity to hash-lidded nepenthes with equal faculty. As you might expect from a band that sells organic produce at the merch table alongside records and t-shirts, these 6 discs come housed in a beautiful hand-made package that includes 8×11 screen-printed portraits of Cormac McCarthy, famous scalp hunter John Glanton, and American soldier/painter Samuel Chamberlain. Really nice. words/ j jackson toth
Stream the Electric Drone set via Bandcamp, HERE. . .