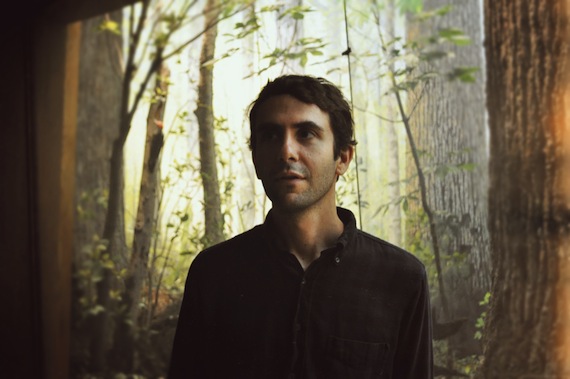 "Modern timelessness, without a speck of bullshit." Those were the words employed by my good friend John describing Chris Cohen's "Heartbeat", a standout cut from the excellent Overgrown Path LP on Captured Tracks.
Timeless and sans bullshit nails it. Cohen's LP, recorded in rural Vermont where the songwriter moved following the dissolution of his band Cryptacize and a lifetime spent on the West Coast performing with Deerhoof, Danielson, Cass McCombs, and a brief-stint with Ariel Pink's Haunted Graffiti, is a charming slice of rustic AM gold.
The record shares a winding quality with the names on Cohen's resume, but most recalls his Curtains project, which recorded a series of great albums for Asthmatic Kitty in the early-to-mid-aughts. Those records touched on themes that fully mature on Overgrown Path: soft psych guitars, pastoral lift, exquisite jangle, and jazzy pop motifs. Free roaming and rambling, the record sounds something like an imagined Byrds record produced by Todd Rundgren.
"I think the record reflects my speed as a person," Cohen says over the phone from Vermont, taking time away from prepping a European tour to discuss Overgrown Path with AD.
___________________________________________________________________________________
Aquarium Drunkard: Were the songs of Overgrown Path written over the past couple years, or did they develop as you settled into Vermont?
Chris Cohen: I started writing them a few years ago. Some of them were going to be Cryptacize songs, which I started writing in 2008 or 2009. One of the songs was co-written with Nedelle [Torrisi, one-half of Cryptacize]. I think I spent two years writing, pretty much getting myself psyched up to start recording again. After Cryptacize ended, I wasn't really sure…I didn't have any specific plans, I was just writing because I enjoyed it. I didn't start actually recording until 2011. I started recording it in Los Angeles, before I moved out here. I ended up re-recording a lot of songs when I got to Vermont, where I basically spent 3 years recording it.

AD: So it's mostly you playing the tracks?
CC: I played everything except the very last song [Open Theme], where my dad played piano. At that point I was really sick of playing to click tracks, and I wanted to have an actual person playing along with me, so he helped out. It was fun.
AD: For a record that was recorded solo, it really has a live feel. It doesn't feel as constrained or sterile as a lot of solo records. How do you accomplish that?
CC: It's kind of just like faking it. I basically started writing music with a 4-track when I was 13. I'm really used to doing that fake band thing, just playing to myself. Quite honestly, when I play with other people, I love it, and I wish I had the opportunity to do it more, but it's kind of strange to me. I'm more used to recording by myself. I do a lot of takes, and I'm a little bit compulsive about listening to the takes and looking for ones that are unusual. I listen over and over again until I catch something surprising.
AD: You've worked with Deerhoof, Danielson, Ariel Pink, and Cryptacize, but Overgrown Path feels very pastoral. Was the shift in texture influenced by your move?
CC: I think that the record reflects my speed as a person. Deerhoof has a very nervous twitchy energy about them, and I'm pretty malleable; if I'm helping someone with their songs, or working on collaborating, I can be very malleable. But when I'm left to my own, that's just me. I don't know what that is. I don't feel like it's that different from anything else I've done, but the thing with Overgrown Path was when I was writing stuff, I wanted to make songs that were longer, to let a certain vibe just play for awhile. So in comparison to my older stuff, the longer sections might give that impression. To me, it's nothing different than what I've done before. It could be the environment, but a lot of it was written before I came here.
AD: There's a lot of openness in the songs. There's a certain amount of musical passengers to accompany some mental wandering.
CC: I like music that gives you an environment to get lost in or whatever. I like music with a lot of space. words/ j woodbury