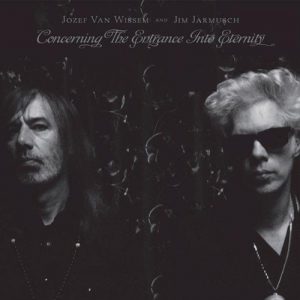 Let's turn for a moment to the Netflix review section for Jim Jarmusch's 2009 existential thriller The Limits of Control: "Bored me to death. I've never seen a more droll and excruciating film."   "Terribly slow. Extremely slow. Deathly slow."
They aren't all so drastic, though: "On the basis of this 'movie,' Jim Jarmusch should be Baker Acted and urine-tested. Any investors in the project should be put on a victim's restitution program by the U.S. Attorney's Office so they can receive monthly Treasury checks. Jarmusch should be held in Lompoc Correctional until he dies, at which time he should be buried outside the walls in potter's field."
Clearly, Jarmusch is not for everyone…Jarmusch is not for most people, even. Those who found that movie to be a long drag probably shouldn't check out Concerning the Entrance Into Eternity (Important Records) and Mystery of Heaven (Sacred Bones), the pair of 2012 LPs which find Jarmusch acting as guitarist, accompanying lutist Jozef van Wissem.
But for fans of Jarmusch — the kind of folks who can not only handle, but actually dig the man's languid pacing — the records make for fascinating companion pieces to his filmography. Both are sparse, mostly devoted to twisting interplay between van Wissem's stately lute and Jarmusch's acoustic and distorted guitar drones. Both are primarily instrumental, with Concerning the Entrance Into Eternity's only words coming from St. John of the Cross as read by Jarmusch, and Mystery of Heaven's lone lyrical passage delivered by Tilda Swinton with erotic menace.
Music has long played a pivotal role in Jarmusch's art. Over the years he's cast the likes Iggy Pop, John Lurie, Tom Waits, RZA and GZA, The White Stripes and Screaming Jay Hawkins in his films, with music itself portraying a defining character (try and imagine Dead Man without Neil Young's echoing, skeletal Americana, or Mystery Train without the rockabilly and R&B). Jarmusch played in the no-wave band The Del-Byzanteens in the early '80s, and the scene's DIY ethic has long served as enduring influence on his work.
His output with van Wissem most reflects the Limits of Control soundtrack, featuring Boris, Sunn O))), Earth with Bill Frisell, and The Black Angels. It isn't that van Wissem's lute and Jarmusch's guitar aim for the same distorted transcendence (though Mystery of Heaven's Flowing Light of the Godhead certainly turns up the fuzz) so much they share that soundtrack's meditative quality.
Concerning Entrance into Eternity spends less time in the shadows, with spritely dancing folk figures. The title track finds Van Wissem taking the lead, as Jarmusch holds back, gently coaxing feedback from some overheating amplifier. It's beautiful, but restrained, rewarding the most devoted listener. Or, to put it back in the hands of our trusted Netflix reviewers, "Stoic, thoughtful, patient…"   words/ j woodbury
MP3: Jim Jarmusch & Jozef van Wissem :: Etimasia
Stay tuned next week for AD's Guide to the Music of Jim Jarmusch's Films.