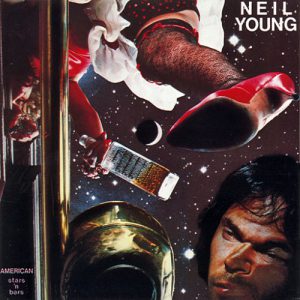 On paper, American Stars 'n Bars is Neil Young's followup to his 1976 album-length collaboration with Stephen Stills, Long May You Run. The truth, as it often is with Young, is more complicated. Having instructed his busdriver to head east to Tennessee and an open airport as Stills and his band made their way in a separate bus from Charlotte to Atlanta, Young dropped off of the Long May You Run tour, leaving in his wake twenty-one cancelled dates and a chillingly cold telegram for his former Buffalo Springfield/CSNY bandmate. ("Dear Stephen, Funny how some things that start spontaneously end that way. Eat a peach, Neil.") That November, he'd bluster through "Helpless" at The Last Waltz with a hunk of cocaine dangling from his nostril. Young was mired in the resin of his dissolved marriage to the actress Carrie Snodgress, and spent time recording an extraordinarily bleak set of songs at Indigo Studios in Malibu Canyon. In April of 1977, Young and Crazy Horse would lay down a set of lighter tracks bolstered by vocals from Linda Rondstadt and Nicolette Larson.
Those songs make up side one of what Young would eventually release as American Stars 'n Bars, his first solo record since 1975's Zuma, which was hailed as a kind of chummy rebirth that followed an extraordinarily bleak period in Young's life and work. Young had been trying to come to grips with mega-stardom following 1972's Harvest when close friend and roadie Bruce Berry and Crazy Horse guitarist Danny Whitten both died of drug overdoses. The post-Harvest fallout begat the yet-to-be-rereleased Time Fades Away and the bleak On the Beach, while Whitten and Berry's ghosts–and copious bottles of tequila–were the animating spirit behind Tonight's the Night. Released into Zuma's remaining light, Stars 'n Bars' reputation suffers from a strange combination of its track sequencing and its position in Young's catalogue: The laid-back opening does little to distinguish itself, while seeming to attempt to shuffle past the previous four years of agony without making any account for them. To paraphrase Theodor Adorno, there can be no country-rock after Tonight's the Night.
While it's true that the songs produced at those April 1977 sessions with Ronstadt and Larson don't necessarily stand out among the heavy hitters of Young's discography, they still have that weird and ineffable charm that clings to Young's best work, a kind of boozy charisma that makes the songs come off as two-thirds bullshit, which somehow makes them even stronger. Where on Harvest Young might have cleaned up the production, Stars and Bars' "Hey Babe" rings with cheap acoustic guitar strings and whomps along on Billy Talbot's bass, while Carole Mayedo's violin lines that open "Hold Back the Tears" wouldn't have sounded out of place on a contemporary Jerry Jeff Walker record. Decades later and removed from historical context, the beauty of Ronstadt and Larson's vocals as they rub against the grit of Young's–he nicknamed the pair The Saddlebags–give the songs a powerful emotional authority.
As strong as those songs are, they pale in comparison to side two. The closing quartet–"Star of Bethlehem," "Will to Love," "Like a Hurricane," and "Homegrown"–were culled from different sessions, going as far back as 1974, the year of On the Beach's release, and they unquestionably stack up with the best of what that record and its cohort have to offer. "Star of Bethlehem" was written around the time that Young and Snodgress's marriage disintegrated into distrust and miscommunication. The song was dusted up by an overdubbed harmony from Emmylou Harris, who later recounted to Young biographer Jimmy McDonough that the session had been "me, [pedal-steel guitarist] Ben Keith, Neil, and a bottle of tequila," and the band, comprised of Young, Keith, Tim Drummond, and Karl T. Himmel, intermittently picks up the pace several times before resigning to set it back down again. Despite the darkness, the song's production is oddly bright, clearer than the murky On the Beach, and seems to function as the sad truth that underpins side one's anthemizing.
If "Star of Bethlehem" is the product of Emmylou, Neil, and tequila, deep solitude is the sole author of "Will to Love." Engineer Richard Kaplan tells McDonough that Young and producer Elliot Briggs showed up at Indigo "looking 'run over by a forklift.'" Young had with him a cassette of the song, which he'd just recorded by himself in front of a roaring fire in his ranch home. Accounts vary, but the persistent legend has it that he'd taped over a Stills/Young album, effectively erasing his most fruitful collaborator and replacing him with the sound of burnt-up wood falling through a grate. Young set up bass, drums, and vibes, and painted a few dubs over the song himself–smattering through an off-kilter snare roll, striking the vibes and letting the note ring until its completion over the chorus: "Got the will to love/I'll never lose it." In a poetic move that would seem preposterous if it weren't so deadly serious, Young sings from the perspective of a salmon headed upstream, straining against the current and dodging nets and bears as he seeks to deposit his eggs. He's beyond tired, beyond exhausted, drenched in underwater stereoscope. "Cool running love keeps cleansing me/It keeps my gills from getting dry," he sings, and it's hard to tell just how much he means it, or whether the pain that accompanies the cost of love–the salmon's sacrifice as it dies at the headwaters–is casting its early shadow. The crackling fireplace is high in the mix.
"Will to Love" gives way to the blistering guitar attack of "Like a Hurricane." The song stands on its own better than any of the album's other tracks, and would be included in the Decade boxed set a year later. But in the context of Stars 'n Bars, the song is more than a scorching guitar anthem. "You could have been anyone," Young sings repeatedly with a kind of middle-distance sincerity, and undercuts his apathetic remark with a lunging guitar attack–torrents of guitar that slash and cut against the string arrangement that's been propped up like a straw man in the back of the mix. He's playing at a target. It's a fury to that Young hadn't yet explored with Crazy Horse, an extended exploration of grey notes and shivering tone that neatly predicts Tom Verlaine's guitar squelches, and so also predicts the clean shock of A Ghost is Born-era Wilco. It's the loudest possible despair. The song ends arbitrarily, a hard landing right as Young gives up on his solo; it doesn't resolve, and might as well still be spinning out. The sprightly chimes of herb anthem "Homegrown" feel extraordinarily cheap in the song's aftermath: What might have been a laid-back rocker in other conditions feels like so much whistling past the graveyard. "Will to Love" and "Like a Hurricane" ironize "Homegrown," and make side one's raunchy "Bite the Bullet" and loping "Saddle Up the Palomino" feel uncomfortably decadent and escapist. The heartbreak Young sings about with Ronstadt and Larson doesn't feel so offhanded anymore.
When we were younger, my buddy Robbie and I used to ask every musician we met to name their favorite Neil Young record. Jason Molina, playing to type, told us that his was On the Beach. When we saw Wilco play a makeup show at New Orleans' State Palace Theater in spring 2005, we nodded knowingly when Jeff Tweedy mentioned American Stars 'n Bars. We knew it then as a minor work, with a few sad songs and one big-time guitar jam. Tweedy, who was fresh out of rehab and who had just had cigarettes thrown at him after mentioning on stage that the New Orleans show was his first as a non-smoker, heard it differently. words/ m garner
Related: Neil Young & Crazy Horse :: Psychedelic Pill / Neil Young :: Fukuoka, Japan — March 8, 1976
Only the good shit. Aquarium Drunkard is powered by our patrons. Keep the servers humming and help us continue doing it by pledging your support via our Patreon page.