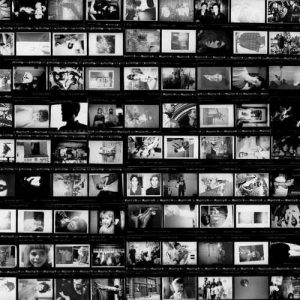 There is something squarely stubborn about releasing a vinyl-only double record in 2012. In an industry currently dominated by mixtapes and playlists, modern music consumers increasingly lack the attention span required to sit through one whole side of a vinyl record, let alone four. With so much content vying for our attention, an 87-minute album would seem to require a substantial commitment on the part of even the most voracious music fan. Simon Joyner's new album, Ghosts, funded via Kickstarter and released on his own Sing, Eunuchs! label, requires such a leap of faith.
Joyner should require no introduction, but despite plaudits from everyone from John Peel to Conor Oberst, who cites Joyner as a primary influence, he remains a cult figure. His sterling reputation is mostly built on thirteen albums of lyrically astute, musically dense, uncompromising songs. As a wordsmith he is peerless, often compared to both Bob Dylan and Leonard Cohen, while his singing voice alternately conjures an emotionally turbulent Neil Young (think "Speakin' Out") and Gordon Gano circa "Country Death Song." But Joyner's songs also bear the influence of more modern mavericks, revealing a sharp appreciation for the fringes of the American and UK underground. It's not for nothing he cites the Dead C's raucous Harsh 70's Reality as one of the handful of double albums that inspired Ghosts.
The album begins with the noisy and uninviting "Vertigo," which, like much of Ghosts, defies prevailing wisdom of record commerce–no one could accuse Joyner of 'leading with the single' here. In fact, the song gives little indication of the beauty at its core, but true to the double album contract, this journey to the center is crucial. As double albums go, Ghosts' deliberate pace and threadbare conceptual framework is most reminiscent of Tusk, Fleetwood Mac's bathos-heavy follow up to Rumours. The album is abundant with beguiling pop songs, relatively speaking, providing contrast to the weightier numbers. Seductively catchy tunes like "If I Left Tomorrow" and "When The Worst Doesn't Happen" offer respite from the cautiously optimistic humanism of "Sing A Little Lullaby" and the darkly political character sketch of "The Tyrant" the way, say, "The Ledge" and "What Makes You Think You're The One" offer breathers from the comparative intensity of "Sisters Of The Moon" and "Sara."
The specter of self-deliverance haunts the album. "Cotes Du Rhone" is a poignant firsthand account of receiving news of Vic Chesnutt's death. But it is "If It's Alright With You (It's Alright With Me)," a blues in two parts whose lyrics provide a litany of names of presumed suicides (one is named "Vic"), which provides the album's haunted highlight. In it, the wounded singer resists the natural urge to condemn, seeming to abide the perverse egotism of the act, with a significant caveat: the lyrics are dotted with clues that belie the song title's almost casual resignation. The singer wishes to believe–wishes us to believe—that this morally craven act of narcissism is not for us to judge. But with each third line of the song comes the rub. In one verse, the singer wonders "If it's alright with Blake, why am I shaking like a leaf?" Earlier in the song, the singer touches on religious ironies: "You're damned when you're new…" (original sin); "…you're damned when you go free" (suicide as a sin worthy of damnation). The phenomenon of survivor's guilt has rarely been portrayed with more exactitude or compassion, in song or otherwise.
For lovers of lyrics, that fast-perishing breed, Ghosts is Christmas morning. Listening to it, you may frequently find yourself covering your mouth in disbelief, exclaiming "Oh shit!" like someone just dropped a particularly scathing hip-hop metaphor.
The music matches the intensity of the words. Joyner's band is an intuitive organism never content to merely 'back up' the singer. Each member of the group suffuses the environments of these songs with unusual color without ever overplaying or subordinating. These are sensitive players playing deceptively social music. If the overall character and ambition of Ghosts recalls Tusk, its most significant sonic forebear is Neil Young's Tonight's The Night. Many of the same spontaneous qualities–not to mention themes of loss–that make that album such a pinnacle of artistic achievement are similarly present throughout Ghosts.
Be warned: Ghosts is not an album to be experienced passively. Those unable or unwilling to give an album their full, undivided attention will not get much out of it. To multitask–check email, do chores, party–while listening to Ghosts will be like trying to watch a film without subtitles in a language you don't understand. You may glean a few things here and there, but overall, the work will largely fail to penetrate. In this, Ghosts may not be unique, but I mention it because it has been some time since I've encountered a more extreme example of an album that so handsomely rewards such immersion.
It is difficult to imagine how Joyner could improve as a songwriter, or how he and his band could ever conjure a more affecting and beautiful record than this. Sure, Ghosts is a statement. But it's more than that, too — it's also a masterpiece. words/ J Jackson Toth
MP3: Simon Joyner :: Last Will And Testament
MP3: Simon Joyner :: Will You Stand Up For Me