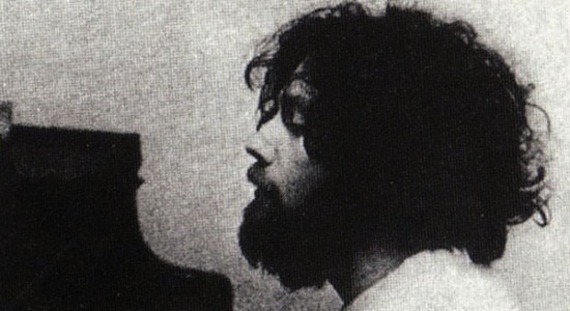 Singer-songwriter Bill Fay has enjoyed a long and legendary career in obscurity. The British musician first raised eyebrows among listeners back in 1970 with his startlingly unique, baroque debut record Bill Fay, which despite a poor commercial impact quickly became a cult classic and garnered comparisons to other unusual and uncelebrated songwriters, such as Nick Drake and Alexander "Skip" Spence. His follow up was arguably even better: 1971's dark, angular masterpiece Time of the Last Persecution, which featured a rawer, electric-rock sound and a stark cover photo of a somber, bearded Fay which eventually contributed to its eventual labeling as a lost, "outsider folk" classic.
Over the years Fay's artistic legacy has been quietly celebrated by contemporary musicians as varied as Wilco's Jeff Tweedy and Current 93's David Tibet. Despite his post-Persecution releases receiving even less attention than their predecessors, he has managed to keep a rather informal career afloat, re-releasing old records and putting out collections of unreleased demos and outtakes on independent labels Coptic Cat and Wooden Hill.   This year, however, Fay truly returned to the scene with his first proper studio album in several decades. Life Is People was released in August on Dead Oceans Records to an overwhelming amount of critical attention, and has finally helped bring Fay out of the proverbial shadows.
AD spoke with Fay just prior to the record's release, and found him to be a warm, amiable man far removed from the dark and twisted mythological figure that has been built up around him since the release of Time of the Last Persecution. Misinformation seems to be the name of the game when it comes to discussing Fay's career, and before the interview began, he remarked that he had a bone to pick with some of the music press' coverage of his career:
"Just recently the music press are kind of referring to [Life Is People] as the first studio album in forty years and that doesn't come across as too fair to me, or to the fact that it should be thirty years, because I worked with a group of musicians called the Acme Quartet for about for or fives years which culminated in a studio album called Tomorrow Tomorrow, and Tomorrow. Although they included demos in the middle of the album, it was a finished album, and I sent about twelve cassettes out to twelve companies at the time, about thirty years ago. So to me it stands alongside the first two albums and this one, really. It's not fair to them that they could read these things and think "oh, we were there a long time and then we release the album and it kind of doesn't count".
Aquarium Drunkard: So on that note how would you feel about Still Some Light?
Bill Fay: I'm okay with it because it's not a studio album, so I'm okay with that not counting. And I'm okay with Grandfather Clock, which was a collection of demos and different things. I'm okay with that not counting. The fact that we did put in a lot of work in the late seventies and early eighties and achieved Tomorrow, Tomorrow, Tomorrow — that's the main one. It doesn't read good, in one sense. It should be first studio album for thirty years, although we weren't affiliated to a company. You know, we didn't have a label, we were just kind of recording anyways. So in that sense, this is the first "label" album in forty years, but it's not the first studio album.
AD: Your music has a unique and individualistic sound. I was wondering what some of your first influences were and what led you to develop the sound that you have.
Bill Fay: I think the influence probably comes from all kinds of quarters. I don't there was was any main influence. The piano itself was the biggest influence. It kind of taught me things, like I discovered chords and different things over a certain period of time from the piano itself. So musically I would put the piano as the biggest influence, musically. And then you touch on all sorts of moods, you've heard all sorts of moods from the writing or whatever. But in terms of the Decca records, then — well, if you take the second album first, then the contributions from Ray Russell, Alan Rushton, Darryl Runswick, who played together before I ever linked up with them. Ray played electric guitar on the first album but he had his own music ensemble, so to speak, the urgency of which was totally compatible with the songs that were on the second album. Then the first album, the songs obviously had the arranger Mike Gibbs and I didn't have any say in the kinds of arrangements. But then once again what mike did arrangement wise was very compatible with the songs. I wouldn't say there was a predominate influence in the early years, they're kind of things that you find and they can touch on different moods.
AD: Did your family have any effect on your getting into music, or developing your artistic style?
Bill Fay: My mum's side of the family had this kind of innate musical ability, so I do believe that both my brother and myself, you kind of mysteriously inherit that almost genetically, maybe. The mum could sort of work out a bit of a tune on the piano but it wasn't the central part of her life. But her brothers and sisters, or her brothers mostly, could play different instruments. Not professionally, just kind of that mysterious, innate ability to play by ear, so to speak.
It was always just writing myself at the piano and singing. Then, by chance, someone knocked on my door and heard I wrote songs. He had a little mobile four track recording studio and he would kind of come round the house and we'd put the songs down on his equipment. They ended up being heard by someone named Terry Noon, who managed Honeybus at the time, and he approached me and said "I think we can get you a recording contract." So once I sort of became connected to Decca, Peter Eden, a producer, I wanted to do a single, so he brought a band from South End called The Fingers. They played on the single and it was great to play with them. About a year after that Terry had Honeybus, so there was a couple of years period doing odd demos as potential singles for Decca, some of which were   "Work Town," "Grandfather Clock," and "Just Another Song". They were with Honeybus, another really, really good band, worthy of more attention than just their "Can't Let Maggie Go" single. Pete Dello and Colin Hare, they're really great songwriters. So it was great to work with them, then it was down to Ray Russell's group because Ray was booked to play guitar on the first album. So that's the way it went. We never did much live work, though we did play the Marquee with Ray for the second album. And it was only one other gig, which was a charity gig, with Ray, Alan and Darryl. We virtually performed Time of the Last Persecution. There were a couple of broadcasts with Ray, Alan and Daryl and I did a solo TV spot on my own, Disco Two, which was the predecessor to Old Grey Whistle Test. Apart from that, I'm just someone who's always written songs. And it's made it easier, in one way, to simply continue to write songs, because I wasn't someone who was out there doing gigs and having a record contract. I mean, the two albums were recorded in a day. I wasn't someone continually in a recording studio during that time with Decca.
It's not really a difficult thing to lose, if you know what I mean, a recording contract. It was disappointing, and Harry continued to finance some demos. Ray and Allan were good enough to play on them for nothing, and Terry tried various companies over quite a period of time. But the early seventies was a time of major change. Things became much more commercial, if you like. I think in the mid-sixties to seventies the major labels did not really know what was going to sell or what wasn't. I don't think they had a clear picture. I think Deram, in particular, would give a chance to all sorts of people. Somebody said that they would throw several pieces of mud against the wall and hope that some would stick. So obviously I was someone who just dropped off the wall. By the early seventies I think the majors were looking out more and more towards mainstream. Mid-sixties to seventies there were all sorts of left-of-center alternative things, like my own, that they were giving a chance to. Somebody has told me that they spoke to loads of sixties groups that would have given their right arm to make a second album. I think it was chance, really, that I did get a chance to make a second album, which obviously I'm glad I did because it meant recording it with Ray and Allan and it produced Time of the Last Persecution. But that may never have happened. It was just chance. It's not like today when you've got indie labels who, in one sense, cherish the people that they've got. You're talking about a completely different set-up in the late sixties. And then by the time 1970 or 1971 came along, unless you were established, my kind of music really wouldn't have gotten a look in, contract-wise.
AD: Would you say that your recording style has changed over the years? You talk about writing songs on your own; is this still the way you work? Is it more or less the same process?
Bill Fay: Yeah, the big difference, I mean…After we couldn't get a contract back in the early seventies, Ray Russell gave me his old Sound on Sound reel-to-reel tape recorder, which meant I could overdub certain things and add little bits. It was several years until I had a basic little Technics keyboard where you can get a reasonable sound like string wires out of it, or you can get a reasonable organ sound, or you can get a good bass sound. So, you know, that makes a difference to the writing side because once you come up with a song it's really good to, musically, work out parts and arrangements. It's very fulfilling. And that's Still Some Light, that's basically what I've been doing for years. In one way, it's kind of what I've always done.
AD: One things that probably stands out about Time of the Last Persecution to a lot of people is the dark, almost apocalyptic imagery. What was going on back then that led you into writing those kinds of songs?
Bill Fay: Lyrically, 1967 to 1970 were very formative years for me. Not because they coincided with the sixties necessarily, but there were certain people that I met and conversations that I had, the direction that I was kind of going in. And the only way I know that I could convey is through the WFMU Blog, which eventually I'll sort of get around to in my long and rambling way, because I met someone that I worked with and we had all these conversations, and it led onto this, and then it was important meeting Ray, until you kind of become to believe in certain things and the way the world is affecting you.
AD: The lyrics on the new record seem a little more positive and uplifting, but there are still some traces of darkness. I'm thinking about the song "Big Painter," which talks about how things keep on recurring "over and over." Do you feel that people today are still making many of the same mistakes as they were back in the sixties and seventies?
Bill Fay: I personally need to believe that this world just can't go on and on and on in the way that it goes. So therefore I believe that there will be a major change. So in "City of Dreams," the "street sweeper" is kind of, well, wars have gone on and on and on for ages, haven't they? It's so easy for any nation to set itself up, you just have to have a handful of people, enough money to pay your riot police and then you set up your state TV. There's so much institutional wrong in the world, as well as just the same enormous beauty keep happening, like souls surviving from eternity, but the worst aspects of the world which just go on and on and on, then I have to believe that they won't. There will be a major change, and I don't mean some sort of revolution, either.
AD: Speaking of change, do you think you can speak a little about Médecins Sans Frontiî¨res, the charity you are donating your proceeds of the record to?
Bill Fay: Paramedics anywhere, whether its in America or Britain, you know, nobody wants to interview them. They do their work very silently, but they're at the heart of life and death. They are capable of actually achieving, or saving the human life, but no one will interview them after they've done that. So I suppose Médecins Sans Frontiî¨res represents a local paramedic, where there's one near you and there's one near me, to arrive at the scene of a car accident, and sometimes silently save a life. So I suppose Médecins Sans Frontiî¨res are kind of global paramedics, entering the worst possible situations going on in this world. So I suppose that seems a good enough reason. It's difficult though, there's just so many very good organizations. You give a little bit of something to, say, water aid, trying to do something globally to do with clean water, and you give a little monthly to Ox Fam to help with famine. But it's difficult to allocate in that way, there's so much good being done on this earth within situations that shouldn't exist.
AD: How did Jeff Tweedy become involved with Life Is People?
Bill Fay: As you perhaps know, I usually, they wanted me to sing with them, didn't they, about five years ago, now. For me it was all a big shock to find out that [Wilco] was performing "Be Not So Fearful," and eventually it led to them wanting me to come up on stage with them and things like that. Whenever they've come to London I've always gone to see their show and say hello and have a little chat backstage, things like that. So when Jeff knew about the album he said it would be great if he could be involved in some way. Their tour was so rigorous, that there was a possibility just before Christmas of them going in for a day as a whole band in the Loft in Chicago and doing a whole song, but their tour was just so rigorous that in the end everybody scattered for their much needed breaks. So Jeff called into his local studio at The Loft and put down a vocal on what the band over here had already achieved. Jeff wanted to contribute, and that was very meaningful to me.
AD: The liner notes to Life Is People mention that you went into the recording studio after the album was done to record a couple additional songs, including another Jeff Tweedy composition. Are there any plans to release these somewhere down the line?
Bill Fay: Joshua Henry, the producer, grew up listening to my music on his dad's vinyl copies. Then, because his dad's two favorite songs were "I Hear You Calling," one of mine, and "Please Tell My Brother," by Jeff Tweedy, Joshua said it would mean a lot to him if I would — he'd like me to record "Please Tell My Brothers", and I said, "yeah, I'll try and work it out," not necessarily for the album, but maybe as a bonus track or something. And then a bit after that he said it would be nice if you could try "Jesus, etc." as well, so a little separate session was booked a few months after the main session and I kind of learned the two songs and put them down in the same studio with Guy Massey. I think at some point, hopefully, "Please Tell My Brothers" will come out. I know Jeff's pleased with it, and I'm pleased with it, so at some point it will surface, in one way or another. The company, I suppose, will decide on that. But "Jesus, Etc." is on the album. They felt it was too good to not be on the album. You know, Joshua, in general, sort of, we had the kind of songs worked out for what would go on the album, but in the end it was like "Jesus, Etc." couldn't be left off, that's what everybody felt. So that's on there, and I know Jeff is pleased with that as well.
AD: Are there any plans to take the new album on tour?
Bill Fay: No. I'm going to sort of just go back. I mean, Joshua would love to record another album, at some point further down the line. What I will do is simply go back to what I've always done, and that is I've got a big pile of songs in progress and that's what I'll do. At the moment I'm kind of chatting with a few people like yourself, and after that, then I'll just go back to working on my songs. And then we'll see in a couple of years time if all of those people involved with the album to me are indispensable, and it would be nice if some of the Tomorrow band could guest in some sort of way. But getting those people together would be kind of a task. But I'm not someone who wants to be out there, you know. So there won't be anything live. I'll just quietly go back to what I've always done: working on songs.
AD: Well, it looks like we've gone a little over time so maybe we should wrap the interview up. Do you have anything else to add?
Bill Fay: I see this as Joshua, Guy and the players' album as much as it is mine. Their contributions to it is just phenomenal. I didn't think it would happen, and it's all because of the real approach of Joshua to me in the first place. It's kind of took on a life of its own, and it means a lot to me, but to me it's their album as much as it is mine. words/ n rayne
New decade. Dig what we do at Aquarium Drunkard? Do our mixtapes, features, interviews, essays, and original sessions make your listening life better?  Help us continue doing it by pledging your support via our Patreon page. Doing so will get you access to our secret stash—including bonus audio, exclusive podcasts, printed ephemera, and vinyl records—and help us keep an independent publication going.