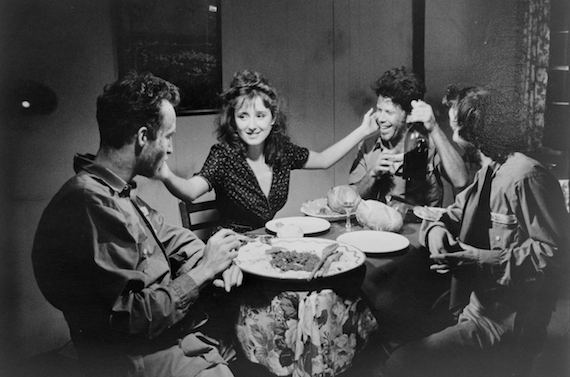 (Next year Jim Jarmusch will once again take direct part in a soundtrack to one of his films, working with lutist Jozef van Wissem for the vampire romance Only Lovers Left Alive. The following piece looks back at how music has shaped the auteurs world and work to date.)
"One thing about commercial films is…doesn't the music almost always really suck? Isn't it always the same shit? I've seen good movies, or maybe they would be good, just destroyed by the same crap, you know?" So says director Jim Jarmusch. "I get a lot of inspiration from music, probably more than any other form…"
Jarmusch's films don't suffer from bad music, and they rarely feature "the same shit." Each film acts as a sort of mixtape from the enigmatic director — from the music of noted collaborators John Lurie and Tom Waits, to characters imbued with Jarmusch's own idiosyncratic tastes. In his world, backwoods hillbillies don't listen to Pantera or Nickelback, they crank Sleep's epic doom metal masterpiece "Dopesmoker." As such, Jarmusch's films have always incorporated soundtracks that act like parts of the supporting cast. His characters argue about music, they define themselves by it, and his languid tales of cross-cultural exchanges and existential wanderings have attracted the likes of musicians Iggy Pop, The White Stripes, Neil Young, Screamin' Jay Hawkins, Wu-Tang Clan, Joe Strummer and more.
Listen: 1980-89 – "Was That a Gun?" "Probably. This is America."
Emerging from the post-punk NYC underground (he played in The Del-Byzanteens), Jarmusch's early films exude DIY grit. His 1980 debut, Permanent Vacation, not only sets up themes the director would explore over the course of his career, but also his musical approach. Scored by jazz maverick John Lurie, the film oozes post-modern cool.   Lurie — not a trained actor (an approach Jarmusch continues to favor) next starred in Jarmusch's follow up, 1984's Stranger Than Paradise. The film features Lurie as shady "hipster" Willie, former Sonic Youth drummer Richard Edson as Eddie, and Eszter Balint as Willie's cousin from Hungary, Eva.   In addition to the kind of warped jazz Lurie created with his No Wave jazz combo The Lounge Lizards, the soundtrack features the Screamin' Jay Hawkin's voodoo blues vamp "I Put a Spell on You." The song manifests as the sound of Eva's imagined America — a wild, untamed place she can't wait to explore.
1986's Down By Law features even more exploration of America's cultural tableau through sound. Lurie stars as Jack, a pimp, along side Tom Waits as former WYLD deejay, Zack. The two wind up in prison with Bob, played by the beguiling Roberto Benigni, whose vision of America is summed up by the jingle "I scream, you scream, we all scream for ice cream." Here we get to hear Tom Waits' ace deejay voice (calling himself Lee "Baby" Sims), as well as selections from Waits' Rain Dogs clattering alongside Lurie's stark jazz.
Screamin' Jay Hawkins himself makes an appearance in Jarmusch's next film — his ode to Memphis, 1989's Mystery Train. It's a triptych of stories each featuring foreigners on Memphis soil. The ghost of Elvis Presley haunts the film — the Japanese couple searching for the Sun Records sound, an Italian widow taking her husband's body back home, and Joe Strummer — who is drunk with a gun. "Blue Moon" ties the disparate stories together, it's haunting, reverberating sound drifting from the radio (along with the voice of Tom Waits, presumably Lee "Baby" Sims, hiding out in Memphis). In Jarmusch's America, the sounds of the past drift over the present, and America's country, rockabilly, and R&B traditions are more than pop trends; they're sacred languages.
—-> 1990 – 2012 after the jump. . .

—
Listen: 1991-99 – "I Still Say You Make a Hell of a Pot of Beans."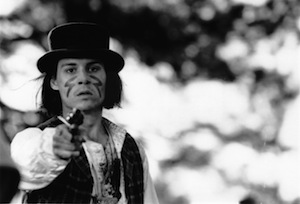 Waits and his writing partner Kathleen Brennan scored Jarmusch's entrance into the '90s via another series of vignettes, 1991's Night on Earth.   Banjo and accordion soundscapes are often punctuated by Jarmusch's eclectic sounds — Wynonna Ryder loudly interrupts Gene Rowland's phone call with a hammering blast of Blue Cheer's "Summertime Blues."
With Dead Man in 1995, Jarmusch began a musical affair that would spill over into a documentary about Young on tour, 1996's Year of the Crazy Horse. Young mostly improvised the Dead Man soundtrack alone, utilizing organ, acoustic guitar, and a droning electric guitar. The official soundtrack intersperses readings from stars Johnny Depp and Gary Farmer.
The score of Jarmusch's next film, the urban samurai thriller Ghost Dog, was composed by another musician, RZA of the Wu-Tang Clan. The soundtrack is similarly crafted, featuring zen readings from the Hagakure, a guide for warriors, by star Forest Whitaker juxtaposed against tracks from RZA, Killah Priest, Kool G Rap, and more. (Jarmusch would further collaborate with the Wu-Tang on the compilation, Wu-Tang Meets the Indie Culture, in 2005.)
Listen: 2003-2009 – "You Callin' Me a Taco Bell Kind of Guy?"
2003's Coffee and Cigarettes is devoted to conversation, but in addition to musical cues, the conversations often focus on music. Jack and Meg White banter; Iggy Pop and Tom Waits spar; RZA and GZA are blown away by Bill Murray's smoker's cough. The ghost of Elvis appears yet again in "Twins," starring Joie and Cinqué Lee and Steve Buscemi (the scene was originally shot in Memphis, in 1989), where the twins argue with Buscemi about the alleged racism of Elvis (he suggests it was his evil twin brother).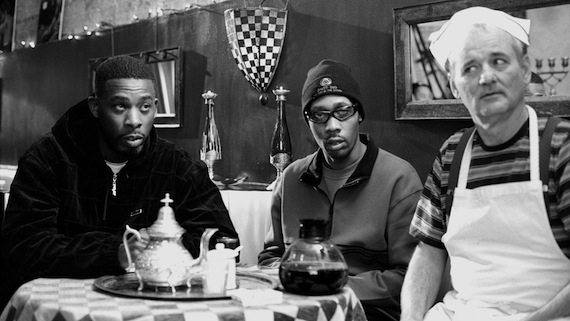 Broken Flowers (2005) is Jarmusch's most disparate mixtape to date. The throbbing grind of Sleep rests against Marvin Gaye's lush "I Want You." The Ethiopian jazz of Mulatu Astatke sits next to The Greenhorne's sublime collaboration with Holly Golightly. The varying cross-section of sounds fit Bill Muray's Don as he wanders through the lives of his past loves, realizing he doesn't fit in any of them. It's an existential "who 'dun it," punctuated by the sounds of The Allman Brothers and Jackie Mittoo.
2009's Limits of Control finds Jarmusch at his most meditative, and the soundtrack reflects the sweeping scope. Southern Lord drone masters Sunn O))) and Japanese trio Boris provide the most terse moments, with stretching epics from Earth (guitarist Dylan Carlson's recent discography bearing a heavy debt to Young's Dead Man soundtrack), The Black Angels, classical selections from Schubert, and LCD Soundsystem's banging "Daft Punk is Playing at My House" breaking the feedback-teasing soundscapes.
As his recent recorded output with van Wissem suggests, Jarmusch is far from done weaving his musical commentary throughout his No Wave cinematic forays. And we're all the better for it.   words/ j woodbury
Waits & Lurie's cellmate rap from Down By Law, aka Introducing Lee "Baby" Sims