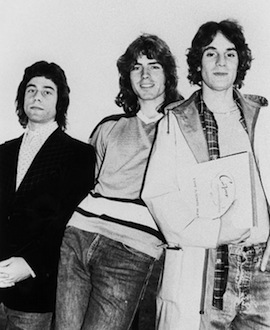 If there's a power pop heaven, you know they've got a hell of a band. Us sinners can get a sneak preview of it on this recording, which captures Big Star in the spring of 1974 – opening for, wait for it, Badfinger. This gig took place around the same time as the officially released Big Star Live disc, and features bassist John Lightman in place of founding member Andy Hummel. As noted in the MC's intro, this must've been a bit of a bummer gig for the band, as the night before their van was stolen, along with all of their equipment. But they make the best of it, sounding inspired and tight throughout their 45-minute set, complete with Chilton's sparkling guitar work and drummer Jody Stephens' high harmonies.
The trio tackles tunes from #1 Record and Radio City, but oddly (or maybe not so odd, given Chilton's later propensity for non-original material), nearly half of the setlist is made up of covers, including tunes by the Kinks, Loudon Wainwright III and T. Rex. Perhaps the most interesting of these is the only (as far as I know) known Big Star version of the Velvet Underground's "Candy Says." Remarkable that, along with his later cover of "Femme Fatale," Chilton was so tuned in to the softer side of Lou Reed's songwriting at this point in the 70s. Most of the proto-punk/punk scene focused on the other extreme of his stuff, right? Big Star's "Candy Says" is a loose affair ("We don't know it very well," Alex jokes), but as with most things the band touched, it's gorgeous. Now…where's the tape of that Badfinger set? words/ t wilcox
1. In The Street 2. Baby Strange (T. Rex) 3. Mod Lang 4. Candy Says (Velvet Underground) 5. Til The End Of The Day (Kinks) 6. O My Soul 7. Motel Blues (Loudon Wainwright III) 8. Thirteen 9. Way Out West 10. September Gurls 11. We Gotta Go (Kinks)
Only the good shit. Aquarium Drunkard is powered by its patrons. Keep the servers humming and help us continue doing it by pledging your support via our Patreon page.