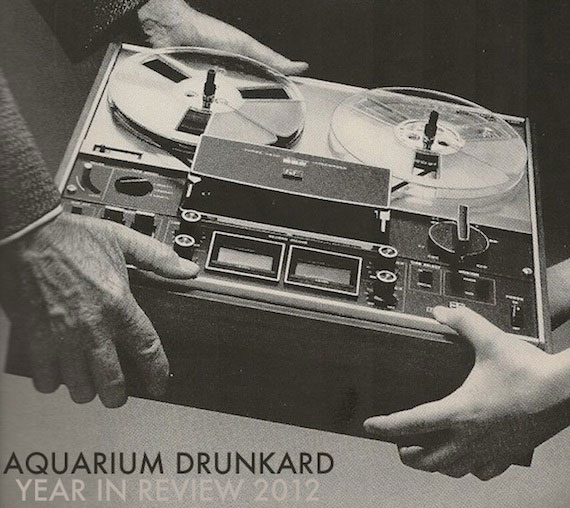 Our obligatory year-end review. The following is an unranked list of albums that caught, and kept, our attention in 2012. Go nuts. Cheers — AD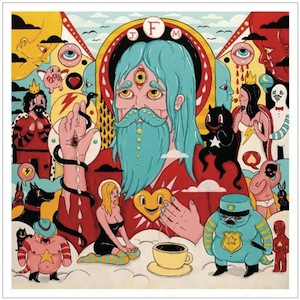 Josh Tillman did more than relocate from Seattle to Los Angeles. He was reborn. Christening himself Father John Misty with the release of Fear Fun, his most fully realized work to date, the album alternates between bleary-eyed short stories, hilarious one-liners and unabashed romance and eroticism. When we asked Tillman about the shift away from the self-described "trifecta of fear, doubt, and self-loathing" that previously defined his catalog, Tillman said that in one moment he "became aware of this giant, blatantly fraudulent contradiction between my internal narrative, my conversational voice, my sense of humor — and singing about my pain like a fucking decrepit wizard."
Here, the decrepit wizard is gone, replaced by a new cast of narrators populating a mythic L.A. — one residing somewhere between the black-and-white noir of Raymond Chandler and David Lynch and the deep canyons where wolfkings once prowled. The hopped up scribe with pants around his knees of "I'm Writing the Novel," the mourning "Only Son of a Ladiesman," the dissenting Waylon Jennings-type of "Well, You Can Do It Without Me", and the narcotized Roy Orbison of "O I Long to Feel Your Arms Around Me" all live here. Tillman sings in first person, but even when he questions his own name in the swooning "Everyman Needs a Companion," there's a puckish sense of smoke and mirrors…a trait the album relishes in. A carnal celebration far too long absent in modern rock & roll, Fear Fun is intoxicating. Sonically, it is as kaleidoscopic as the lyrical content – bombastic, rollicking, psychedelic and tender. With these 12 songs Tillman, or Misty, has created something we'll still be listening to, and discussing, a decade from now. An instant classic.

Can – The Lost Tapes: Hallelujah! What could have been an exercise in barrel-scraping turns out to be an essential — and totally fucking awesome — piece of the Can puzzle, as the group digs into its archives and comes up with three discs of gold. Motorik addicts will want to go straight to the monumental "Graublau," a 16-minute trip on the Autobahn. (buy)
Thee Oh Sees – Putrifiers II: Psych noise careening off of a scuzz-splattered garage floor, what's not to like? Thee Oh Sees add pure spoonfuls of each as Putrifiers II matches the band's best work thus far. Noisy, sometimes messy, not always cheery, but always tons of fun, San Francisco rock epitomized. (buy)
Six Organs of Admittance – Ascent: Ben Chasny (mostly) leaves behind his acoustic ruminations in favor of bracing, feedback-laced psych rock, aided and abetted by his Comets On Fire compadres. Reveling in their company, he plays some of the most unhinged, inspired guitar work of his career. Finally, someone has found the middle ground between Les Rallizes Denudes and Crazy Horse. (buy)

Godspeed You! Black Emperor – 'Allelujah! Don't Bend! Ascend!: The grey eminences of Mile End reemerge from their ten-year recorded slumber and deliver a groundshaking yawn across twenty-minute opener "Mladic," then drape flashing lights across "We Drift Like Worried Fire" just to prove that they still can. Offset by a pair of drones–one dedicated to the Montreal student movement–'Allelujah! Don't Bend! Ascend! flips the politics of its hometown on its back, that it may cut its way toward the heart. (buy)
Liars – WIXIW: Restraint and subtlety aren't traits typically associated with Liars, but here the computers serve the L.A. trio well: the automatic discipline of click-tracks and the cold internal soundspaces of this mostly electronic record keep the group pinned down to the micro level, where things turn out to be just as terrifying as they are from way up on top of Mt. Heart Attack. (buy)
Eternal Tapestry – A World Out of Time: Blast after blast of interstellar jams. Things get going fast with the 15-minute opener, "When I Was In Your Mind," as we join the Portland, OR collective seemingly in the midst of an appropriately eternal improv, shifting from Hawkwind-style explorations to scuzzy, 'Sister Ray"-like scrawls. Momentum from there on is maintained, liftoff is achieved. Eternal Tapestry also pull off the most killer Seals & Crofts rip-off of 2012 here, so there's that, too. (buy)

Ty Segall Band – Slaughterhouse // Ty Segall – Twins: Any idiot can slap together three releases in a year, just as any idiot can stumble into a brilliant garage-rock record. But it takes a special kind of idiot to put out multiple genre masterpieces in a single calendar year. Segall's served well by his influences–Hendrix, the Beatles, Nuggets, the Bay Area–but his songs are nimble enough to skirt the tribute/pastiche criticism. (buy)
Ty Segall and White Fence – Hair: Obviously, we love this guy. Hair, his collaboration with Tim Presley (White Fence) finds Segall at his finest, matching his own British Invasion ambitions with Presley's own knotty, Kinks-ian style. There are punks out there with a lot to prove who'll spout vitriol like "The Beatles suck — way overrated." Thankfully, Segall and Presley ain't those kinds of punks. (buy)
Rest of the list after the jump. . .

Personal Space – Electronic Soul 1974-84: Much in the same way that easy access to computer software liberated an entire generation of bedroom music makers over the past decade, the availability of synthesizers and drum machines offered the musicians presented on Personal Space the freedom to craft funk, soul, R&B, and proto-rap in their own homes during the 70s/80s. The tracks therein are often rough, but undeniable. From Guitar Red's glossy-but-meditative hymn "Disco From a Space Show" to the Shuggie Otis-like bounce of Cotillion's "If You Give a Dance", the grooves here are as unique as they are compelling. (buy)
Sensations Fix – Music is Painting in the Air: Italian-born Franci Falsini recorded the fragments that make up Music is Painting in the Air in his basement. Or rather, his basements, in Florence, Italy, and Alexandria, Virginia. Falsini was signed to Polydor in the 1970s, and the label found his demo records fit enough to release commercially. But Falsini had little need for excessive major label budgets, instead blending heavy rock, prog, kosmische musik, and early New Age explorations in his subterranean basements with a Teac 4-track. (buy)
Georgia Anne Muldrow – Seeds: "Act on what you know, what you're feeling," Georgia Anne Muldrow sings over the lush title track of Seeds, and she acts on exactly what she knows within the 10 tracks that follow. Madlib's gorgeous soul production provides plenty of room for Muldrow to stretch and strut: On "Kali Yuga" she sounds ethereal, on "Best Love" she couldn't be more immediate. (buy)

Jessica Pratt – S/T: At 11 tracks Jessica Pratt is a collection of the singer-songwriter's recordings culled from the past five years. However, the album doesn't sound like a hodgepodge of demos, rather the hushed folkie analog to her label patron Tim Presley's rapid-fire, garage blasts. It's lo-fi and scattered but also raw, immediate, and present. (buy)
Damien Jurado – Maraqopa: Maraqopa once again proves that, yes, artists still craft albums. Some of Jurado's finest work to date, the collection, a sort of sequel to 2010's Saint Bartlett, once again finds the singer-songwriter in the company of his brother-in-arms, producer Richard Swift. (buy)
Bill Fay – Life is People: Bill Fay is the Randy Newman of apocalyptic folk. His elegant ruminations drift from his piano and his voice, each more aged and patient and experienced now than his cult-origin of the early '70s. What has he learned in 40-plus years of non-recording (more or less), broken spotlights and nether-fame? Of watching inside and out? That life is people. He gracefully and sometimes devastatingly communicates that here. (buy)

Wendy Rene – After Laughter Comes Tears: Wendy Rene is the Stax-Volt dark horse. "After Laughter Comes Tears" was famously sampled by the Wu-Tang Clan and others, but she never had a real hit during her short musical career, even though her brand of soul music is unlike any other. Rene's voice is full-bodied, taught, and expressive, and her tracks combine the leanest Southern-soul with the most catchy and inventive '60s girl group arrangements. This phenomenal Light In the Attic release anthologizes all of Rene's singles (from 1964-'65) as well as some previously unreleased cuts. (buy)
Gunn-Truscinski Duo – Ocean Parkway: Five outstanding drum-guitar duets from Steve Gunn and John Truscinski, demonstrating an impressive mind-meld between the two musicians. Gunn's guitar is glorious throughout, referencing everything from West African trance blues to Roger McGuinn. These dudes are ready, willing and able to take things to the outer reaches, but they also know how to choogle, as evidenced by the magnificent title track. (buy)
Michael Kiwanuka – Home Again: The sound of an obvious savant taking the lessons of his teachers damn seriously, Home Again is remarkable for a lot of reasons, but especially Kiwanuka's age, 24. To have so thoroughly absorbed the sounds of not only soul and R&B legends like Bill Withers and Otis Redding, but also the sharp songwriting and delivery of Randy Newman so early in his career proves the serious mettle of the man behind the microphone. Home Again is a gorgeous record that feels lived in and warm from moment one. (buy)

Sharon Van Etten – Tramp: There is something to be said for hearing an artist hit their stride for the first time. Sharon Van Etten's previous work has been stellar, but Tramp is the sound of something truly arriving. Aaron Dessner (The National) gives her incredibly sympathetic production, and the resulting mix of blisteringly strong songwriting and musical accompaniment gives Van Etten's voice, here with a depth and power always hinted at but not quite maximized, the showcase it has needed. (buy)
Spiritualized – Sweet Heart, Sweet Light: There really is no band that sounds exactly like Spiritualized, and that's clearly because of the singular vision of Jason Pierce. Sweet Heart Sweet Light sounds familiar – the smoothed out T. Rex of "Little Girl"; the low-key Stones of "Freedom"; the Lou Reed of, well, everything – but Spiritualized is like the musical version of a Magic Eye puzzle. We recognize the shapes that create the background, but when the 3D sailboat finally emerges from the scenery, it always takes us by surprise.(buy)
Lower Dens – Nootropics: Heavy and personal, filled with sparse atmospheric guitars and electronic flourishes, Nootropics lingers and haunts the listener. No matter how uplifting and massive songs like "Brains", "Propagation" and "Lamb" are, Jana Hunter has a way of making you feel like you could have done more – as her music and words deconstruct your personality into itty bitty pieces. (buy)

Dirty Projectors – Swing Lo Magellan: Ever heady, the Dirty Projectors retain their trademark quirk and density on Swing Lo, but this album is the band's best and most accessible to date. The screwy, glitchy, guitar-playing and pungent voice of group mastermind Dave Longstreth are front and center here, but the virtuoso vocal work by Amber Coffman and Haley Dekle even out the band's unusual style. The production is disarmingly clean–there's none of that reverb or hazy delay–so it's all the more impressive how technically adept this group is at both performing and song-writing. (buy)
Tame Impala – Lonerism: These rockers from Perth, Australia shine on record. Tame Impala transforms the conventional rock band into a daringly arranged and produced ballet of fuzz, synth, and some of the punchiest bass sound since Motown. Singer Kevin Parker's high voice criss-crosses with toy-like electric pianos, whirring guitars, and noisy oscillations throughout Lonerism's dense stereo spread. (buy)
Melody's Echo Chamber – S/T: Melody Prochet has the advantage of sounding like a stand-in for Blonde Redhead's Kazu Makino only Prochet's approach is softer, more delicate, even predictable at times. And when you mix this voice with Broadcast-inspired electronic pulses and swirling psych-pop melodies you got yourself one of the best debut albums of 2012. (buy)

Lotus Plaza – Spooky Action at a Distance: Lockett Pundt writes melodic noise-pop streamers as one-quarter of Deerhunter. His signature style as the architect of the more "shoegaze-inspired" tracks on Deerhunter albums has never been more obvious, or breathtaking, than on tracks like "Strangers". The guitars balance themselves between Byrds-ian jangle and just about every act from the Creation Records roster from 1989-1992. (buy)
Flying Lotus – Until the Quiet Comes: Nobody organizes sound like Flying Lotus. Murky jazz snippets, heavy hip-hop beats, and ethereal string flourishes are prodigiously caressed and molded into an alien yet fluid sound world. The L.A. based producer/composer manipulates his sounds with a tasteful, soulful touch and a shockingly detailed fidelity. His tracks are short, fast-paced, and sound both organic and futuristic, like the soundtrack to a colorful nebula in which genre and song structure never existed. (buy)
Julia Holter – Ekstasis: "Ekstasis" means "outside of oneself." Julia Holter's album by that name fits that definition: it's personal and transcendent, contained in a meadowy patch of ambient synths and droning harmonium. The album as a whole creates a beautiful sequence of swells and releases. Holter's breathy, stacatto vocal work references experimental music by Laurie Anderson and Steve Reich, and she pits electronic, unresolved chord progressions against neo-classicisms like arpeggios on a harpsichord. Ekstasis can be hazy and challenging, but it pays off with moments of focused, pop finesse like the feel-good vocoder jam, "Goddess Eyes I." (buy)

Daughn Gibson – All Hell: This former truck driver made an impressive, genre-bending debut in All Hell. Classic cowboy country sounds mingle with deep, propulsive beats while Gibson sings in a low-pitched voice that mimics the stately depth of Johnny Cash's growl and the noir of Lee Hazlewood's. The combination sounds unusual, but Gibson's mannish, bare-chested bravado carries his songs through the dark mélange of old-timey samples and electronica. (buy)
Calvin Love – New Radar: Calvin Love's low fidelity, trance-y bedroom music feels somewhat distant, just out of reach, like the vague recollection of a dream, or memories newly created as they blur past the window. Along with its synth-lite iterations, New Radar could feel drafty or cold or lonely, but instead it's warm and immediate and refreshing, a tonic for your crowded headspace. (buy)
Mac Demarco – 2: As the title suggests, this is the second Demarco joint released this year following up the late night croon-romp that is Rock & Roll Nightclub. Tighter and more focused than its predecessor (without sacrificing any of the spontaneity/fun) 2 finds Demarco taking notes from his hero, Jonathan Richman, both in style and attitude. (buy)

WTNG 89.9 – Solid Bronze: Solid Bronze was a slept on 2012 Record Store Day release via the Numero Group. Crafted the way FM radio station collections were in the '70s, the set is devoted to the most sincere of genres: yacht rock, smooth pop, AOR and jazzy soul. (buy)
Bobby Womack – The Bravest Man In The Universe: It's become its own cliché – the seemingly past-their-prime artist teams up with the younger, more deft producer/musician – but when Bobby Womack and Damon Albarn, coming off of their work together on Gorillaz tracks, put together an entire album, the result became one of the soul legend's finest hours. "Dayglo Reflection" alone would be astounding, but the whole album unfolds like a truly classic r&b record while sounding like Womack in 2012. It's every bit the artist now, not the artist that was. (buy)
Tim Maia – Nobody Can Live Forever – The Existential Soul of Tim Maia: Maia is often called the "godfather" of Brazilian soul music, and his re-imagining of American soul and R&B with samba rhythms helped turn him into one of the most famous Brazilian singers. David Byrne's Luaka Bop label collects some Maia's best work in this tragically named compilation–in 1998, Maia died at the age of 55. He was a physically massive man with a wild appetite for food, alcohol, pot, and other drugs, and he possessed a famously unpredictable personality and even spent a few years in a hardcore aliens-meet-religion cult called Cultura Racional. He was a wild man with a wild story, but he could sing like he superstar he was. His voice was powerful and sweet, but there was also a gruffness in there that fits with the sloppy excesses of '70s soul sounds. (buy)

Rockin' Horse – Yes It Is: When Yes It Is was released in 1971, the album was pigeon-holed as post-Beatles dreck and quickly dismissed. Huge mistake! These songs are finely-crafted and quite catchy, a collaboration between Merseybeat masters Jimmy Campbell and Billy Kinsley. Sing Sing Records in NYC reissued this hard-to-find lost classic on vinyl. (buy)
Country Funk 1969-75: Light in the Attic's Country Funk collection is devoted to distinctly American music, a soulful and dirty sound that feels boundless. Black, white, man, woman, country, soul…the artists gathered here (Jim Ford, Johnny Jenkins, Bobbie Gentry, Bobby Charles, Link Wray, and more), each take groovy pleasure in defying record company sanctioned categorization, relishing in a sticky, smoky, purely American cross-pollination and freedom. (buy)
Crystal Syphon – Family Evil: Buried treasure from San Francisco's late 60s ballroom scene. Made up of studio, live and rehearsal recordings cut between 1967 and 1970, Family Evil is a "lost masterpiece" that actually lives up to the hype, with doomy organ work, minor key melodies and tortured fuzz guitar aplenty. An LP that deserves a space next to the other classics of the era on your shelf. (buy)

Woods – Bend Beyond: I'm still not entirely convinced these guys aren't actually from up the coast here in California, but their bio continues to read Brooklyn, NY. No matter. Album after album Woods continue to draft subtle Big Sur jams and sing-alongs. And we all say thank ya. (buy)
Colossal Gospel – Circles: This Leeds, Alabama-based duo quietly and nearly anonymously recorded the songs that would become Circles, their debut LP. It's a folkloric nu-gospel dream-trip that pulses with the humid breath of a trueborn southern narrative, passing under the languid branches of its Southern gothic forebears. (buy)
The Fresh & Onlys – Long Slow Dance: Here we find the SF band more focused than past work, trimming some of the frays and rough edges from 2010's Play It Strange. The result is '80s pop songs dipped in '60s West Coast dust-billy sugar. Though it lacks the standout tracks of 2010, this is the band executing in a more complete form. Good road trip music for the swollen heart. (buy)

Moon Duo – Circles: Fuzzy space rock and pscyhedellic post-punky noise, Circles aims its gaze skyward, buzz-humming along ethereally and somewhat irreverently with jammy nuances of guitar and drum machine that pay more focus to the trip than the riders. But if you can hang on, what a trip it is. Trip tip: Give the 21-plus-minute bonus jam "High Over Blue" a taste. (buy)
Dr. John – Locked Down: The New Orleans legend revisits his gris-gris, wild-man alter-ego from his early albums with the Black Keys' singer & guitarist Dan Auerbach behind the boards. Like the original Night-Tripper records, Locked Down was recorded in exile (from NOLA) and irreverently incorporates a mish-mash of influences. A young, ad-hoc band of studio musicians who made their reputations playing Afro-beat and Ethio-jazz push Dr. John's songwriting, singing, and piano playing in a good way: Locked Down is his most creative album in years, plus he proves he can still righteously shred on the Farfisa. (buy)
The Amazing – Gentle Stream: Comprised of members of Swedish psych-rock monsters, Dungen, this, the stateside release of The Amazing's second LP Gentle Stream, is a textured glide through the past four decades of coast & canyon folk, pop and rock coupled with the pastoral side of Pink Floyd and the live fury of Crazy Horse. (buy)

Nick Waterhouse – Time's All Gone: Throwback sounds only really work if they're sincere. Most aren't. But nothing is more honest than Waterhouse's full immersion into vintage '50s/very early '60s R&B, soul and jazz, a smoky, clubby aural set like mid-century tastes in the Hollywood Hills. Which is to say, this is just as contemporary — and fresh — as it is retro. And even a little flashy. (buy)
Allah-Las – S/T: The Allah-Las are more than just California boys, they're West Coast avatars. Their self-titled record's 12 songs are sun-bleached two or three-minute gems dressed up in barre chord garage rock, gently cresting Latin surf, and soft-focus jangle pop. Produced by Nick Waterhouse, the album taps into a mystic California dream — one that persists long after the amps stop echoing. (buy)
Lee Hazlewood – LHI Years: Singles, Nudes, Backsides 1968-71: By the time he got around to forming Lee Hazlewood Industries in the late '60s, Lee Hazlewood was already an industry pro with a a string of hits to his name. The freedom afforded by LHI meant Lee could do whatever he damn well pleased, and the sounds of him following his psychedelic whims – "Califia (Stone Rider)," "Leather and Lace," "Sleep in the Grass" – prove the man's instincts. (buy)

Matthew E. White – Big Inner: For my oil and holy water, there was little going this year that Virginia's Matthew E. White couldn't beat. White sounds equally at ease singing about bourbon, singing about persistence, tinkering around with tin-can percussion, drafting orchestral soul opuses, lamenting a long-gone lady, and giving it up to the Lord–man, he just sounds at ease. (buy)
Lambchop – Mr. M: Soft as a summer's breeze, but as deep as the ocean. Kurt Wagner and co. come up with a hushed masterpiece for their eleventh LP, haunted by the ghost of Vic Chestnutt but strangely life-affirming at the same time. "It's not how much you make, but what you earn," Wagner sings — words to live by in these strange days. (buy)
Patterson Hood – Heat Lightning Rumbles in the Distance: Patterson Hood's solo excursions from the Drive-by Truckers have become increasingly strong, and his latest, with at least two members of DBT on board, is his strongest yet. There is a lot of memory in this record – departed loved ones and fellow songwriters; past relationships and nights lost – but the reflective nature hits its apex in "Disappear," a song that divines the origins of an all too-human adult fault and both excuses and damns the narrator simultaneously. It's a bountiful record and a reminder of just how good a songwriter Hood truly can be. (buy)

Grizzly Bear – Shields: If they arrived (in popular terms) with Veckatimest, then Shields has firmly established them as preeminent music-makers of the current landscape. Their lush and enchanting composition prevails, probably more melodic now than ever. Ambitious and extravagant, evocative and isolated, Shields is a wholly original kaleidoscope of sound and feeling, something that is fast becoming the Grizzly Bear trademark. (buy)
The Walkmen – Heaven: Ten years ago, the Walkmen were chronicling your late-nite bummer sessions. Now they're helping you celebrate your anniversary. Carry on, gentleman, by all means carry on. (buy)
Cat Power – Sun: Chan Marshall, it's good to have you back. Six years since her last album comprised of original material, Cat Power returned in 2012 with Sun. A clean break from the Memphis soul leanings of her last two releases, Sun tastefully employs synths, electronic drums and keyboards without feeling forced or self-conscious. And then there's the songwriting, which is why we show up to begin with . (buy)

Grass Widow – Internal Logic: The all-girl trio twine their voices together so expertly, and over such bare post-punk branches, that you don't even need to check to know they were once on Kill Rock Stars. What it lacks in snarl Internal Logic more than makes up for in atmosphere. This is haunting and chilly music; call it wraith-punk. (buy)
Ceremony – Zoo: Sure, they've got the "hc" at the end of their URL, and they play fast, hard, and loud, but the Bay Area Matador signees keep their heads out of hardcore's brine: they're far more interested in melody, tempo, and nuance than those two little letters suggest. Not that things don't get thrilling in all the old ways here: check out the way they downshift into and out of "Quarantine"'s chorus, then accelerate to the finish. (buy)
Japandroids – Celebration Rock: Gatling guitar and howitzer percussion explode with plumes of confetti and youth. Yeah, the word might be right there in the title and all, and all of their hoarse shouting for late nights and cheap beers might make you think that Japandroids are your next great good-times band, but Celebration Rock is about as melancholy a punk record as you're likely to hear. It might lack the nuance of, say, Thomas Wolfe, but this is what it sounds like when the realization that you can never go home again is compressed into CD quality. (buy)

Parquet Courts – Light Up Gold: Light Up Gold is thin in the way that a vinyl record is thin, thin in the way that wire is thin, thin in the threadbare way of David Berman's blankest verses. That Parquet Courts, despite being native Texans, have adapted to their NYC environment, goes without saying; Light Up Gold's bleary post-punk could've drifted in from the outer boroughs at any given moment in the past thirty years. (buy)
Titus Andronicus – Local Business: As it began its sink into history, 2010's The Monitor threatened–in what would've been an eerily prophetic move–to take Titus Andronicus' future down with it. Ever the wisemen, the Jersey quintet sidestepped the entire morass by refusing to build anything so grand in its wake. Local Business is just as paradoxically anthemic and world-weary as its predecessor; if anything, the record's pared-back sound strips some of the romance from The Monitor's despair. It ain't pretty, but reconstruction never is. (buy)
The Orwells – Remember When: Skeptics might claim a bunch of snot-nosed suburban kids have no business playing garage punk so convincingly. They'd be wrong. Remember When shuffles and flails with authority, but standout "Never Ever" almost catches the group in the act of being sincere. And to think they're just getting started. (buy)

DIIV – Oshin: DIIV are just one of a handful of young dream-pop bands that incorporate melodies and song craft, not just effect pedals. On one hand the quartet sounds like the rebirth of shoegaze without the walls of sound nestling in between you and the artist, but then they also have a fiery edge like The Plimsouls did where they were in-your-face and aggressive. That's a potent combination. (buy)
Tamaryn – Tender New Signs: More intimate and sonically busier than their outstanding debut full-length, Tender New Signs is mix of classic rock and overdriven glam submerged within deep blue canyons. This is not a band destined for simple shoegaze comparisons, they're the face of that period's new progressive movement. (buy)
Young Prisms – In Between: It takes skill to pull at genre touchstones well. It takes art to raise your work beyond that. In Between is a record that transcends its obvious influences – My Bloody Valentine, C-86 music, This Mortal Coil, His Name Is Alive – and creates something very much of this moment, not some imagined and interpreted version of the past. It's exactly where art should take its influences – a way of witnessing the present through a lens of the past. (buy)

Chris Cohen – Overgrown Path: Formerly of Deerhoof, Cryptacize, and Curtains, songwriter Chris Cohen found himself far from the West Coast, hunkered down in Vermont to record his solo debut. The ambling soft-psych LP, Overgrown Path, suggests the move did him some good. Over twisting guitars, jazzy backbeats, and AM pop basslines, Cohen sounds perfectly at ease. (buy)
Jim White – Where It Hits You: Jim White's albums always have a thematic resonance to them, but Where It Hits You finds something unique – songs primarily written before his separation from his wife, recorded primarily after. The hopeful "Chase the Dark Away" becomes a lament for opportunity lost; the aching "Epilogue to a Marriage" spirals out from its specific origin story to take in any number of relationships. But the downright brilliant "Why It's Cool" is White's career and life in a nutshell. This is White's finest songwriting hour and possibly his finest album to date and you can hear it in every word he sings. (buy)
Richard Hawley – Standing at the Sky's Edge: Richard Hawley has a voice out of time. Its deep croon reflects someone well versed in an older style of music that doesn't get name checked by bands that often. But Standing at the Sky's Edge pulls from shoegaze, psychedelia, Leonard Cohen and a vast array of rock and roll to create an album that surges – coming in loud and hypnotic, down to a melancholic middle and then back up for a chaotic and uncertain finish – over you. It's an experience, a record to get lost in, and find yourself eager to get lost all over again when it's finished. (buy)

Merchandise – Children of Desire: Merchandise came from Tampa, Florida's insular hardcore and DIY scene, and this 6 song album exposed the band to the world outside of those humid punk clubs and garage shows. Singer Carson Cox is the appeal here–he sings in a dark, dramatic, brooding croon, amidst heavy guitars and dense synths, and the band's not afraid to rip into a 10 minute groove. There's a '80s throwback element to Merchandise as well, but it's more gothy industrial than neon. (buy)
Whirr – Pipe Dream: In classic shoegaze tradition, it's nigh impossible to make out a single word from singer Alexandra Morte in "Junebouvier," the best song on Whirr's excellent Pipe Dreams. It's all breathy syllables, crashing drums, synth washes, and infinitely tracked electric guitars, an expanding statement that says nothing directly, opting instead for pure emotional rush. (buy)
Frank Ocean – Channel Orange: It makes so much sense why Frank Ocean is sitting on 6 Grammy nods right now: Channel Orange is an incredible pop record. Why? Because Ocean's voice and songs are highly personal–wistful, earnest, complex thoughts and observations by a young man in 2012–but they also speak across genres and generations. He's a soulful singer and talented songwriter, and even when he hits those high-flying Prince notes on "Thinkin Bout You," he's still casual and low-key, an everyman in a t-shirt. (buy)

Bob Dylan – Tempest: A flawed-but-fascinating effort from Bob. Still not sure how I feel about the two closing tracks — the long, shaggy dog Titanic tale and the somewhat ham-handed John Lennon tribute. But there's more than enough to chew on elsewhere, as Dylan guides us through a weird, apocalyptic landscape populated by early Roman kings in sharkskin suits, flat-chested junkie whores and murderous adulterers. There's no shelter from the storm to be found here. (buy)
Donald Fagen – Sunken Condos: Yup, Fagen is sandwiched between these two giants for a reason. Just try and keep this twisted fuck's record off my list. You can't do it. This, his fourth solo outing away from the Dan, drips with sicko white-boy funk served up like only he can. Go ahead and throw out them Gold Teeth — this is meticulous perfectionism at its best. (buy)
Neil Young & Crazy Horse – Psychedelic Pill: None of his classic rock peers would dare kick off an album with a 27-minute epic, but Neil don't give a fuck. And if "Driftin Back"'s lyrics are boneheaded, who cares? The pure righteousness of the playing renders any complaints null and void. Ditto for the album's other lengthy guitar workouts, "Walk Like A Giant" and "Ramada Inn" — though "Ramada Inn" boasts some of Shakey's best writing in ages. (buy)
For Heads, by heads. Aquarium Drunkard is powered by its patrons. Keep the servers humming and help us continue doing it by pledging your support via our Patreon page.