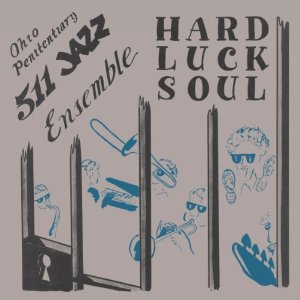 Hard Luck Soul, originally pressed in 1971, is the result of a single recording session by the Ohio Penitentiary 511 Jazz Ensemble, a group led by Ohio State Penitentiary inmates Reynard Birtha and Logan Rollins, nephew of Sonny. The story goes that the two men — on trumpet and alto sax, respectively — were the lone talents in their ensemble, left to choose from the slim pickings of the prison pit band. One fateful day, however, the prison was visited by the Ohio State University Band. Members of the University Band were so impressed after jamming with Birtha and Rollins, they insisted on making a record with the two inmates as featured players, to be bankrolled by an unnamed wealthy investor. Hard Luck Soul, captured live in the auditorium of the prison chapel, is the result of that unlikely meeting.
The four tunes here are rhythmically rich, large ensemble hard bop tunes with heavy Latin colorations and very little in the way of blues – the quintessence of soul jazz. Nothing ever gets too fiery or outside, and none of these soloists will likely be mistaken for Wayne Shorter or Logan's uncle Sonny, but the mellow modal framework allows the soloists to stretch out and explore tastefully, improvising competently over the mellow gait of the rhythm section.
"Psych City"  boasts an infectious chordal chorus that sounds very much like what we now consider 'spiritual jazz,' but don't let that turn you off — this is more akin to a Gary Bartz side or the Phil Cohran- assisted Arkestra grooves like Fate In A Pleasant Mood or We Travel the Spaceways than anything too hippy-dippy. "Mantra Dance" is a fairly basic hard bop tune, and the only skip-able track here (it's also the shortest), but it's more than redeemed by the moody "Counterry Bosa Devan," a zoned-out organ and guitar-heavy jammer that appears to be in no particular hurry to get wherever it's going — definitely one for the enhancement smokers. The album ends with the boisterous "Java Man," marked by thudding and juddering shuffle grooves, while insistent organ stabs again recall some of the straighter Saturn material. The rhythm section here steals the show, double timing the band and belying a strong Art Blakey influence, but the front line swings hard, horns fanning out with gusto throughout the track's all-to brief five minutes.
What few liner notes exist are confusing — both Rollins and a (non-inmate) tenor player named Jesse Barrett are alternately and separately credited with arranging and composing the material, and little is offered in the way of recording dates or session notes. Additionally, though the material is said to have been culled from the collaborative sessions between Birtha, Rollins and the Ohio State University Band (and the music on the LP would certainly seem to confirm this), the photos of twelve scowling middle-aged men on the back cover of the LP look like no University Band I have ever seen. Curious. Regardless, this one transcends novelty in a pretty major way, and jazz fans with mellower tastes running from Blakey to Boykins should be adding this to their cart yesterday. words/ j jackson toth