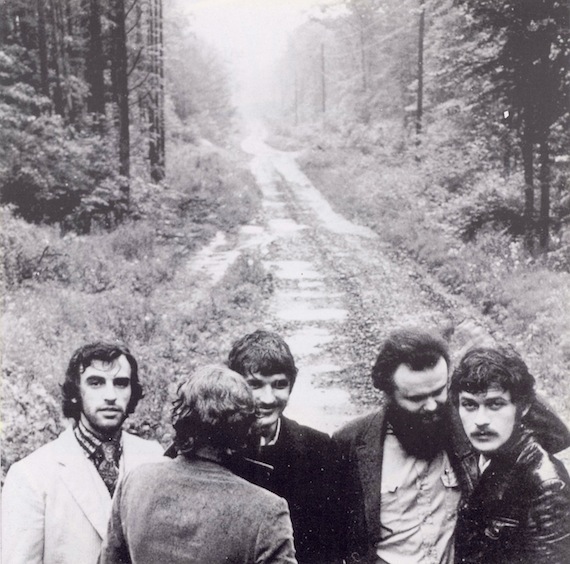 Happy New Year — The Band's Genuine Bootleg Series 4: Crossing The Great Divide.
"3 CD The Band bootleg released in 1997, not to be confused with the official Across the Great Divide box set. This is the third release in The Genuine Bootleg Series, for some reason sub-titled Take 4. The two first bootleg boxes, The Genuine Bootleg Series, and The Genuine Bootleg Series, Take 2, were mainly filled with Dylan material. Take 4 only has a small amount of Dylan content that is available elsewhere. A Take 3 CD set, all Dylan content, was released in 1999.As usual for the Genuine Bootleg Series, this one continues the same tradition of high production values with multiple gatefold glossy-color sleeves. It also sports inner disc sleeves (each w/color pics + tracklist) and a 36-page booklet containing full text of the July '91 Goldmine article along with more photos and the track listings. All of the Genuine Bootleg Series have been reissued a few times, in cardboard sleeves and jewel boxes, and The Genuine Bootleg Series Vol 4 seem to exist also under the title Statue of Liberty.58 tracks in all, including early Hawks material, outtakes from 1965 – 1967 The Basement Tapes and Big Pink sessions, outtakes from The Band, Rock of Ages, and Planet Waves, various Band live recordings, bits of a 1988 Levon Helm concert, and three demos for Jericho. A nice set with good sound quality." (notes via)

Download: Genuine Bootleg Series 4 – Crossing The Great Divide: disc 1 / disc 2 / disc 3
Only the good shit. Aquarium Drunkard is powered by its patrons. Keep the servers humming and help us continue doing it by pledging your support via our Patreon page.