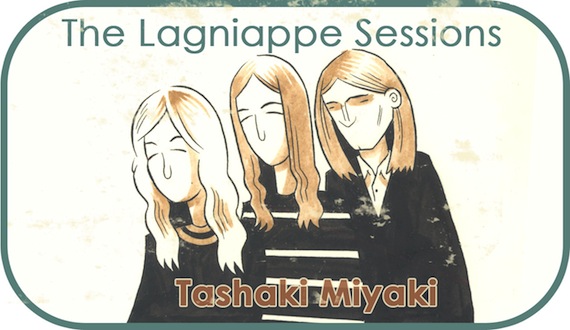 Lagniappe (la ·gniappe) noun 'lan-ˌyap,' — 1. An extra or unexpected gift or benefit. 2. Something given or obtained as a gratuity or bonus.
Aquarium Drunkard's Lagniappe Sessions return with  Tashaki Miyaki. Here, the ethereal Los Angeles dream-pop three piece lay down a resonating, haunting rendition of The Flamingos "I Only Have Eyes For You", coupled with a narcotized take on the Mats "Unsatisfied". Drummer and vocalist Lucy Miyaki, in her own words, below.
__________________________________________________________________________________
MP3: Tashaki Miyaki :: I Only Have Eyes For You (The Flamingos)
This is one of my favorite songs and recordings. The vocal is smooth and haunting and the backing vocals are gorgeous and follow the spooky melody perfectly…nothing from this time sounds quite like it. The percussive piano part throughout also blows my mind.
MP3: Tashaki Miyaki :: Unsatisfied (The Replacements)
I love Let It Be and this song especially seems super timeless to me. The simplicity of the lyric makes it cutting…it gets me in the guts every time…its a sentiment every human can relate to and the guitar part is beautiful.
Related: Lagniappe Sessions Archives / original illustration  for aquarium drunkard by Ben Towle.