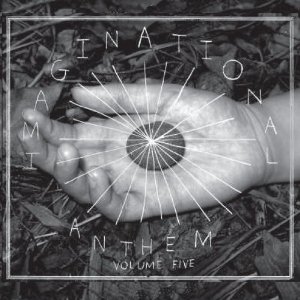 Imaginational Anthem Volume 5 is the first volume in this long-running series not compiled by Tompkins Square label boss Josh Rosenthal but by young guitarist Sam Moss, and refreshingly offers some curveballs. The most rewarding contributions to this series have consistently been those that venture furthest from contemporary solo guitarist clichés — colonialist ethno-meandering, Takoma flashbacks, and modal fantasias — and this fifth volume is no exception.
Jordan Fuller's exciting prepared guitar style on "I Think We'll Be Happy Here" is imbued with a nervous, clattering energy, while Will Stratton's "Hemet Pine Singer" provides a most pleasant and unexpected surprise from the singer / songwriter, a dissonant instrumental as moody as it is melodic. Bill Orcutt's "John Fahey Commemorative Beer Can" may recall Derek Bailey, Arto Lindsay's Aggregates 1-26, and Lick My Decals Off, Baby era-Magic Band all at once, but the ghostly moaning and tic-inspired single notes providing brittle shards of attack are distinctly Orcutt, an American original if ever there was one. Guitar prodigy Daniel Bachman's noisy and potent "Confederate Rose" all but steals the show, with deep, stoned rolling lines that linger like a hillbilly Twilight Peaks. Tom Lecky temporarily drops his Hallock Hill moniker for "Her Unmediated Eyes," a tonally rich overdubbed piece that offers a welcome respite from some of the extended DADGAD techniques and woody resonances elsewhere. Lecky's wandering and wistful style recalls a mid-period Loren Connors, and distinguishes itself ably among the eleven other fine offerings here.
From a curatorial standpoint, there are some conspicuous absences. While the nitpicker in me would enjoyed hearing vital string-stranglers like Willie Lane, Nathan Bell, and Roy Montgomery included, there remains a more troubling issue of gender representation — there hasn't been a non-male featured in the series since the second volume. Were Mary Halvorson, Elisa Ambrogio and Marisa Anderson, to name just three obvious ones, not returning calls?
Despite these complaints, Volume 5 is another worthwhile entry in this crucial series, without a bum track to be found. words/ j jackson toth