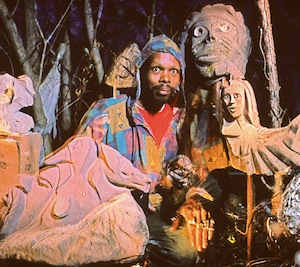 "Where did it begin?" asks Lonnie Holley in his liner note. "We had songs with us all the time. Humans had songs even if they weren't doing anything but moaning, they had MUSIC."  Just Before Music is aptly titled since Holley restrains himself from too much conventional musicality–melody and that sort of thing. There is scarcely a proper chord change in his music, much less a full progression. He sings with an intense, emotional voice and unleashes lyrics without consistent meter or rhyme over gossamer keyboard lines that hang in the ether. His music is a blues nebula, splotched with riffy word jazz that shares in some rappers' collagist aesthetics as well as the runaway passion of a gospel preacher enlivened by the Spirit.
The album comes to us via Dust-to-Digital, the boutique label based in Atlanta that's renowned for meticulously curating extremely vintage folk music. Dust-to-Digital typically deals in the ancient, esoteric stuffs of Victrolas, wax cylinders, field recordings, and brittle 78RPM records. But Lonnie Holley's album isn't old, he's the label's only "new" artist. He has been making music for some 30 years, but Just Before Music features material from his first proper recording sessions, cut over 2010 and 2011. Atlanta indie rock homeboys Cole Alexander of the Black Lips and Bradford Cox of Deerhunter appear on the album, but judging by this live footage of the two backing up Holley (noodling), the meat of Holley's sound is firmly his own. His minimalist keyboard playing is the centerpiece of the musical backdrop, and his rich voice and keenly observant personality the driving force.
Holley was born in Birmingham, Alabama in 1950. He is a self-taught African American artist, an improviser, and quite interdisciplinary. Over the years, he has created drawings, paintings, photography, sound and performance art. However, he is best known for sculptures cobbled together from all sorts of found objects, from cherished personal items to junk. One can catch a glimpse of Holley's visual style via an outdoor sculptural environment in the video for album highlight "Looking for All (All Rendered Truth)." Take notice of a crudely painted sign in front of a ramshackle car which reads "I AM ART." It is clear that Holley's music is but one facet of his work and that this man thinks outside of medium or genre.
When trying to hone in on what his music, specifically, is all about, one preoccupation sticks out: the abstraction of all the technology that is so speedily developing. He's worried that us humans are living in a way that's going to get away from us, a lifestyle where we lose sight of the fundamental expression within ourselves, the "I AM ART" in each of our cores. The breaking point? When reality is transferred away from our physicality–the digital age. That's a heady concept for a studio album, but Holley never really obfuscates what he's talking about: "Digital images/ Futuristic for some reason," he sings in "The End of the Film Era." He jams on words like "computer chips" or "text messengers" or "phone-ication." He even name-checks his record label in his liner note, saying "I really wanted to keep DUST TO DIGITAL in my mind making this record. It's taking from this earth the dust of all the dead. All the wars and all that humans had to deal with has become the dust. The earth is the grave, it's the biggest graveyard that has ever been." Graves are important to Holley's mythology. His first go at making art was carving tombstones for his sister's two children who died in a house fire, and that episode shows up in Just Before Music too, on "Fifth Child Burning." "Mama's Little Baby" seems to be about overcoming oppression ("Energy conquers!" Holley says in his liner note, "Look at our ancestors in the fields, they did it!"). However the wild potential of technology is overwhelming: "Now that I was out of the cotton field/ And out of the industrial field, too/ The technical field/ The technical field/ The technical field is making me blue."
Throughout these tracks, words like "breaking," "burning,"  and "crying"  suggest the blues Holley sings about are of Biblical proportions. In the 25 minute closing track, "Planet Earth and Otherwheres," Holley sings, "Joy and too much fun/ Got humans on the run/ Some humans can't afford/ Some humans having overload/ Of this reality." This hyper-reality of ours is one of excess, but by the way Holley plays it, that excess is full of dark beauty. That said, Holley's meditations can go on for a very, very long time. "Looking for All (All Rendered Truth)" is the shortest track but succinctly gets to the bottom of Holley's concerns with one great word, "rendered." He's talking about realizing the ART in the "internal self," but come my second listen, I'm free-associating on bacon fat and computer graphics. words/a spoto