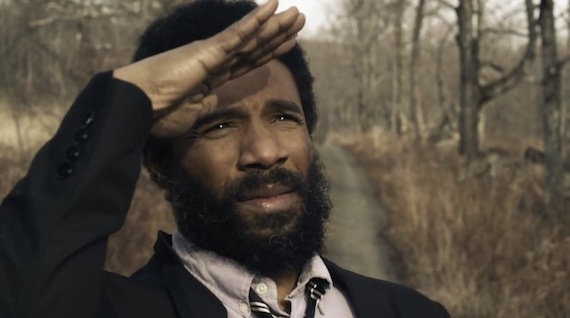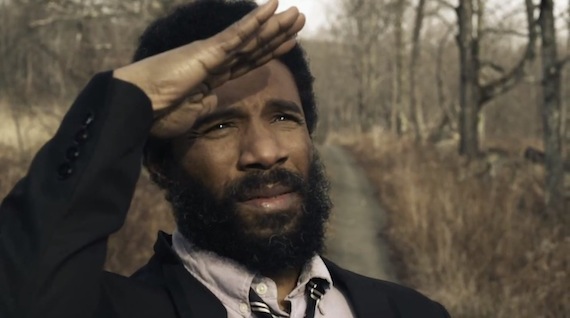 Cody ChesnuTT indirectly made himself into a bit of enigma this past decade. After his band was dropped from a record deal right before the release of their finished debut, ChesnuTT holed up in his bedroom and created The Headphone Masterpiece, a sprawling, 36 track lo-fi soul, rock and r&b mess released in 2002 that won over critics and grabbed the attention of The Roots, leading to their re-recorded version of ChesnuTT's "The Seed" and some serious attention. But then he fell off the map, finally resurfacing in 2010 with an EP and then in 2012 with his debut's proper follow-up, Landing on a Hundred. Prior to his show at the Troubadour in L.A., ChesnuTT spoke with Aquarium Drunkard over the phone about the success of that debut, where he went for eight years, how Sam Cooke's songwriting influenced his own and whether or not he really was ever addicted to crack (spoiler alert: he wasn't).
MP3: Cody Chesnutt :: I've Been Life
__________________________________________________________________________________
Aquarium Drunkard: If we go all the way back to 2002 and The Headphone Masterpiece, you started off with this debut album – 36 tracks, a double album – was the attention that the record received overwhelming, or did you expect it at all?
Cody Chesnutt: It was cool. To be honest with you, I didn't know what to expect. After I'd been dropped from the record company, I didn't really have a lot of expectations. I just focused on getting music out that I felt best represented myself as an artist at the time. I really tried to move forward without becoming too bitter or too jaded. So I stayed in my room and made music that spoke to me and moved me and the people we shared it with who came over to the house. So I put it out like that. I just played and expressed it loud and had fun with it. It was amazing to see how it took off. I was pleased with the response.

AD: The record saw a lot of benefit, I assume, with the re-recording of "The Seed" with the Roots that ended up on their album Phrenology.
CC: Oh, absolutely, it was huge. That was kind of the strategy. My cousin first mentioned it to me – they reached out to my cousin, who was my manager at the time – about doing a collaboration. I was a bit skeptical at first because of what had happened with the record label, but he said it would be a great opportunity to promote The Headphone Masterpiece, so from a business position, it made a lot of sense. And the Roots are real musicians and you can tell we're compatible in that sense. It was a great boost. And even Questlove said, at the time, that he felt we would definitely build each other up. Phrenology would build up The Headphone Masterpiece, The Headphone Masterpiece build up Phrenology. So it worked out well that way.
AD: So, for people who got into The Headphone Masterpiece, and this is how it seemed to me, I lost track of you for eight years. You released an EP in 2010, but that's an eight year gap between releases. But from what I heard, you were still playing out. What was going on musically for you during that time period?
CC: The first thing was just to take some time away to clear my head and re-focus. I had a son, so that was a completely different experience and I just wanted to give him all of my time and energy and find out what fatherhood was all about. So it became a natural progression to break off into family life and get into a stage where I could see life differently. And musical ideas are always in my mind, I never stop creating, it just wasn't the priority at the time. I was okay with that. I had shared so much on The Headphone Masterpiece – I had given up so much of my soul and my spirit in that record – that I just had to live life again in a different way to get something else to draw from and to share. That's what happened. I didn't realize it was going to take ten years. That wasn't what I set out to do. It was just a matter of living day by day and allowing things to manifest in their own time.
AD: You always hear that cliché – yet it's true – that you have a lifetime to write your first record and a year or two to write the next one. In a way you were waiting – not only because you had priorities with your son – but also waiting for that moment where you felt like you had that really good record in you again.
CC: Yeah, exactly. I just wanted to go out and see again, to listen and observe meaningful things that were happening and re-connect to the everyday walk, as opposed to the music scene and industry. That's a completely different reality. I wanted to come back to the real, everyday situation that people deal with and rediscover who I am in that context and be patient and receive whatever it was I was going to write about next.
AD: You talk about having a son, which is a huge change, of course, but even if you hadn't had a child, you, as a person, would have changed a lot in eight years. Did your songwriting process change much in eight years?
CC: No, it's still the same. Even by the time I had gotten to The Headphone Masterpiece, I had figured out it wasn't healthy, in terms of the writing process, to chase everything and try and force it. But after I finished that record, I was really convinced that the best way to write is just the way they come. That part of the process didn't change. I would just try to stay as open as possible until something moved me and then I would pick up an instrument, pick up a guitar or go to the piano, same as I did before, and go for it. The content, the perspective and the language is what evolved, but actually processing stuff, hashing it out, that's the same still.
AD: With Landing on a Hundred, you've got this immaculate group of musicians playing with you as opposed to The Headphone Masterpiece which was recorded pretty much entirely by yourself. But was this a new experience, going into a studio where you were leading things based purely on your vision? Or had you done something like this before?
CC: I shared the creative process with my first band quite a bit, so this was the first time that I actually controlled everything. But I was also open to their contributions. They are very talented musicians and had lots of great ideas in terms of how they interpreted the music of their parts. I definitely had a vision, but at the same time I was open to their creative input after I had a clear vision of what the song should be. That's how I always try to approach it. I try to make sure I realized the song as much as I can and then I brought it to the musicians and just kind of sat back and watched what they would contribute.
AD: Whereas The Headphone Masterpiece was kind of a beautiful mess of a record – jumping from idea to idea, from genre to genre – Landing on a Hundred, when you listen to the two of them back-to-back, you can hear a lot of the ideas of the first album in the second, just in a more focused and stable way. Did you pull from any more specific influences for this record, or was this just truly more of a refinement of what you were doing with the first album?
CC: I've always drawn from just great songwriters from the whole spectrum of music, but I definitely wanted to get back to my soul roots, the music I grew up on as a kid. To me, it felt like the best vehicle to express what it was I wanted to express. And I wanted to explore that in a much more focused way. The Headphone Masterpiece, there are soul influences there. But this, I wanted to make it more concise and keep it focused with the soul energy.
AD: I told someone the other day that the album feels like someone wrote a record back in the late 60s/early 70s, and then sat on it until 2012, and it's such a great record. The critical response seems to have been really positive – has the commercial part of it been positive so far?
CC: It's coming along fine. We're still in the infant stages – we're just at 90 days the record has been out, so there's a lot of work ahead of us in 2013 to create awareness, especially here in the States. I licensed the record through Polydor in France and One Little Indian in the U.K. because they have a much larger infrastructure to move things. But here, it's really independent without that much of a big push. We do as much as we can through a marketing/PR company called Girlie Action. So they're handling some of the marketing services, but a lot of it is coming from just playing out and exposing it that way.
But people have been supporting it and it's been a great response. People are feeling it in a real way. And I've been getting a lot of the feedback I was hoping to get from the spirit of the record and how it's making people feel. That's what I wanted – that someone may have felt like it was written in the 60s or 70s. What I wanted to do – and what I did do in this time period the last ten years – I just really got into the spirit of that era and that feeling, I wanted to bring that feeling to music now, the way I feel it should be coming out. Yet, at the same time, have a 21st century energy behind it and have a relevant conversation. Everybody seems to pick up on that, that's getting it from the commercial and critical end, so I'm really pleased so far.
AD: You talk about using your own experiences for the genesis of what you're writing about, but are the songs on the record, is that all you, or do you tend to write in character?
CC: Yeah, it's a mix. I've always done that – had a mash up of things. I'm always in there. I'm never not in any song I write. But I observe a lot, something I learned from Sam Cooke. When his peers were asking in his day, what made it possible for him to be so prolific, he said he would just sit and listen to people, read and observe a lot. So I took a lot of inspiration from that. I really try to observe the people around me and see how close it is to what I'm living and try to bring all that together in song. But I'm always in the song in some way if not the whole thing.
And you may be asking about that one song, "Everybody's Brother." That's one thing everyone asks: "Did you really smoke crack?" With that song, what my aim was was to address a real crisis that we're still dealing with. Deal with it head on. I'd never heard a song that just cut straight to the matter and, forget sugar coating it, but just get straight to the heart of it. So I wanted to write that song and I've observed in my family that people struggle with crack addiction in excess of 15, 20 years. But they've made it on the other side. I've heard guys in church give testimony about how they overcame their crack addiction, how they struggled with it for so long and now they're almost passed now, to a healthier life. I wanted to bring that to song, people need to hear this. Not just to talk about how they've been defeated by it, but how they defeated it and how they've moved beyond – how they're in front of the eight ball now, rather than behind it. So I'm always pulling from around me and putting me in the mix as well.
AD: You're getting ready to do a pretty large U.S. tour. Is this the first time you've been out across the U.S. in a while?
CC: It is. The last time I actually went across the country was with the Roots. So this'll be the first national tour since then.
AD: Are you nervous?
CC: No, not at all. I'm really looking forward to it. I've played quite a few dates in Europe and so in terms of my relationship to the audience and the live experience, I'm feeling good about that. I'm looking forward to sharing the new music with people I haven't seen in awhile and who haven't heard the new album.
AD: What makes up the band you're taking out with you?
CC: I had to scale it back, man. I started out with nine pieces, but it got to the point where that was too much of an undertaking in terms of money. So I scaled it back to a strong rhythm section, four pieces – guitar, drums, keys and bass. It's been holding up pretty well with that. But I definitely miss the horns – I had three horns and two backing vocalists. But the songs still stand up, the energy is still there with the four piece, so we're going to move without it until we can bring everyone else back.
AD: It's early to tell because you're still working on promoting the new record, but a question I'm sure you've already gotten a time or two – is it going to be another eight years before the next album?
CC: [laughs] I definitely feel like I can get another one done in about two or three years, because I have some ideas and concepts I feel pretty good about. So, yeah, it'll probably take another year and a half to two years, but I know it won't take another eight years. I know that for sure. words/ j neas