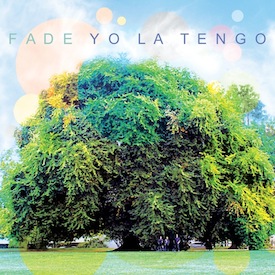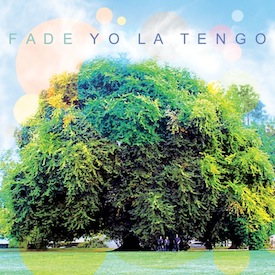 Recently, I was thinking about artists who have been around awhile and whose work has been labeled as 'influential' at one point or another. Thirteen albums into their career, Yo La Tengo certainly falls into that lot. But what makes a listener care about their new music? It's an interesting question. Why should I care about Fade when I have Painful and I Can Hear the Heart Beating as One in my collection already? More over, does this new music lend a different lens through which to examine their older work? What, potentially, makes this essential Yo La Tengo listening?
Fade is defined by its opening and closing tracks. They are the two longest songs on the album and in the case of the former, it gives the record its defining lyrical mood. "Ohm," as the track is called, has a homophonic double meaning. "Nothing ever stays the same / nothing's explained…'cause this is it for all we know / so say goodbye to me / and lose no more time…resisting the flow." Ohms, of course, are the SI unit for electrical resistance, but it's also pronounced the same as the mystical syllable that is used in Hinduism, Buddhism and other religions to represent, among other things, the single vibrating sound that connects all of the universe. And "Ohm" is nothing if not a vibrant and hypnotic song. As the consistent drum beat propels the song through its time, everything seems in service of the song's whole sound. Nothing is out of place, nothing distracts from the song's mantra. "Before We Run," the album's closing song, is made by its horn section, a triumphal song of uncertainty, of eyes-forward and of counting on the support of others to grow and evolve. If "Ohm" is the beginning of Fade's chant, the beginning of its meditation, then "Before We Run" is the closing moments, the finishing breath.

Fade, to my ears, most resembles my personal favorite YLT album, And then nothing turned itself inside-out. While there is nothing here quite like the resplendent noise-pop of "Cherry Chapstick," there is "Paddle Forward," the closest thing to that sort of hooky static-laden song. "Stupid Things" builds its shape around a Motorik-beat before swooping out and back in the song's choruses and bridge, creating something more radiant than its Krautrock center. It seems the album's most delicate and beautiful moments are reserved for Georgia Hubley's lead vocals as both the aforementioned "Before We Run" and "Cornelia and Jane" are among the album's most fragile moments. The album is front-loaded with its heaviest songs, but that's certainly a relative term considering the calmer feel of most of Yo La Tengo's records over the recent past. If, as "Ohm" perhaps suggests, this album parallels the vibration of one prayer, or even one life, the album's progression from quicker tempo, louder songs into its more reflective and elegant second-half feels appropriate.
Does Fade matter? Does it give us a lens through which to view the band's work? It's a slow-grower. Where I found my initial listen to the album giving me fits in terms of grabbing onto much beyond its opening and closing tracks, I found myself inexplicably drawn back to the record again and again until, now double-digit listens deep into my relationship with it, I find it becoming an even more enriching and deep listen. Yo La Tengo has made that rare late-career record that makes both a solid and excellent entry for the unconverted and a perfect addition for the acolytes. words/ j neas
MP3: Yo La Tengo :: Ohm